Parade is based on the true story of Leo Frank, a Jewish man who was accused and convicted of raping and murdering 13-year-old Mary Phagan in 1913 Georgia. The musical follows the trial of Leo Frank, while giving us a glimpse of anti-Semitic sentiments and the relationship between Frank and his wife, Lucille. Both the score, written by Jason Robert Brown, and book by playwright Alfred Uhry won a Tony award.
Due to the content of this show, it is surprising as well as impressive that a high school would take on such a musical. Parade is not a musical for fans of the usual happy-go-lucky fare. It is the story of a terrible miscarriage of justice.
Grossmont High School's Foothiller Players has talent, but Kailey Vigil and A.J. Foggiano are stars and these actors committed to their characters throughout the production.
A.J. Foggiano does a superb job as the aloof Jewish Yankee from Brooklyn who manages a pencil factory in the small town of Marietta, Georgia. Mr. Foggiano succinctly conveys the character's anxiety of feeling out of place in "How Can I Call This Home?". Foggiano drives Leo Frank from cool and stiff, to nervous and creepy in "Factory Girls/Come Up to My Office," to warm and loving in "All the Wasted Time".
Lucille, played by Kailey Vigil, has her misgivings about the man she married, who would rather work than picnic and watch the Confederate Memorial Parade. Miss Vigil shows true depth of emotion in "Leo at Work/What Am I Waiting For?". She has the perfect vocals for this role and her melodic tone and vibrato are pleasing to the ear. Both actors voices blend beautifully together in "This is Not Over Yet" and "All The Wasted Time."
Joyce Nguy is an adorable Mary Phagan, showing innocence and playfulness in "The Picture Show," alongside Ben Lancia who plays the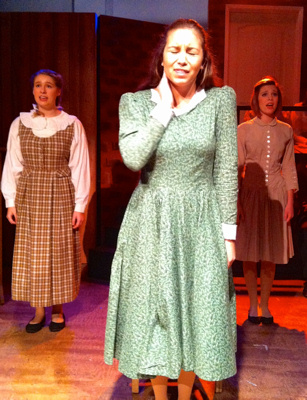 wanna-be-suitor, Frankie Epps. Mr. Lancia is a great fit for Frankee Epps, and he shows his range as an actor in "There is A Fountain/It Don't Make Sense" when he vows to avenge Mary's death.
Mrs. Phagan is portrayed by Shekinah Vargas. I found her acting and singing to be excellent as the grieving mother with regret in, "My Child Will Forgive Me."
Kayheen Anderson (Newt Lee), Lane Griffith (Angela), and Mark Jackman (Jim Conley) delivered solid work in "Rumblin' and A Rollin,'" and 15-year-old Mark Jackman brought the house down with his soulful voice in "That's What He Said."
This show carried a strong ensemble which deserves huge accolades for their commitment to the story, the music and the characters. "Where Will You Stand When the Flood Comes?" and "Old Red Hills" were full of sound and heart. Other individual standouts were Michael Canfield as the Jeffersonian newspaper publisher Tom Watson, Chase Atherton as Prosecutor Hugh Dorsey. Mr. Owen Horsman does well as the ambitious journalist Britt Craig in "Real Big News."
When I last saw Parade it was on a large stage, yet this production was in a very small theatre and I felt that it brought a certain intimacy to the show and allowed you to feel in the story. Director Marisa Musgrove did well with the limited theatre space. The one constructive criticism I can offer is the use of lighter set pieces. At times, the moving of large set pieces were longer than the scene itself and with a stair, the actors had a difficult time moving the heavier pieces. However, that did not take away from this cast's marvelous work and it was evident that these young actors worked very hard to tell this heart wrenching and tragic story.
Parade is a lesson in history that still rings true today, that the fear of those that are "different" leads to bigotry, injustice, and in some cases catastrophic endings. 
Performed December 4 - 14, 2013

D. Jacqueline Young
National Youth Arts