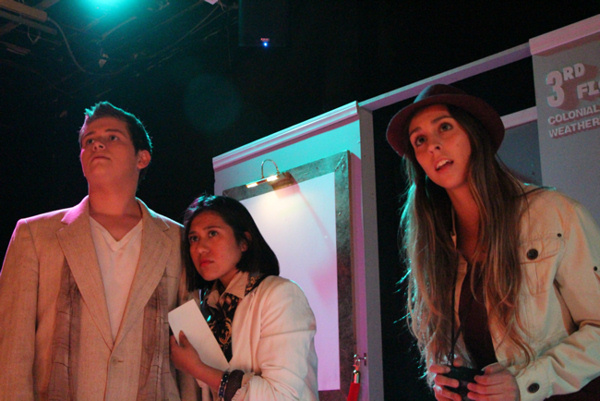 THE SHOW:
It's the bustling last day at a museum's art exhibit. But is it exhibiting art? There's a clothesline with faux people hung up to dry by rounded clothespins, a couple sculptures made from bits and pieces of animals, and blank white canvases that patrons will risk any lie in order to photograph and sketch. For this is playwright Tina Howe's Museum, an absurdist comedy exploring the nature of art and what it means. If it means anything. Who decides such things? The artists? The critics? The government? Society? Or the individuals who attend art galleries, just like the assortment of curious individuals through which Howe explores her concepts in Museum?
THE PRODUCTION:
Amity Ecker directs Grossmont High School's Foothiller Players in this marvelous visit to Tina Howe's museum filled with nice touches and staging. Willie Schwartz's set is a pleasant gallery complete with a mix of marble and wood flooring, crown molding, and a couple stanchions connected with red velvet rope in an attempt to protect the art. Pieces of the conversation-starting art adorn the walls and a couple pillars rising from the floor, nicely lit by Tyler Moore who also throws in some effects for a dramatic reveal. And a variety of costumes by Kelly Williams deftly and creatively highlight the eccentric personalities wearing them.
The cast enlivens those personalities wholeheartedly, losing themselves in multiple outrageous but easily recognizable personas. They keep the show always intriguing with countless moments to focus on as they react to the odd art and the even odder people around them. Just a sampling includes:
* A terrific trio of teen girls who end up getting deeply moved by the exhibit. Rileigh Dunning getting emotional about the thought of the artist's deaf parents (returning later to amuse as other characters flirting with the guard and growing jealously incensed by her crazy friend Tink). Jennifer Burch becoming melodramatically fixated on the idea of windows (returning later as an artsy sketcher and people watcher). And Sophia Palumbo becoming obsessed with the clothesline art piece (returning later as another patron mentally and physically obsessed with the clothesline to the point of lying, stealing, and fainting).
* A French couple (Andrew Lawrence and Nicole Havin) trying to convey their horror about a mishap on an artist headshot.
* Hilariously pretentious duo Bob Lamb (Tyler Moore) and Will Willard (Kayheen Anderson) who happily share their thoughts about art and art patrons alike, joined by two equally hilarious and similarly busybody Barbaras (Kylie Greaves and Carliegh Jensen) who share an apocalyptic fear of synthetic clothing material. Kylie Greaves also stokes the fears of others when she openly worries her rash may be contagious, a fine mist puffing off of her whenever she shows it off to uncomfortable patrons.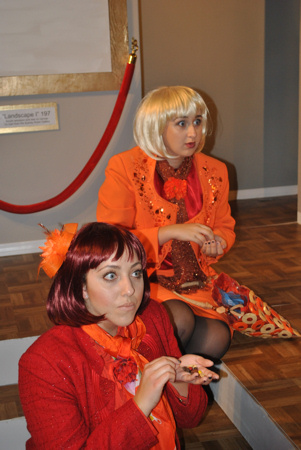 * Male photographers (Mac Lancaster and Harrison Harper) who start to creepily take more photos of attractive women than the art.
* A patron (Tyler Atherton) who has a fetish for smelling the art, and some of the people.
* Daniel Ponce and Alexis Gutierez as obnoxious patrons fighting with the recorded virtual tour.
* An artist (Kaysheen Anderson) admiring his work and posing as he silently relishes the attention of his breathless admirers.
* Tyler Moore's silent, physical comedy as he becomes increasingly irritated at the contents of the room.
* Sarah Krahling dazzling the other patrons with textbook-sounding mumbo jumbo about art that has everyone giddily transfixed by what sounds like deep insight.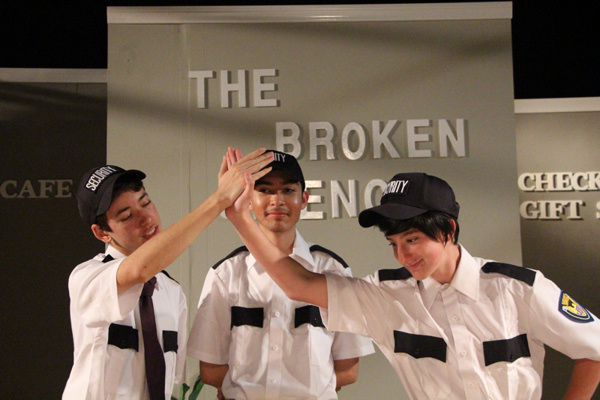 * Nicolas Castillo as a guard with nice reactions to the questions, flirting, gossiping, and various violations by the roomful of patrons, taking smug (and, it turns out, somewhat hasty) comfort with fellow museum guards Dustin Cruse and Daniel Ponce about the remarkable superiority of American museum security over European museum security.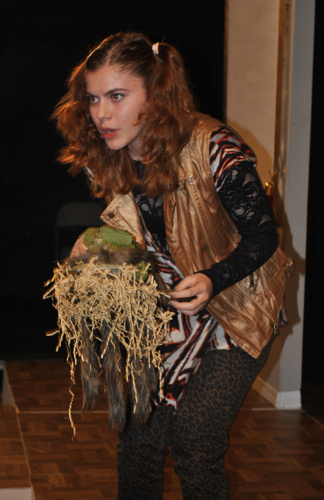 * Ingrid Brinton as the wide-eyed Tink, teetering on the brink of madness, as she takes us on an increasingly bizarre and riveting monologue about her journey with the artist to scavenge for rodent skeletons (and witnessing the artist's curious way of connecting with her discoveries).
* Daniel Ponce and Carliegh Jensen as an elderly, deaf couple happily standing still to gaze upon one of the exhibits, perhaps having the greatest insight into the value of art.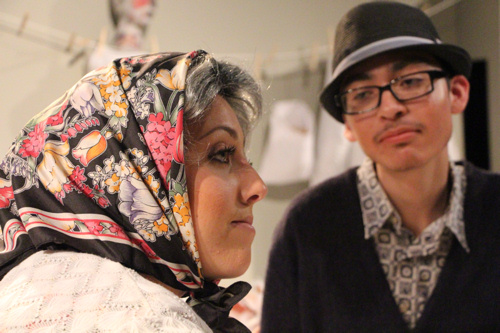 .
Performed March 3 - 12, 2016
Rob Hopper
Facebook
Instagram

Executive Director
National Youth Arts
~ Cast ~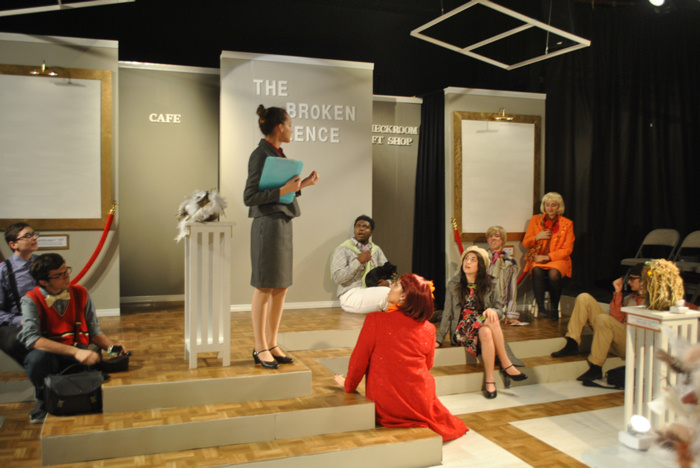 Add Artist Page
The Guard: Nicolas Castillo
Michael Wall: Mac Lancaster
Jean-Claude/Mr. Gregory: Andrew Lawrence
Francoise/Ada/Lillian: Nicole Havin
Annette Froebel/Chloe Trapp: Sarah Krahling
Liz/Mira/Kate: Rileigh Dunning
Carol/Gilda Norris: Jennifer Burch
Blakey/Julie Jenkins: Sophia Palumbo
Mr. Hollingsford/First Man/Giorgio: Tyler Atherton
Elizabeth Sorrow/Tink: Ingrid Brinton
Peter Ziff/Second Guard: Dustin Cruse
Mr. Salt/First Guard/Mr. Moe: Daniel Ponce
Mrs. Salt/Zoe: Alexis Gutierez
Maggie Snow/First Woman: Madelyn Judy
Bob Lamb/Bill Plaid: Tyler Moore
Will Willard/Steve Williams: Kayheen Anderson
Pampered Pooch: Moxie Mox
Fred Izumi: Harrison Harper
Barbara Castle/Harriet: Kylie Greaves
Barbara Zimmer/May/Mrs. Moe: Carliegh Jensen

Director: Amity Ecker
Assistant Director: Bryce Phipps
Stage Manager: Joseph Younan
Set Design: Willie Schwartz
Costume Design: Kelly Williams
Lighting Design: Tyler Moore
Light Board Op.: Autumn Higginbotham
Sound Board Op.: Alec Miller
Property Mistress: Madelyn Judy
Running Crew:
Ryan Devine
Zoe Ridion
Tim Soule
Kristen Turner
Holly Miller
House Manager: Serenity Ehman