On October 12, 1998, 21-year-old gay college student Matthew Shepard died days after suffering mortal injuries and being tied to a fence overnight outside Laramie, Wyoming. His two killers claimed temporary insanity after Matthew allegedly made a sexual advance on them. They pistol-whipped him and tortured him, tied him to the fence, took his shoes, and left him as he pleaded for his life. When he was found the next morning, only by chance when a bicyclist hit a rock and crashed near the scene, Matthew was comatose. He died a few days later. A few days after that, Pastor Fred Phelps led protestors at Matthew's funeral with signs that read such condemnations as "God Hates Fags." A few months later, Moises Kauffman led the members of the Tectonic Theatre Project to Laramie to interview the residents about the events. The result is one of the more powerful dramas created for the stage, The Laramie Project.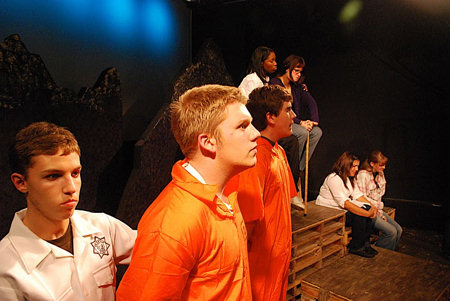 And the result of Grossmont High School's production of it is as powerful as it gets. Stunningly so. It's a challenging show. Each member of the cast takes on multiple roles and generally only have a few lines in which to create and establish their many characters. This group created their characters in a blink of an eye. Not just believable ones – you felt like you knew them deeply. Their sorrow and their fear, their bigotry and their hate. Their love and regrets and loss.
The characters include Reggie Fluty (Domonique Marshall), the first officer to arrive at the scene who tried to administer first aid, then learns afterwards that Matthew was HIV positive and that she may have contracted the disease. Victoria Stephens shines as Professor Catherine Connolly (a rare openly lesbian in Laramie deeply affected by the murder and its aftermath), and as the wife of a policeman who can't understand why Matthew is being sainted by the press, and as the grandma of accused killer Russell Henderson pleading for her grandson's life. Sam Halgren as young college actor Jedadiah Schultz who begins to think more about bigotry after angering his parents by playing a homosexual in Angels in America (he notes that they didn't mind him playing a murderer), and also as the easygoing bartender Matt Galloway at the Fireside Bar where Matthew was last seen, comfortably describing Matt as polite, friendly and a good tipper. Galloway's casual outer charm shaking as he's haunted by the feeling that he should have done something when the two killers began chatting with Matthew – that he knew something was wrong. Nikki Bartlett in so many roles including Reggie's worried mother, and as an angry woman who hopes that Matt had time to reflect on his lifestyle as he died tied to a fence, and as Matt's tearful, overcome mother at the sentencing hearing for her son's murderer, her grief painfully genuine.
Matthew's funeral is portrayed with remarkable power. Byron Bennett, who also plays the loving Catholic priest who pushes for condemnation of the murder and as the affable limousine driver who knew Matthew, takes on the role of Pastor Fred Phelps, preaching a fiery and impassioned sermon glorifying God's hate with calmly joyous, absolute certainty. Claudia Ethridge is Romaine Patterson, a high school friend of Matthew who became a gay rights activist beginning with her friend's funeral and the murder trial, using angels' wings and Amazing Grace to shield Matthew's grieving parents from the hate and show the world that Phelps does not speak for all.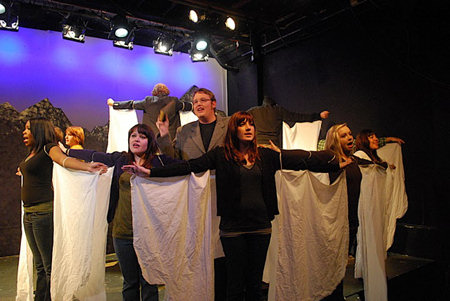 The trial scenes are also filled with brilliant work. Andrew Erath as Russell Henderson, his fear, anguish, and embarrassment as his grandmother (Victoria Stephens) begs for leniency. And Greg Zoumaras as a study in duality, playing both the sullen murderer Aaron McKinney who is not repentant like Russell, and also as Matthew's father who comforts his stricken wife during the trial and, in a powerful monologue, addresses the court over the death penalty for his son's killer, lamenting that they'll never know what Matthew would have become with his life, but giving his murderer the mercy that McKinney would not give to his son.
Director Amity Ecker staged a remarkable production, helping her students achieve what they were capable of achieving, setting the right tone throughout. Set Designer Willie Schwartz helped create a nice background of the mountain skyline of Laramie, and also designed the lighting that added numerous touches to the flow of the play and to the skyline. In the end he lets us see the starlit sky behind the mountains, the last thing Matthew Shepard saw as he lost consciousness, cold, hurt, and alone, about to inspire hatred in some, compassion and strength in others.
Performs December 2 - 12, 2009
Rob Hopper
Facebook
Instagram

Executive Director
National Youth Arts
~ Cast ~

Clay Alexander
Byron Bennett
Nikki Bartlett
Greg Chapman
Andrew Erath
Claudia Ethridge
Louys Gackstetter
Samantha Garcia
Sam Halgren
Jordan Hunter
Hunter Johnson
Domonique Marshall
Victoria Stephens
Greg Zoumaras

Director: Amity Ecker
Co-Director: Carrin Edwards
Assistant Director: Lanae Klabunde
Technical Director: Willie Schwartz
Set Design: Willie Schwartz
Costume Design: Rhiannon McGuire
Property Design: Celeste Jacobson-Ingram
Lighting Design: Willie Schwartz
Sound/Media Designer: Steven Brault
Stage Manager: Willie Schwartz
Assistant Costumers: Kirsten Yellen and Ari Ramirez
Sound Board: Steven Brault
Light Board: Tyler Bartlett
Stage Crew:
Doug Brinton
Katy Carter
Stephanie Press
John Hengesbaugh
House Manager: Kirsten Yellen
Set Construction: GHS Foothiller Players
Ushers/Concessions: GHS Drama Club