Rent: School Edition is making its Arizona premiere thanks to Greasepaint Youtheatre and Director D. Scott Withers, tackling the smash-hit rock musical about AIDS, sex, and drug use. "Adult themes" that has sparked a bit controversy at schools where it's played, with some adults uncomfortable with students exploring these issues on stage. Of course, as the performers respond during their talkback after the show, the kids are already facing such issues in real life, indicating that AIDS hits teens and young adults harder than any other age group.

Whether you're comfortable with it or not, you'd be a fool not to go, as you'd be missing one fantastic production! Withers has assembled some of the Valley's most talented young actors for this one. Remarkable vocal performances throughout the cast, which is headed by twentysomething roommates Mark and Roger who live in a skid row apartment in 1990s New York City surrounded by junkies, homeless people, Bohemian artists and other such (as Arizona's own senator labels them) "elitists."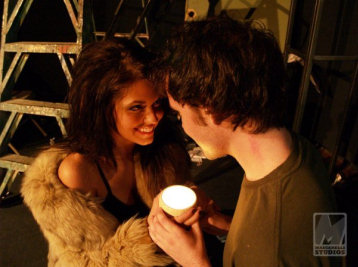 Mark probably doesn't think himself better than others, but he does disparage his ex-friend Benny's idea of cyber-art for not being "real" enough, while Mark himself gets called out for only seeing the real world through a camera in what is a very well done argument with Roger, leaving Mark to do some soul searching. Paul Thomson delivers a strong performance there and in leading a Bohemian revolt in a restaurant and in a hilarious Mutt-and-Jeff version of Tango Maureen in which the young and relatively short Paul dances with his ex-girlfriend's girlfriend played by the relatively tall Joanne (Caitlin Stegemoller).
Sterling Liska, meanwhile, rocks it as Roger, a songwriter hoping to write one great song to live on after him before he dies of AIDS – a disease he acquired from his girlfriend who let him know about the disease in her suicide note. He's trying to hole himself up in his apartment and away from life, but the vibrant neighbor/exotic dancer Mimi starts making that difficult. Transforming herself from the ultra-nice, low-key Cinderella in Greasepaint's recent Into the Woods to the red-hot Mimi in Rent is Sydney Marie Hawes, putting her impressive vocal work and exotic dancer work on display as she makes it difficult for Roger to resist taking her Out Tonight.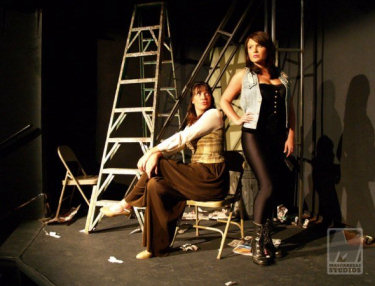 And then there are the same-sex couples (and in this production, Greasepaint didn't shy away from the same-sex kissing). Stefani Wood delivers with great humor and stage presence as the poetry reading Maureen who will always have women in leather flirting with her. She's dumped Mark for her current partner Joanne, with Caitlin Stegemoller shining both in her song-and-dance with Maureen's old flame and in her fantastic duet with her girlfriend Maureen in Take Me or Leave Me that has them getting more excited the more they argue with each other.

The male couple features Nick Webb as Tom Collins and Brian Wible as Tom's new transvestite lover Angel. They do well together as the tenderly and playfully affectionate couple I'll Cover You and in the painful Without You. And Brian steals it with his Today For You number dressed up as Mrs. Claus and showing off some great drumming skills to boot.

The rest of the cast is full of talent both vocally and comically, including but not limited to Cullen Law as Benjamin Coffin III, Shawn Hathcock as an uneasy restaurant host and gruff homeless man, Raven Woessner as a TV producer who is very thirsty for Mark's soul, and Kelsey Johnson as Mark's answering machine messaging mom who is kinda disgusted about Maureen dumping him to become a lesbian. The cast works well both individually and as a group, from their pre-show opening as loitering dwellers of skid row, through their touching Will I, lovely Seasons of Love and fun La Vie Boheme, and to their grand finale. All taking place in their graffiti-filled set that includes such sentiments as "Live," "Freedom," "Courage," and "Help!" And they're all backed up by a terrific band and fantastic new sound system.

As part of the preparation for tackling this show, Director D. Scott Withers had the cast participate in workshops that allows them to act as traveling peer counselors, helping others in the Phoenix area learn and talk about HIV. Participation in the show and learning about the realities helped one of the cast members feel more comfortable with a friend infected with the disease, and helped bridge the understanding between one of the actors and his parent. Theatre can, indeed, entertain. But it can do so much more.

Performs October 3 - 26, 2008.

Rob Hopper
National Youth Theatre

Photos by Christopher Mascarelli

~ Cast ~


Coat Vendor, Junkie: Graci Armendariz
Mrs. Jefferson, Cop #2, Homeless Woman: Lizzie Baggleman
Squeegie Man, Junkie: Will Bates
Cop #3, Homeless Man: Hunter Beetham
Homeless Woman: Annissa Biggane
Paul, Junkie: Gavin Brown
Mr. Jefferson, Thug, Cop #1, Pastor: Cole Cuomo
The Man, Mr. Gray, Thug: Danny Epstein
Ali, Mimi's Mom, Leap of Faith, Busker: Zarina Guerrero
Restaurant Man, Homeless Man: Shawn Hathcock
Mimi Marquez: Sydney Marie Hawes
Mrs. Cohen, "End is Near" Woman: Kelsey Johnson
Sue, Leap of Faith Singer, Junkie: Rhetta Kampel
Gordon, Junkie: Ryan Kitkowski
Benjamin Coffin III: Cullen Law
Homeless Woman: Lexi Lewis
Steve, Street Hustler: Warren Lewis
Roger Davis: Sterling Liska
Homeless Man: William Marquez
Blanket Person: Gabbi Ncube
Roger's Mother, Leap of Faith Singer, Junkie: Nicole Rubin
Homeless Woman: Tasha Spear
Joanne Jefferson: Caitlin Stegemoller
Mark Cohen: Paul Thomson
Tom Collins: Nick Webb
Angel Schunard: Brian Wible
Alexi Darling, Junkie: Raven Woessner
Maureen Johnson: Stefani Wood
Pam, Leap of Faith Singer, Busker: Kayte Zhang

Director: D. Scott Withers
Music Director: Alan J. Plado
Choreographer: Beth Reynolds
Production Stage Manager: Eric Chapman
David Weiss: Technical Director/Scenic Designer: David Weiss
Lighting Designer: Michael J. Eddy
Sound Designer: Scott Kirkorsky
Costume Designer: Adrianna "Addy" Diaz
Hair/Make-up Designer: Johanna Carlisle
Properties Designer: Joni Chanko