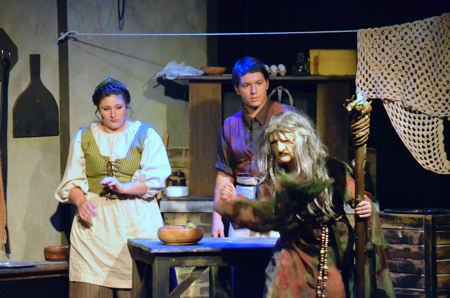 THE SHOW:
Life is full of trips into the woods – dangerous places where there are no sure-and-fast answers, confronting challenges that will define us and make us stronger. If they don't kill us. This story follows a Baker and his wife attempting to have a child by removing the witch's curse. The Witch requires four items in order to have the curse reversed – a cloak as red as blood (like Little Red Ridinghood might wear), a cow as white as milk (Jack may sell his bovine best friend for beans), hair as gold as corn (see Rapunzel), and a slipper pure as gold (a la Cinderella). Thus a Grimm scavenger hunt ensues, affecting the adventures of all the characters as they brave the woods.
Stephen Sondheim and James Lapine's musical uses the power of fairy tales brilliantly, weaving the first act into a happy-ever-after ending with familiar moral teachings, and then delving into new moral ambiguity and uncertainty in the second act as we explore what happens after happily ever after.
THE PRODUCTION:
Greasepaint Youtheatre restages this one just months before the highly anticipated Disney film version is released, and they whet the appetite further with a strong production. Director Ross Collins has a great vision for the show and the moments in the woods. Visual touches are highlighted by some good costumes from Benjamin Bozovich, Dale Nakagawa's lighting penetrating through the trees, and Eric Beeck's gorgeous scenic design that features detailed homes of the main characters, a cool-looking stone tower for Rapunzel, and magnificent trees towering above out of sight centered by the grave of Cinderella's mother. When a dramatic thud changes the course of all their lives with the crash of the beanstalk, autumn leaves fall from the unseen branches above.
The deeply talented cast is led by Jacob Shore as the Baker and Becca Bauer as the Baker's Wife, the twosome keeping the fairy tale grounded with their relationship and personalities, shining together in a playful It Takes Two number. In the second act Becca does a nice job with her Moments in the Woods, and Jacob delivers some powerful moments as he begs for Cinderella's help, nears his breaking point with the Mysterious Man (Alex Tuchi) in No More, and trying to be the father figure Jack desperately wants in No One is Alone. The role of the Witch is double-cast, with Emily Benoit in this cast joining adopted daughter Rapunzel (Johnna Watson) in a great performance of Stay With Me, and later Emily setting an ominous tone with the Last Midnight. Cinderella, also double-cast, had Celine Sanel this night, performing with easy, nicely subtle comedy in the first act and excelling in the more dramatic moments whether reacting to a slap in the face or letting go of a dream for which she no longer wished.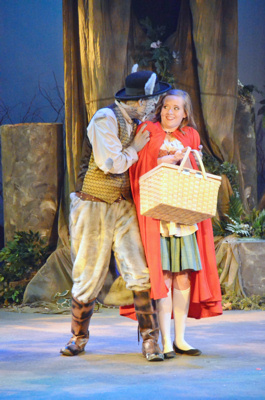 The last double-cast role featured Caroline Noonan with a fantastic performance as Little Red, whether being humorously bloodthirsty or bratty, or frightened and sad when things are at their darkest. Andrey Lull is likewise amazing as a sensitive, devoted, at times excited (especially at the prospect of a pet piggy), and a little dumb as young Jack who can seriously frustrate his weary mother (Macy Wood). Jacob Emnett and Hale Stewart make a great team as Cinderella's and Rapunzel's charming and quirky princes whose dating lives leave them in Agony, the charismatic Tony Julian is amusing with a huge, creepy fake grin as a wolf in Granny's clothing, Cami Benton is our tour guide-ish Narrator, and Patrick Steward plays his namesake role as the uppity and dangerously staff-wielding Prince's Steward. Cinderella's family is a mean but particularly funny lot with Sarah Linck as the wicked Stepmother, Sophia Drapeau and Anna Sera as the ugly stepsisters, and Thomas Steward as the paternally useless biological father as opposed to the gentle spirit of her mother, Katie Rodin. And master puppeteer Lexa Rose works a full-body cow puppet as an endearing and hopelessly romantic Milky White.
The entire cast works together extremely well through the show's comedy and drama and challenging Sondheim music, combining for a memorable journey through the woods.
Performed September 12 - 21, 2014
Photos by Barry Smith
Rob Hopper
Facebook
Instagram

Executive Director
National Youth Arts
~ Cast ~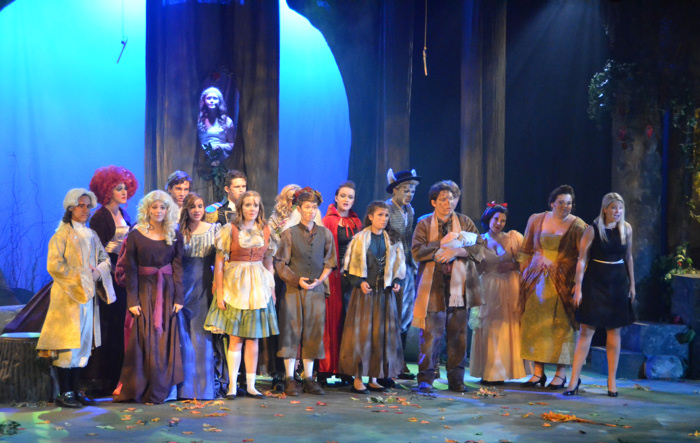 Add Artist Page

Baker: Jacob Shore
Baker's Wife: Becca Bauer
Cinderella's Prince: Jacob Emnett
Rapunzel's Prince: Hale Stewart
Wolf: Tony Julian

Jack: Andrey Lull
Mysterious Man: Alex Tuchi
Prince's Steward: Patrick Steward
Cinderella's Father: Thomas Steward
Narrator: Cami Benton
Witch: Bailey Smith / Emily Benoit
Rapunzel: Johnna Watson
Cinderella: Alyssa Gonzales / Celine Sanel
Cinderella's Mother: Katie Rodin
Cinderella's Stepmother: Sarah Linck
Stepsister Florinda: Sophia Drapeau
Stepsister Lucinda: Anna Sera
Jack's Mother: Macy Wood
Little Red: Allison Steward / Caroline Noonan
Granny/Milky White: Lexa Rose

Director: Colin Ross
Stage Manager: Rebecca Courtney
Musical Director/Orchestra Conductor: Mary Ellen Reese Loose
Costume Designer: Benjamin Bozovich
Set Designer: Eric Beeck
Lighting Designer: Dale Nakagawa
Sound Designer: Pete Bish
Props Designer: Maureen Dias