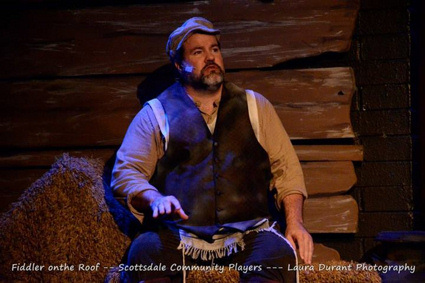 THE SHOW:
Music by Jerry Bock, lyrics by Sheldon Harnick, and book by Joseph Stein that debuted on Broadway in 1964.
One of the most beloved musicals ever written is the story of a classic everyman, Jewish milkman Tevye living in a small turn-of-the-century Russian village of Anatevka where tensions between the Russians and the Jewish community have been few. But times are changing, revolution is in the air, and the traditions that have given Tevye and his neighbors stability in an unstable world are beginning to teeter. But it's not just the outside political world driving such changes. Most of them come by way of Tevye's five daughters, three of whom are of marrying age, each of them progressively testing Tevye's beliefs and values with their choices. Based on stories by Sholem Aleichem, the musical includes a rich score including Tradition, If I Were a Rich Man, Matchmaker, Matchmaker, Do You Love Me?, and Sunrise, Sunset.
THE PRODUCTION:
The Scottsdale Community Players played for more than fifty years before taking a break when it merged with Greasepaint in 2007. But the tradition has been revived beginning with their production of Fiddler on the Roof expertly directed by Scottsdale Community Players alum Jodie Weiss that is also a nice-looking show with good costumes (Benjamin Bozovich), sets (Daniel Lowe), and lighting (Dori Brown).
Terry Temple is a perfect fit, made-exactly-to-measure Tevye with sonorous vocals, an easy and genuine sense of humor, and tangible agony as one daughter leaves him, and as he leaves one daughter. He also shares some memorable moments with Kimberlee Hart as his no-nonsense wife Golde including a charming Do You Love Me?
Love each other or not, together they are raising five lovely daughters. Youngest ones Shprintze (Ireland Blim) and Bielke (Katie Brown) do a nice job reacting as they watch their older sisters grow into adults with accompanying parental friction, as well as humorously reacting to the potential young matches found for them. Tay Coben leads the others as eldest daughter and amusing Yente-the-Matchmaker impersonator Tzeitel in Matchmaker, and she joins her formerly anxious Motel the Tailor (Bjorn Eriksson) in Miracle of Miracles. As Hodel, Amanda Glenn breaks her father's heart and our hearts in a beautiful Far From The Home I Love as she, with torn emotions, decides to leave her family to be with her imprisoned fiancé. And before there's time to recover, Terry Temple and his third daughter Chava (Celine Sanel) join for a powerful scene as Tevye feels he has to choose between his love for his faith and his love for his daughter.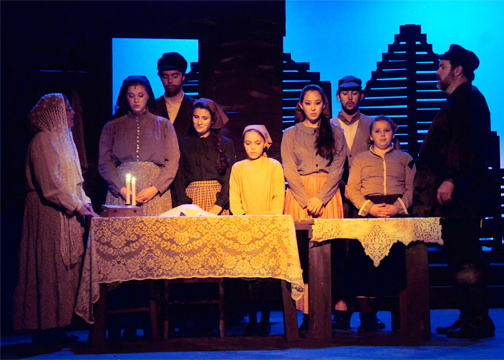 Other good performances come from Becca Bauer as a jealous departed wife, Phillip Nikola as Becca's cradle-robbing widower, Heidi Carpenter as a quirky matchmaker, Colin Ross (Perchik) and Sawyer Bland (Fyedke) as tradition-bashing suitors, Marylisa McKallor as a demanding departed stepmother, and Molly Pont Brown delivering great fiddle playing as Tevye's comforting metaphor. The cast brings the town of Anatevka fully and richly alive, from its rousing Tradition to their gorgeous Sabbath Prayer, whimsical zombie-ish dream, their ode to Anatevka, and their ode to the passage of time with Sunrise, Sunset.
Performed September 14 - 22, 2013
Photos by Laura Durant Photography
Rob Hopper
Facebook
Instagram

Executive Director
National Youth Arts
~ Cast ~
Add Artist Page

Nachum & Ensemble: Jean Aiken
Fruma-Sarah: Becca Bauer
Ensemble: Madison Berens
Fyedke: Sawyer Bland
Shprintze: Ireland Blim
Bielke: Katie Brown
The Fiddler: Molly Brown
Yente, The Matchmaker: Heidi Carpenter
Featured Dancer/Ensemble: Ally Chisenski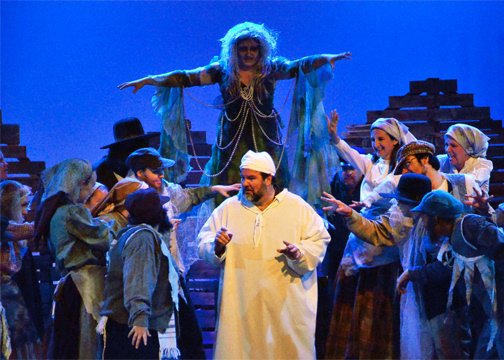 Tzeitel: Tay Coben
Ensemble: Emma Coles
Ensemble: Karen Coles
Ensemble: Sam Coles
Rabbi: Garry Cox
Motel: Bjorn Eriksson
Ensemble: Briana Fleming
Sasha/Featured Vocalist/Ensemble: Aaron Ford
Ensemble: Ashley Fredricksen
Hodel: Amanda Glenn
Featured Dancer/Ensemble: Anissa Griego
Golde: Kimberlee Hart
Mordcha: David Heap
Ensemble: Lia Hunyady
Ensemble: Brittany Kaminsky
Avram: Barry Lewis
Grandma Zeitel: Marylisa McKallor
Lazar Wolf: Phillip Nikola
Constable: Randy Oppenheimer
Mendel: Manny Quijada
Ensemble: Zachary Reinke
Ensemble: Jennie Rhiner
Perchik: Colin Ross
Chava: Celine Sanel
Shaindel: Marylou Stephens
Ensemble: Matthew Steward
Ensemble: Patrick Steward
Ensemble: Emily Temple
Yussel: Ginny Temple
Tevye: Terry Temple

Director: Jodie Weiss
Music Director: Mary Ellen Loose
Choreographer: Dale Nakagawa
Stage Manager: Tracy Bailey
Costume Designer: Benjamin Bozovich
Set Design/Build: Daniel Lowe
Sound Design: Pete Bish
Lighting Design: Dori Brown
Props Design: Maureen Dias