The Glass Menagerie
by Golden West College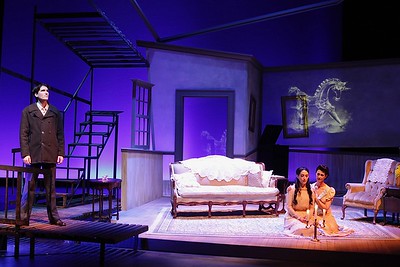 The Golden West College Theater Arts Department is honored to present Tennessee Williamís haunting, expressionistic play The Glass Menagerie in their Mainstage Theater as part of their 2018 season. The Glass Menagerie recently replaced the previously announced play, The Diviners, and is one of the true classics of American Theater.

Set in St. Louis during the 1930s, The Glass Menagerie has deep, autobiographical roots buried in Williamsí early life, featuring characters based upon Williams himself, his domineering mother, and his emotionally fragile sister. Each finely etched character is, in one way or another, trapped in a world of illusion, frustration, isolation, and regret.

Tom, the son, longs to escape his dead-end job, the responsibility of supporting his mother and sister, and, ultimately, a past that he cannot forget. He is frustrated by the numbing routines of his day and escapes from it through movies, literature, and alcohol. Matthew Cobb enriches this role with alternating attitudes of pensiveness and thinly disguised rage in an excellent performance.
The role of Amanda, Tomís Southern belle mother, might be a dominant assignment, but Carrie Vinikow chooses to soften her delivery almost to the level of that of her introverted daughter. Usually played as a vivacious character, Ms. Vinikow presented a new element to the mother-daughter relationship with a more subdued part. The sentimental Amanda clings fervently to memories of a vanished, genteel past. She is simultaneously admirable, charming, laughable and despondent.

The daughter, Laura, lives in an alternative reality - a delicate world of tiny glass animals and sentimental phonograph records. Carolyn Feres immaculately interprets the crippled, reticent Laura, playing the character on a proper single, pathetic note. We read volumes into her silence as she pursues her lonely, uneventful existence. Twenty-three years old and painfully shy, she has largely withdrawn from the outside world completely.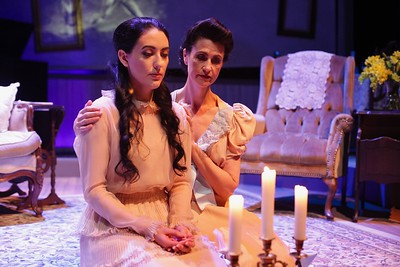 In short, the Wingfields are a dysfunctional family held together by nothing beyond an urgent need for change.

Into this milieu comes a handsome, charismatic, Gentleman Caller - a former high school hero for whom the painfully shy Laura has always held a secret infatuation. Alex Jeanís winning performance of Jim OíConnor is not only a breath of fresh-air in the claustrophobic Wingfield apartment, but a potential suitor for Laura who may also prove the salvation of the entire family. Ironically, Jim is now a shipping clerk at the same shoe warehouse in which Tom works. He is unwaveringly devoted to goals of professional achievement and personal success. His and Lauraís semi-romantic encounter is beautifully enacted as a study in contrasting personalities.
At Golden West, Director Tom Amen has meticulously weaved and culled the play's events into a tender and touching package, illustrated by the dreamlike videos incorporated into the story by set designer Tim Mueller and bolstered significantly by Crystal Shomph's delicate lighting designs.

Mueller's setting seems intentionally bare ó the "menagerie" of the title consists only of the one unicorn figurine essential to the plot. Jojo Siu's Depression-era costumes are quite effective, and Veronica Mullins' sound design complemented the story perfectly.

"The Glass Menagerie" is a heart-wrenching play that you will never forget, and remains significant as the introductory vehicle for one of America's greatest playwrights. It runs from February 16th to the 25th, completing its brief but successful engagement with a matinee in GWC's Mainstage Theater.

Performed February 16 - 25, 2018

Chris Daniels
National Youth Arts

~ Cast ~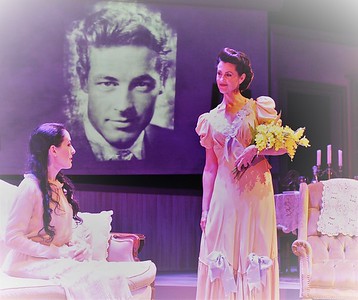 Add Artist Page

Tom Wingfield: Matthew Cobb
Jim O'Connor: Alex Jean
Amanda Wingfield: Carrie Vinikow
Laura Wingfield: Carolyn Feres

Director: Tom Amen
Costume Designer: Jojo Siu
Set Designer: Tim Mueller
Lighting Designer: Crystal Shomph
Sound Designer: Veronica Mullins
Hair/Makeup Designer: Jojo Siu
Choreographer: Tom Amen