Cinderella
by Fullerton Union High School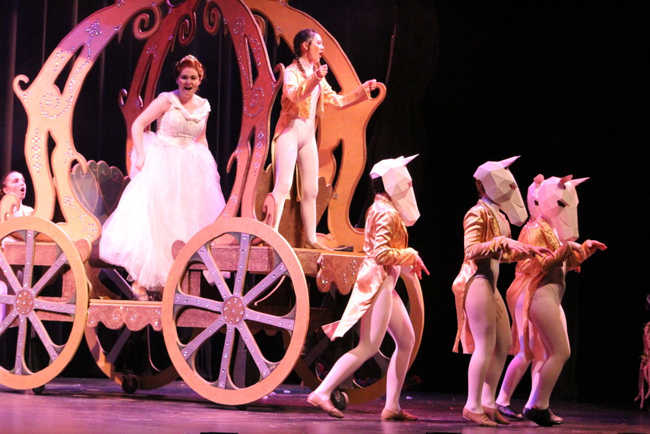 This "Cinderella" Casts a Bewitching Spell!

Fullerton Union High School presents one last chance to see "Rodgers and Hammerstein's Cinderella," with the final performance playing tonight at 7:00 pm in the Plummer Auditorium in Fullerton. At the helm of this age-old fairy tale is Michael Despars, Theatrical Arts Director at Fullerton Union High School and the President-Elect of the California Educational Theatre Association, and Genni Klein, as well as Student Director Joefferry Wenderlich. Featuring double-cast roles, two cast groups have alternated play dates on stage since opening this month on the 17th.

Musically directed by Scott Hedgecock and choreographed by Evona Markanian, the show is proudly controlled on performance nights under student direction and tech. Cinderella also boasts a full 25-piece orchestra with Troy Trimble conducting.

This "Cinderella" (played by the sweet-voiced Emma Kremer) is successful in part because both its music and script have separate sensibilities but nonetheless synergize perfectly. On one hand, we're immersed in the familiar frothy musical style of Rodgers and Hammerstein's catchy tunes that gather strength and orchestration up through their endings, while on the other hand, we have an edgy and very funny script created by playwright Douglas Carter Beane.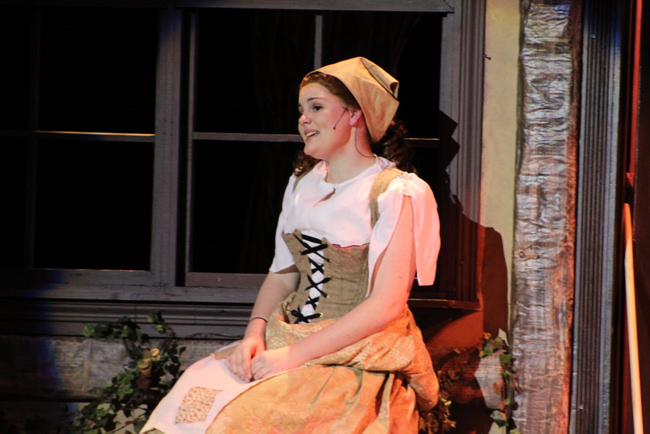 Richard Rodgers and Oscar Hammerstein's Cinderella began as the only musical the duo wrote for TV, and Julie Andrews played the title role when CBS aired it in 1957 with over 60 percent of the nation watching. Based upon the fairy tale Cinderella, particularly the French version Cendrillon, ou la Petite Pantoufle de Verre, by Charles Perrault, the story was revised for national tour by Beane in 2013. For the most part, the storyline's objective has not changed.

What has changed, however, is the way it takes place, plus a more contemporary dialogue. Change, of course, is exactly the trajectory followed by Cinderella herself. Called Ella here and played without fuss by Ms. Kremer, our heroine, with the help of a fairy godmother, transforms herself from a dowdy scullery maid in the service of her mean stepmother and her two stepsisters into the glamorous wife of a handsome prince.

Just as importantly, in this latest update of the old story, Ella blends her hankering for true love with a determination to reinvent the kingdom by introducing her prince to the concept of social justice. Unbowed by her own unjust treatment, her efforts upend the established order, and the kingdom is transformed into a parliamentary democracy where the poor hold equal sway with the privileged.

Cinderella is, in other words, a story about achieving our potential. Ella's characterization as a strong, self-directed woman who's unafraid of committing herself to a romance based on equality, certainly blooms. So does Topher, short for Christopher, the prince played by the fine-voiced Michael Laverde. Mired in an identity crisis (he knows he should be doing something more than just battling the occasional dragon and wearing that crown 24/7), he comes into his own when Ella shows him the true face of the poor and appeals to his basic sense of boy-next-door decency.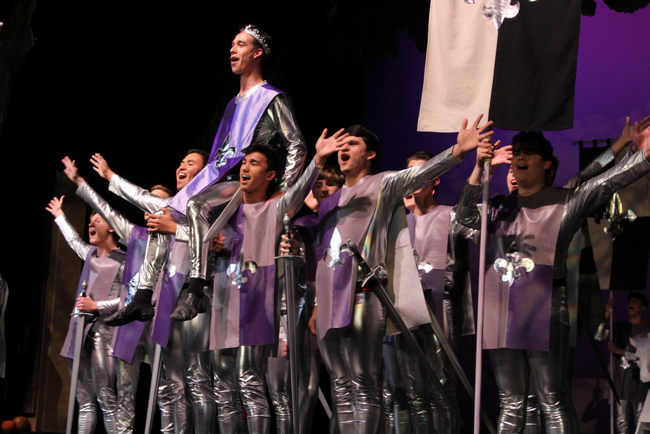 There are also others hungry for transformation in this show. There is, for instance, the earnest Jean-Michel played by Adam Rooney. He is an advocate of social justice while ardently pursuing Ella's not-so-mean stepsister Gabrielle (Elizabeth Gimple). And the fairy godmother Marie (Alison Mendrella, whose operatic soprano is a treat, entertaining us with an impressive Wagnerian presence), does her bit as well, telling the reluctant Ella to attend the prince's ball "in the name of every girl who's ever wanted to change the world she lives in."

If all this sounds a little schmaltzy, Beane injects just enough snarky humor and plot twists to keep a jaded audience engaged. Throughout the script, he manages to gently parody older fairy tales, and even add lines strikingly similar to those in other musicals.

For instance, Charlotte (Natalie Carter), one of the nasty stepsisters, talks back to her mom and reels in disbelief when the prince ignores her at the ball. "Seriously?!," she bellows. Lord Chancellor Sebastian (Daniel Chaderjian), the Prince's Chief Advisor, sometimes overprotective, sometimes a drunk-with-power Machiavellian schemer, who manipulates the clueless prince the entire first act, issues repressive edicts that make his subjects flinch. Then there's Cinderella's fairy godmother, who offers magic – but wait – they come with confidence lessons! And finally, Cinderella herself manages to lose a glass slipper, then turns around, runs back – and retrieves it.
What's happening here? Where's the tra-la-la girl, followed by all those cutesy Disney-style bluejays flitting about as she provides exploited labor at Wicked Stepmother's house? Well, a few of them are still around – a fox here, a raccoon there…after all, some animals have to drive the pumpkin.

The nasty stepmom, known only as "Madame," showed precision in every move and statement. The supporting cast was perfect and displayed a sense of fun that keeps you engaged. The gowns were lavish and Cinderella's gowns and changes were amazing, magnificent in their colors and sweep, and equally jaw-dropping for the quick-change properties that allow, say, a beggar woman to evolve before your eyes into a fairy godmother or a poor orphan girl to spin into a gorgeously gowned gentlewoman.

That glittery coach, well, the coach was simply wonderful. You will watch poor Cinderella waltzing through "My Own Little Corner..." and "Ten Minutes Ago..." and wonder why you're heartbroken over a well-known fairytale that you know will end well. And what voices! I was amazed at the quality of vocal performance in the school. They blended perfectly in that historic setting, filling the air with sweet sounds. It was a solid cast, with professional dancing and acrobatics, brilliant puppeteering, and big, big voices all! A totally impressive night of fun and fairy tale!


Performed March 22, 2018

Chris Daniels
National Youth Arts

~ Cast ~
Add Artist Page

Ella: Emma Kremer
Topher: Michael Laverde
Marie: Alison Mendrella
Madame: Isley Duarte
Charlotte: Natalie Carter
Gabrielle: Elizabeth Gimple
Jean Michel, Featured Dancer: Adam Rooney
Sebastian: Daniel Chaderjian
Lord Pinkleton, Featured Dancer: Tate Heinle

Lead Cast for March 17th and 23rd -
Ella: Abigail Lange
Topher: Yale Yang
Marie: Mikayla Haugen
Madame: Eliana Bane
Charlotte: Sydney Castiglione
Gabrielle: Ruby Hernandez
Jean-Michel: Devin Ricklef
Sebastian: Adam Ritter
Lord Pinkelton: Timothy Coleman

Company -
Knight, Townsperson, Lord, Claude: Vincent Alatorre
Townsperson, Dancing Horse, Lady of the Court, Featured Dancer: Isabella Alcarez
Knight, Townsperson, Official Lord, Featured Dancer: Emmanuel Barrios
Townsperson, Dancing Horse, Lady of the Court, Duchess, Featured Dancer: Kim Cordero
Townsperson, Younger Woman, Footman, Lady of the Court, Featured Dancer: Samantha Dennis
Townsperson, Strong Woman, Lady of the Court: Kimberly Duck
Townsperson, Lady of the Court: Lily Ergueta
Townsperson, Lady of the Court: Yesenia Esparza
Townsperson, Lady of the Court: Claudia Fiallo
Townsperson, Lady of the Court: Claire Finegan
Townsperson, Lady of the Court, Dancing Horse, A Duchess, Featured Dancer: Brittany Fisheli
Knight: Levi Hannum
Knight: Juan Herrijon
Townsperson, Lady of the Court, Another Guest: Natalie Hertogh
Knight, Townsperson, Lord: Gavin Huffaker
Townsperson, Dancing Horse, Lady of the Court: Karina Hunt
Townsperson, Small Woman, Driver, Lady of the Court, Featured Dancer: Allison Jeu
Townsperson, Knight, Lord, Dignitary: Alex Keller
Townsperson, Lady of the Court: Rachel Krohn
Townsperson, Shy Woman, Lady of the Court: Emily Laguna
Knight, Townsperson, Duke of Cheshire, Featured Dancer: Jaemil Llamas
Townsperson, Old Woman, Lady of Ridicule: Breanna Love
Knight: Richard Medina
Townsperson, Knight, Lord, Sam: Julian Melchor
Knight, Townsperson, Lord, Earl of Cavendish: Cooper Miller
Townsperson, Fox Puppeteer, Lady of the Court: Carina Montero
Knight: Taylor Mott
Knight, Townsperson, Lord, A Guest: Nathan Oelkers
Townsperson, Lady of the Court: Priscilla Ortiz
Townsperson, Tall Woman, Lady of the Court: Georgia Rau
Knight, Townsperson, Racoon Puppeteer, Lord: Mark Rojo
Townsperson, Lady of the Court, Next Partner, Yvonne: Ashley Shilts
Townsperson, Lady of the Court: Isabel Van Wye
Townsperson, Lady of the Court: Addison Waugh
Townsperson, Lady of the Court: Raevyn Wolfenstein
Townsperson, Old Woman, Lady of the Court: Breanna Love

Director: Michael Despars, Genni Klein (Student Director: Joefferry Wenderlich)
Costume Designer: Beverly Shirk (Student Costume Director: Emma Kremer)
Set Designer: Michael Despars
Lighting Designer: Calvin Tate
Sound Designer: Timothy Coleman
Hair/Makeup Designer: Elizabeth Gimple and Abigail Lange
Choreographer: Evona Markanian
Music Director: Scott Hedgecock