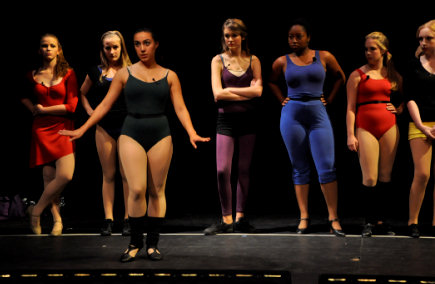 17 dancers. 1 audition. 1 line. That's the premise for what was once the longest running show on Broadway and for what is still one of the most beloved musicals to ever tread the boards. A Chorus Line is not an easy musical theatre piece for an adult company. However, the students at Francis Parker School Theatre Arts Department tackled the challenge anyway and handled the show with style, flair, and quite a few high kicks.

A Chorus Line, at its most simplistic level, is about a group of dancers auditioning for a coveted job on Broadway—a role in the chorus of a new musical. However, Michael Bennett's creation (book by James Kirkwood and Nicholas Dante, lyrics by Edward Kleban, and music by Marvin Hamlish) goes much further than that. Rather than just dancing their way onto the line, the performers are asked to talk, to tell their stories, and to open themselves up for the director Zach (Sean McKinley).

This is where the musical takes a turn, and it becomes not about the life of a dancer, but about life in general. Through their stories, the characters reveal just how complicated childhood, adulthood, love, friendship, and family can be, and in the end, how life is about finding and keeping your passion.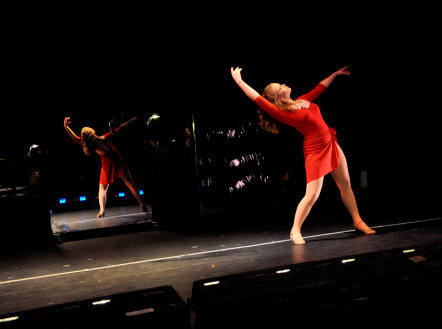 Probably the most stand-out performance in the show came from Anne Squier as Cassie, the once chorus girl who tried to make it as a star only to turn back to the chorus. When pleading with Zach to give her another chance in the chorus and in his life, Squier's performance was honest and heartfelt. Her exchanges with McKinley as Zack were authentic and touching. In addition, her vocals during "The Music and the Mirror" soared, and she carried the song and the dance with confidence.
Another stand-out performance came from the "At the Ballet" trio: Sheila (Emily Mann), Bebe (Nicki Elledge), and Maggie (Maddie Baldwin). The three actresses belted the song with stunning vocals and sincerity beyond their high school years. In addition, LaVon Wageman's performance of "Nothing" as Diana Morales was a strong, driving force in the musical's montage about growing up.
In a show full of heavy storylines, four comedic actresses did an outstanding job of lightening the mood. Sydney Thayer's turn as the awkward Judy Monroe was energetic and quirky while Jasmine Hubbard's performance as Connie, the short cheerleader-wannabe, was warm and lovable.
Additionally, "Sing," one of the more comedic numbers in the show was expertly handled by Katie Arbuckle (as Kristine) and Lindsey Steinert (as Ali). As a side note, Steinert was double cast with LaVon Wageman as Diana Morales, and if her performance as Ali was any indication, her rendition of "Nothing" must be just as strong as Wageman's.
Finally, when the character of Paul (Steven Jones) ultimately opens up to Zach in the second act, Jones' portrayal was unguarded and real.
A good musical is nothing without good music, and musical director Terri Hendricks deserves accolades for his direction of the cast and the phenomenal orchestra. Also, Mike Buckley's final set design for the grand finale number ("One") was dazzling and well worth the one-and-a-half hour wait. Lastly, the student choreographer Tara Reed provided challenging choreography throughout the show, but she deserves special recognition for the energizing and very entertaining closing number ("Good-bye Twelve, Good-bye Thirteen, Hello Love") for the first act.
Traditionally, A Chorus Line is performed with a mixed cast—equal part male and equal part female. However, the students at Francis Parker quite convincingly pulled off an almost-all-female show. With high energy, outstanding vocals, and more than one pair of legwarmers, each member of the cast definitely earned their spot on the line. Hats off!
Performs November 20 - 23, 2008.
Photos by Margery Squier.

Walter Allen
National Youth Theatre
~ Cast ~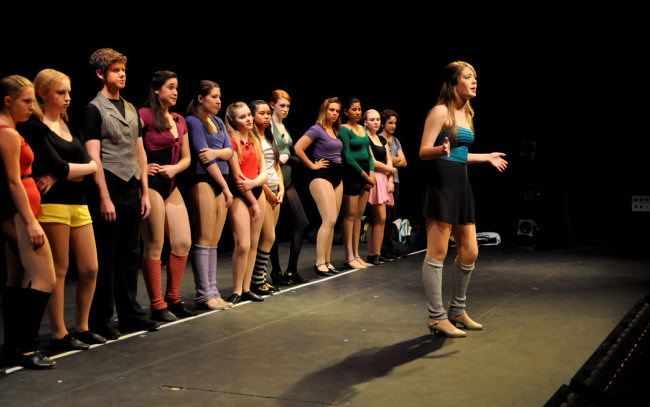 Directed by Gordon Cantiello
Musical Direction by Terry Hendricks
Choreographed by Tara Reed

Sydney Thayer (Judy)
Jasmine Hubbard (Connie)
Vincent Pasquill (Don)
Steven Jones (Paul)
Mandy Rowe (Michelle)
LaVon Wageman (Diana/Ali)
Sean McKinley (Zach)
Emily Mann (Sheila)
Tara Reed (Reggie)
Anne Squier (Cassie)
Rachel Allcock (Rachel)
Mackenzie Ward (Val)
Breanna McKinley (Bobbi)
Katie Arbuckle (Kristine)
Nicki Elledge (Bebe)
Maddie Baldwin (Maggie)
Courtney Brooks (Roxie)
Karina Vasavada (Vicki)
Keely Moore (Lisa)
Katie Plaxe (Tricia)
Corinne Morris (Francine)
Kate Biel (Torri)
Tara Shockley (Lois)
Shirin Adigopula (Mary)
Lindsey Steinert (Diana/Ali)