Jonny is the unpopular new kid at Enrico Fermi High, and he's not endearing himself to Principal Strict either after he has the audacity to take the "h" out of his good Christian name. A blossoming romance with Toffee begins to bring some happiness into Jonny's life, but when Toffee's parents insist she dump the misfit, a despondent Jonny throws himself into a nuclear waste silo.

But that's not the end of the story. It's only the beginning…

Such is the setting for this campy, cult-favorite musical that the revered Floyd Central Theatre Arts program brought to the 2007 Thespian Festival. And the cast proves impressive both at the campy, melodramatic humor and at the rock vocals.

Ben Clark leads the way as the h-less Jonny who is called back from the dead and finds that it isn't much easier being green, but it's at least made him much more popular. He's a blast of charisma leading his Blast From The Past number that celebrates his return to the living, a new life he owes all to the prayers of "teenager in mourning" Toffee. Amy Harpenau, who earlier in the Festival played a big-haired, tough-as-nails Miss Flannery in the national cast of Thoroughly Modern Millie, helps choreograph this show and stars as Toffee, nailing her musical numbers including songs including Jonny Don't Go (to the nuclear plant), which she sings surrounded by her amusing girlfriends.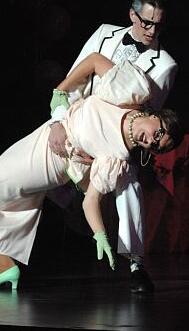 And then there's the unforgettable duo of Principal Strict and tabloid reporter Eddie Flagrante. Kaitlin Horvath is the former – a prim prude of a principal with a temper boiling under the surface who has a passion for regulations and a weakness for her own "blast from the past." Max Gosman is the latter, and he is sensational as an over-the-top film noir reporter who fights for Jonny's undead rights and steams up Strict's glasses (a woman he thinks is hot enough to melt, and he just wants to be there to "lap up the puddle"). Their tango duet Expose brings down the house.

The ensemble demonstrates a great sense for the cheesy melodrama throughout, and they seem to "lap up" the zombie choreography of BetteWeber Flock. Director Chris Bundy's production captures the comedy and the visuals that include some backdrops and sets out of 50's horror comic books, some humorous props (including Toffee singing to a teddy bear with Jonny's signature leather jacket and green hair), and some cool lighting effects by Ronnie Breedlove featuring a lot of nuclear-glow green.

Performed June 29, 2007.

Rob Hopper
National Youth Theatre

~ Cast ~
Miss Strict: Kaitlin Horvath
Toffee: Amy Harpenau
Jonny: Ben Clark
Eddie Flagrante: Max Gosman
Candy: Erin Mathieson
Ginger: Sarah Vogt
Coco, Ramona: Katie Thurston
Josh: Brad Ling
Jake: Brad Green
Joey: Chad Renn
Enrico Fermi High Kids:
Melissa Mazer
Anastasia Winde
Anna Fearheily
Hillary Horvath
Audrey Minix
Leslie Spitznagel
Taylor Recktenwald
Hilary Halsey
Colin Schreier
Samantha Cooper
Brittany Loop
Blake Oliver
Elaine Elliott
Courtney Allen
Neil Brewer

Production Design and Direction: Chris Bundy
Musical Director: Angela Hampton
Choreography: Bette Weber Flock and Amy Harpenau
Sound Design: Ben Madden
Lighting Design: Ronnie Breedlove
Wardrobe: Viki Hays, Susie Ems, Janet Slaughter

Photos by R. Bruhn Photography: http://www.shutterfly.com/pro/thespianfestival/2007