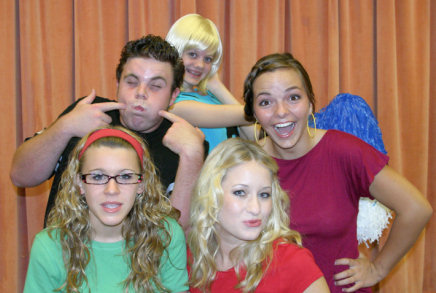 "Luann," the original comic strip initially conceived by Greg Evans, is now an endearing new musical about the "teen years" and the ups and downs along the way. The Fallbrook Players brought this comic strip to life on stage with an original new musical entitled Luann Scene's in a Teen's Life. This talented group of actors did an impeccable job of translating this inspired comic strip from page to stage. The musical contains the teenager-angst story line elements of 13 the Musical with the clean and happy-go-lucky feel of You're a Good Man Charlie Brown and Snoopy!
Luann (Kelsey Prince) is the typically ordinary teenager who deals with tough classes, dreams of boys, and wanting to experience the greatest summer of her life. Kelsey Prince brings illustrious amounts of charm to the role along with her amazing vocals. Prince not only has the distinct resemblance to the cartoon character Luann, but her candid portrayal is an almost perfect replication of the "ordinary" teenager. Along with Luann's female comrades, Delta (Katey Sullivan) and Bernice (Lauren Grant), these adolescents muddle their way through schoolwork, annoying posses of self-centered cheerleaders, and boy crushes. Katey Sullivan delivers a genuine performance in her portrayal of Delta. Not only does she bring her wonderful vocal abilities to the role, she creates a sincere depiction of a positive and loyal friend to Luann. Lauren Grant makes for a fun-loving and bouncy curly-head whose spark and stage-presence illuminate the stage.
Like most high schools, the ominous and inevitable presence of the catty group of cheerleaders seems to dominate the hallways as they manipulate those around them. Led by head cheerleader Tiffany (Sarah Woodson), this group of ditzy gals does not fall short of this stereotype. Tiffany typifies the meaning of mortal enemy when she attempts to steal Luann's crush Aaron Hill (Tam Thompson) away from her.
The students from Pitts High, including the peppy cheerleaders, give a great ensemble performance with their youthful vigor, impressively clean harmony, as well as age-appropriate dance routines. These rambunctious students personify the typical student body in any high school across America, making their stories relatable and engaging.
Luann is not the only teenager dealing with the endless mystery of boy-girl relationships. Her lazy but charming brother, Brad (Kalin Blackshear-McKelvey), has an enormous crush on a beautiful but naive girl in their town. Blackshear-McKelvey gives an authentic comical performance as the older brother on the verge of adulthood. With the guidance of her strict mother (Maggie Skidmore) and comedic father (Steve Warrick), Luann and Brad amble down the winding road of adolescence.
Greg Evans, the author and composer of this amazing musical, demonstrates a strong grasp of the idiosyncrasies for growing up teen thanks in part to his two daughters, from whom he received inspiration. Evans' hands-on involvement with this production is both admirable and heartwarming as he came to almost every show and even the rehearsals. "Luann…" has an enormous amount of relativity and authenticity. Don't be surprised if this wonderful adolescent-friendly theatrical endeavor moves on to bigger stages.
Performed October 17-26, 2008.

Ashley Twomey
National Youth Theatre
~ Cast ~
Luann DeGroot- Kelsey Prince
Brad DeGroot- Kalin Blackshear-McKelvey
Delta- Katey Sullivan
Bernice- Lauren Grant
Tiffany- Sarah Woodson
Toni- Katie Corcoran
Aaron Hill- Tam Thompson
TJ- Jonah Price
Mother- Maggie Skidmore
Father- Steve Warrick
Miss Allison- Maggie Harriman
Mr. Fogarty- Bruce Thompson
Brad's Conscious: Devil- Emil Lundqvist
Brad's Conscious: Angel- Karlee Robinson
Cheerleader Posse-
Anna Warrick
Marysa Robinson
Erin Alderdice
Samanatha Geikie
Savanna Woodson
Breanna Briggs
Pitts High School-
Abby Davis
Hayley Reynolds
Sydney Skidmore
Anzy McWha
Bo Andre Lundqvist
Chase Ogden

Director/Choreographer: Allisan Whitman
Musical Director: Leigh Sutherlin
Set Design: Carl McWha & Mini Lundqvist
Costumer: Cathy Cisneros
Light Design: Nate Johnson
Sound Design: Jane Stimmel