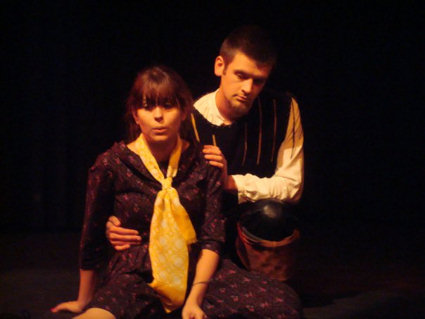 An actor drops a $20 bill, and a few seconds later its been mysteriously swept away. Proof, perhaps, that those mythical black-dressed, "anonymous" techies really and truly do exist. But will the universe shatter if an actor and a stagehand talk together? And even begin a relationship??

Such is the centerpiece of this new play about techies and actors and the backstage of youth theatre, with a theatre ghost thrown in there for good luck. Encore Youth Theatre had run a playwriting contest, but as the deadline loomed, no one had submitted a show. Enter Teddy Blessing and Emily Sperling and their brief one-act about the peculiar relationship (or lack of relationship) between cast and crew, and the way they treat each other. Encore liked it, and encouraged them to develop it into a full two-act play with music. The result was performed January 22-24, 2010 at the Broadway Theatre in Vista, California.

The script is still a bit rough, but it's got a great premise and some very clever moments. It's mostly a loose assortment of anecdotes, which apparently are almost all based on real dialogue that the writers have heard from actors and crew members in past shows. You've got a ditzy actress and an overeager actress, an opera singer who loves the sound of her own voice, and a brownnoser. And you've got an emotional actor who gets moved by a death scene and tells a crewmember to get him a tissue.

The latter being the main crux of the show – actors who use, abuse, and/or ignore crew members, or one (Christina Swanson) who patronizingly goes out of her way to schmooze in the hopes of getting great service (the unimpressed crewmember noting that her props will definitely be in the wrong place come show time). In the show, the actors have taken the crew so much for granted that they've become oblivious to the "stage rats." When actor Aaron (Drew Bradford) discovers crewmember Felicity (Lauren Gilbert), she helps reveal the hidden world of the crew to him (crew members suddenly appear to come out of the woodwork doing their job, which Aaron excitedly notes that it's like having ninjas in every corner). Aaron becomes known as "The Techie Whisperer," and other members of both cast and crew are not too pleased about this forbidden love.

The cast, the crew, and "them" (stage manager, producer, choreographer, director, conductor, and the mysterious ghost) do a nice job under the offstage and onstage direction of Emily Sperling. Other writer, Teddy Blessing, also plays the not-too-bright actor Toby who gets duped into trying to bite his ear by chasing it round and round with his teeth (and comes very close to catching it).
The songs range from spooky apocalyptic dirges to campy fun, and run the gamut of jazz, contemporary, swing, and tango. Marshal Briggs teams up with Pamela Lambert for Love You, Love Me while also leading the tap dancers in Rather Have Rain and the ensemble in the spooky Highway Nine, crew member Laura (Milan Lambert-Magana) sings Everybody Else with everybody else, and Sarah Jaka as Chloe sings Quoth. Lead Drew Bradford heads up 3 Step 2 Finding the 1 as he falls for Felicity, with Lauren Gilbert singing the solo Classy Love. And they save a couple of the best songs for last, with most of the crew leading the well-done ensemble number The Farmer, and the truly unforgettable Can't Get It (Out of My Head) tune that dooms humanity because humans couldn't get the song out of their heads.
Congrats to Teddy Blessing, Emily Sperling, Aeli McClellan and the gang for writing the show, holding auditions, finding the rehearsal space, directing it, and putting it up on opening night. And for revealing the fifth wall of the theatre world with their techie whispering. And for that song I can't get out of my head.
Performed January 22 - 24, 2010
Rob Hopper
Facebook
Instagram

Executive Director
National Youth Arts
~ Cast ~
~ Cast ~
Harold: Marshal Briggs
Priscilla: Pamela Lambert
Aaron: Drew Bradford
Linus: Adam Keck
Chloe: Sarah Jaka
Marty: Jalie Fransway
Donna: Emma Keck
Clare: Christina Swanson
Jeni: Jenianne Fortney

~ Crew ~
Felicity: Lauren Gilbert
Toby: Teddy Blessing
Laura: Milan Lambert-Magana
Cara: Trista Pietrucioli
Tori: Aeli McClellan
Lizzy: Jocelyn Britton
Jessi: Jessica Lane

~ Them ~
Stage Manager: Barbara Wixen-Prevo
Stephen: Jake Lamont
Producer: Mary Fry
Choreographer: Andrew Bertotti
Director: Emily Sperling
Conductor: Sandy Ashcraft