THE SHOW: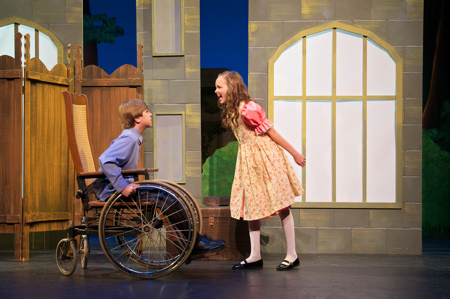 Book by Tim Kelly, Music by Bill Francoeur, based on the novel by Frances Hodgson Burnett.
After young Mary Lennox loses her parents and entire household to a cholera outbreak in India, she is moved into the large estate of her reclusive and socially awkward Uncle Archibald Craven. Spoiled and sullen, Mary initially finds little to like in this house of an intimidating Mrs. Medlock, a sassy housekeeper Martha, a widowed uncle who avoids her just as her parents had avoided her, and her uncle's ornery, bed-ridden son who is as spoiled and stubborn as she is. But there's beauty and willing friendship outside the gloomy mansion, and a secret garden once tended by Archibald's late wife, and a chance for their long-dormant lives to bloom. This 1994 musical adaptation, not to be confused with the haunting 1991 Broadway version, is focused more on the children and household staff than on the uncle and his brother – a lighter and more whimsical take on Frances Hodgson Burnett's classic novel.
THE PRODUCTION:
Twelve-year-old Haley Reed stars as a highly precocious Mary Lennox filled with great expressions, attitude, charisma and, in time, affection as she discovers friendship. Not much of that friendship comes from the stern Mrs. Medlock, but Kendra Matthews works in plenty of character-appropriate humor and some subtle clues that she cares for the children, which makes the climactic scene work all the more effectively. Nick Williams is the frustrated, bedridden Colin who begins to thaw as Mary brings some of the light and hope she's finding into his dark room.
That light mostly comes from the Sowerby's One Big Happy Family. And they are a fun and thoroughly likeable lot. Rachel Primrose as the cheeky and good-natured Martha who can charmingly throw back whatever Mary can dish out, Raini Hawkins as the easygoing gardener's apprentice Dickon who introduces Mary to the beauty of nature and leads the cast in Take a Flower to the Fair, as well as Mrs. Sowerby (Abigail Marshall) and her entire brood who show easy family camaraderie in One Big Happy Family.
Stephanie Quinn delivers some lovely vocals as Dr. Craven's lost Lilias. The rest of the household, Dr. Craven (Kevin Poppell), his brother Archibald (Colter Ray), Mrs. Crawford (Gillian Elliott), and Kanchi (Alexa Buttafuoco), are depressed, unhappy, and/or angry, making the need for Mary and Colin to get a glimpse of life outside their sphere all the more urgent. The entire cast does a beautiful job with the inspiring You Can Do It numbers as Colin attempts to walk, and as he attempts to do it with his unsuspecting father and Mrs. Medlock watching on in stunned, emotional disbelief.
These are nicely staged scenes by Director Joel Cranson. And his design team gives the entire show a highly professional feel including great turn-of-the-century costumes by Barbara Jakucki. The terrific sets by Dori Brown and lighting by Daniel Davisson capture the contrast between the lifeless manor house and the wonder of the secret garden.
Performed September 26 - October 6, 2013
Rob Hopper
Facebook
Instagram

Executive Director
National Youth Arts
~ Cast ~
Add Artist Page
Mary: Haley Reed
Mrs. Medlock: Kendra Matthews
Martha: Rachel Primrose
Cook: Michael Borrmann
John: Steven Enriquez
Phil: Casey Pettyjohn
Betty: Kylie Burge
Jane: Zoe Whiting
Mrs. Crawford: Gillian Elliott
Kanchi: Alex Buttafuoco
Miss Wiggin: McKenzie Elias
Dickon: Raini Hawkins
Dr. Craven: Kevin Poppell
Mrs. Sowerby: Abigail Marshall
Nurse: Kacey Cavanagh
Archibald Craven: Colter Ray
Colin: Nick Williams
Lilias: Stephanie Quinn
Bellboy: Calvin Mugge
Upstairs Maid: Juliet Bennett
Kitchen Maid: Caroline McGlasson
Parlour Maid: Adrineh Stephenson
Scullery Maid: Calabria Pelletier
Chamber Maids: Clara Nagy, Allison Poppell
Sowerby Children: Lilie Grosz, Mackenzie Perry, Diana Stapley

Director: Joel Cranson
Music Director/Sound/Props: Karen Rolston
Stage Manager: Cori Johnson
Choreographer: Lauran Stanis
Costume Design: Barbara Jakucki
Make Up/Hair Design: Beth Mosey
Set Design: Dori Broown
Lighting Design: Daniel Davisson
Tech Director: Andrew Nunemacher