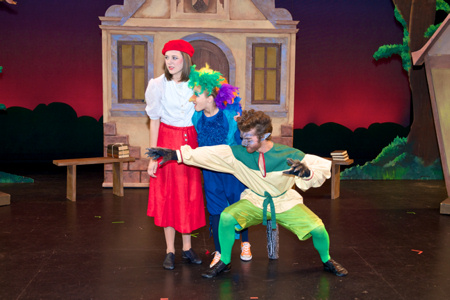 THE SHOW:
Book by Bradley G. Carter, Music by Kathie McMahon.
This entertaining new musical adaptation of Grimmís Little Red Riding Hood takes us to 1930s France where Little Red (aka Marie) wears a red beret, the flowers just off the path to Grandmotherís house can do the can-can, and a quartet of mimes may just save the day. Little Red/Marie is a favorite with the kids in the village as a lovable storyteller, but to Marie the stories are just flights of fancy. Sheís far more intrigued by real things like Madame Curie and the discovery of Pluto and her talking parrot friend Jacques, dismissing fairy tales about dangerous wolves in the woods. But The Wolf is very real. And when Marie purchases some items to take to her ill grandmother, items that The Wolf had hoped to purchase himself (including lavender candles that help him to relax), he grows determined to get his revenge and those lavender candles.
THE PRODUCTION:
East Valley Childrenís Theatre gives this new musical its world premiere. Director Karen Rolstonís production looks great with welcoming village shops (sets by Thomas Gilseth) and nice costumes by Kathy Most. And the show is perfectly paced and staged, setting the characters while capturing the humor and the tension and the fantasy.
A terrific cast brings the modernized fantasy to the stage. As Little Red, Ashlyn Riggs is intelligent, charming with the young fans of her storytelling, and fearful as a monster from the fairy tales attacks. She also delivers some impressive period vocals with the jazzy Stay on the Path. Brian Robertson sinks his teeth into his role as The Wolf, enjoying being the bad guy as he gets frustrated with his shopping spree, intimidates some flowers, tries to separate Marie
and a kindly woodsman, and breaks the fourth wall as his search for tasty little human morsels includes the front rows of the audience (which at this showing was concerning enough to make one young toddler in the front row cry). Tyler Briggs is a thoroughly likeable woodsman Jean Claude with the soul of an artist, and Elizabeth Schaible is a fun, slapstick sidekick as Marieís talking parrot friend Jacques who is none too pleased when the mimes make him a Jacques in an invisible box from which he cannot escape.
Elsewhere, Emma Lovata is a hoot as a lively Grandma who makes The Wolf miserable, Landon Bowman shines as a melodramatic, la petite pirate, and Nikki Kamouzis is sweetly maternal as Marieís mother. While the ensemble is deeply talented with friendly villagers, unfriendly woodsmen, excited village children, flowers that are at first lazily confident and then terrified, and mischievous mimes (Leonel Gallegos, Calvin Mugge, Bailey Mae Goins, and Jessica Hughes) who expertly and quietly go about their business of saving the village children from boredom and monsters.
Performed June 19 - 29, 2014
Rob Hopper
Facebook
Instagram

Executive Director
National Youth Arts
~ Cast ~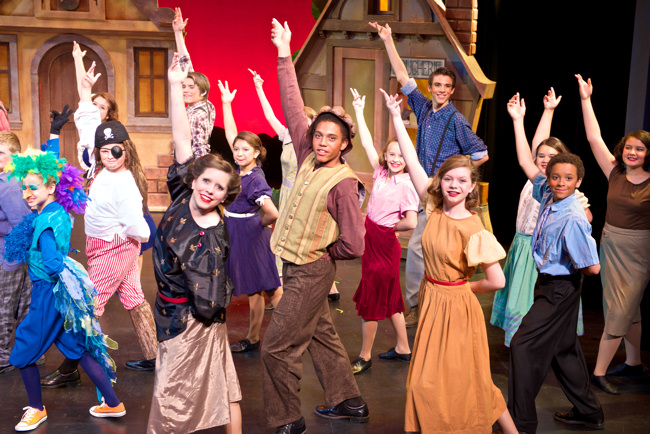 Add Artist Page

Marie (Little Red): Ashlyn Riggs
Jacques: Elizabeth Schaible
The Wolf: Brian Robertson
Rene: Nikki Kamouzis
Grandma: Emma Lovata
Jean Claude: Tyler Briggs
Baker: Audrey Potts
Butcher: Steven Enriquez
Candlestick Maker: Elena Mugge
Candlestick Maker's Assistant: Dillon MacLay
Truffler's Wife: Allison Poppell
Truffler: Noah Parker
Philippe, La Petite Pirate: Landon Bowman
Mimes:
Leonel Gallegos
Calvin Mugge
Bailey Mae Goins
Jessica Hughes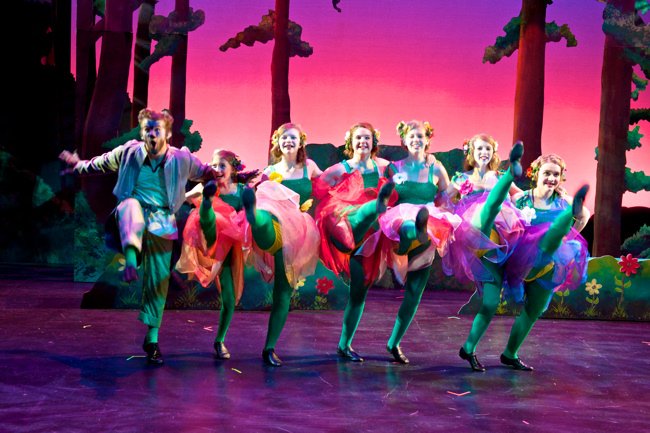 Woodsmen:
Kevin Poppell
Dillon MacLay
Tanner Morris
Flowers:
Paige Van Conant
Malia Williams
McKenzie Elias
Zoe Whiting
Suzy Olson
Clara Nagy
Village Children:
Mackenzie Perry
Abbey Primrose
Morgan Riggs
Diana Stapley
Dillon Lamb
Madeline Riggs
Ayden Ford
Villagers:
Jacob Payne
Helena Fewer
Isabela Herckes
Anaid Avila
Brighten Knight

Director/Music Director/Props/Sound Design: Karen Rolston
Stage Manager: Katie Olsen
Choreographer: Jennifer Duxbury
Costume Design: Kathy Most
Make Up/Hair Design: Beth Mosey
Set Design: Thomas Gilseth
Lighting Design: Daniel Davisson