Encore Youth Theatre shines again in a lively and adorable production of Ronald Dahl's "Willy Wonka," performed at the Avo Playhouse
Oct. 5th - 13th, 2012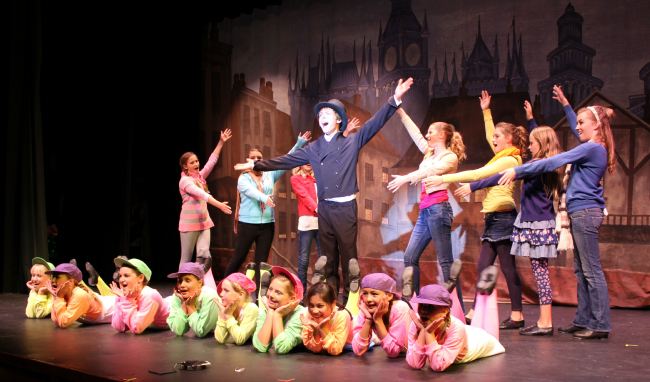 As in the original 1964 novel and the two film adaptations, the theater version revolves around the contest which brings five fortunate children, who happen to find golden tickets under the wrapping of their favorite Wonka candy bars, to Willy's factory for a special tour. While these children don't know it, more is at stake than a tour of the mysterious candy factory and the promise of a lifetime supply of Wonka's tasty chocolate.
As Willy tells us early on, he's looking for an heir to his empire of sweets. Only one of the children, the penniless lad from a loving family, Charlie Bucket, is truly deserving. The others are spoiled by overly indulgent parents, too much television, and bad habits, and during the course of the show they receive their just deserts -- and these are not of the dessert variety. While things get a little dicey even for gentle little Charlie, all turns out fine in the end.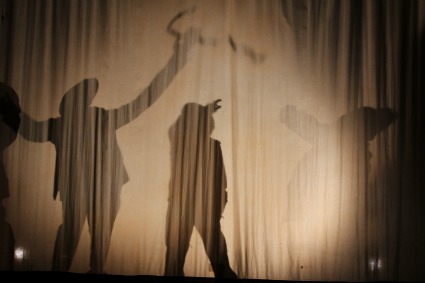 Reed Lievers nicely nails the role of the enigmatic candy king Willy Wonka. Sometimes humorously goofy and at other times slightly menacing, even sinister in his sarcasm. For the most part, however, he is a benevolent presence. As the poor boy who is honest and true, Charlie, played by the young Josh Bradford, is strong. He ably conveys the character's openheartedness and works especially well with Jake Bradford's character – affectionate but crackling old Grandpa Joe. Especially entertaining was Director Miles Vencill's special effects in Grandpa Joe and Charlie's duet "Flying".

Convincing and entertaining in their roles, the poor, bedridden but proud Bucket family are Maddie Aldecoa as Mrs. Bucket, Aubrey Fusco as Grandma Josephine, Hannah Vigil as Grandma Georgina, and Dante Saliba as Grandpa George.

The songs made popular in the 1971 musical film adaptation starring Gene Wilder are here. Reed Lievers gives us a nicely measured version of "Pure Imagination", and Miranda Colvin's "The Candy Man" was very refreshing and upbeat. The always fun Oompa-Loompas carry off their various Oompa-Loompa songs moralizing on the mistakes of the not-so-good children with humorous aplomb.

Jordan Gray, the loudest of the show's vile children as Veruca Salt, showed her strong vocal ability in "I Want It Now" and is well cast and convincing in her role. Augustus Gloop (Abel Vigil) and Mrs. Gloop's (Allegra Herris) hilarious version of "I Eat More" was a big hit with the audience as was Mike Teevee's (Michial Michalovich) tune "See it all on TV", and Elle Barrett (Mrs. Teevee) delivered great comedic timing in her portrayal of his doting mother. Especially funny, Mrs. Beauregard (Paulina Nguyen) and Violet (Abby DeSpain) amused all as the humorously spoiled gum-chewing brat and her hovering mother.

Vivid costumes created by Sandy Shay brought to life the energetic and thoroughly loveable ensemble, and was clearly evident they enjoyed their experience in this production.

With a solid live orchestra conducted by Amy McDowell, strong musical direction by Debbie Nicastro, imaginative choreography from Kathryn Baker, and a great overall production by new and upcoming Director Myles Vencill, Encore's "Willy Wonka" showed how this classic can continue to entertain with fresh new direction.

Terrance Blessing
National Youth Arts


~ Cast ~

Add Artist Page

Willy Wonka: Reed Lievers
Charlie Bucket: Josh Bradford
Grandpa Joe: Jake Bradford
Phineous Trout: Shelby Sanborn
Veruca Salt: Jordan Gray
Mr. Salt / Cooks Chorus: Jason Ruiz
Violet Beauregard: Abby DeSpain
Mrs. Beauregard: Paulina Nguyen
Augustus Gloop: Abel Vigil
Mrs. Gloop: Allegra Herris
Mike Teevee: Michial Michalovich
Mrs. Teevee / Cooks Chorus: Elle Barrett
Mrs. Bucket: Maddie Aldecoa
Grandma Josaphine: Aubrey Fusco
Grandma Georgina / Cooks Chorus: Hannah Vigil
Grandpa George / Cooks Chorus: Dante Sallba
Candy Man / Cooks Chorus: Miranda Colvin
Sophie / Cooks Chorus: Kaitlyn White
James / Cooks Chorus: Rylee Jolene Callen
Matilda / Cooks Chorus: Madison LoCascio
Billie / Oompa Loompa: Bella Hauser
Cooks Chorus: Allyce Calloway

Oompa Loompas:
Emmalee Liuchan
Grace Dearborn
Emily Larson
Brianna Addington
Larkin Gallup
Anna Hartley
Aubree Rose Hennessy
Madeline Nguyen
Madelyn Bobele

Director / Lighting Design: Myles Vencill
Musical Director: Debbie Nicastro
Choreographer: Kathryn Baker
Orchestra Conductor: Amy McDowell