Under the direction of Ms. Dana Carr, Encore Youth Theatre again fills the Moonlight stage with a nicely creative and visually attractive version of Andrew Lloyd Webber's "Joseph". Based on the story of Joseph and his "coat of many colors", this production was Andrew Lloyd Webber and Tim Rice's first collaboration to be performed publicly. It premiered in London in 1968 and went through numerous expansions and revisions throughout the '70s, before opening on Broadway in 1982.
Narrators Brooke Kesler, Catherine Lynch, and Alexandria Miller nicely carried the show with strong vocals including Brooke's rousing "Joseph's Coat", Alex's soulful rendition of "Poor Poor Joseph" and Catherine's refreshing "Potiphar". All three teamed together in an amazingly strong and highly charged "Go Go Go Joseph" that rounded off the first act on a high note.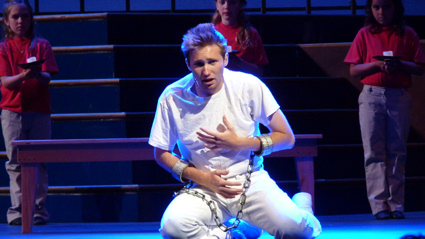 Quinton Walker as Joseph is a confident performer with a solid voice. And there is enough tenderness in him to get the songs across, particularly in numbers like "Close Every Door," which requires a certain haunted quality.
Other notable performances include Anna Reyes (Issachar) whose "Benjamin Calypso" was absolutely infectious. The Pharaoh, played by Drew Bradford, was well cast in his role, and Drew does an Elvis take on the Pharaoh that had the audience in stitches. David Crespin amused all in his role as Potiphar, and Emily Majewski showed impressive talent as Potiphar's wife with great charisma and polished dance throughout the show. (Clearly a great choice as dance Captain.)  Sawyer Henderson is charming as the "Baker," and Jeremy Mauritzen showed nice comedic timing in his role as the "Butler."
Joseph's brothers work joyously as a group (clearly having a great time), while those who step out for individual moments in the spotlight all nail the moment. Jake Bradford (Levi) and Anna Broberg (Angel) showed real talent and crisp vocals in "One More Angel" as did Jacob Kimbarrow (Asher) in "Canaan Days". There's no mistaking that each member of the Brother's ensemble were completely on top of their game.
Assisting the cast's impressive singing talent are an energetic Children's Ensemble, a Teen Ensemble with many outstanding voices, and a remarkable sixteen-piece pit orchestra aptly directed by Lyndon Pugeda that filled the Moonlight with an almost overwhelming crescendo. 
With solid direction, an incredible orchestra, great costumes, a huge talented cast and the beautiful Moonlight stage as a canvas, Encore clearly showed how "Joseph" can be told again with a new energy.
Performed June 7th- 16th  Moonlight Amphitheatre
Terrance Blessing
National Youth Arts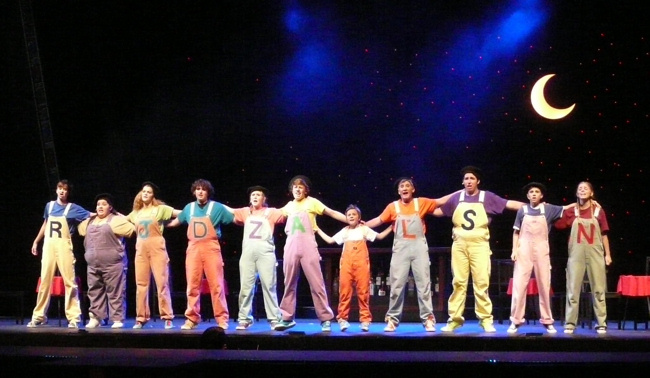 ~ Cast ~
Add Artist Page

Joseph: Quinton Walker
Narrator: Brooke Kesler
Narrator: Catherine Lynch
Narrator: Alexandria Miller
Jacob/Potiphar: David Crespin
Potiphar's Wife: Emily Majewski
Pharaoh: Drew Bradford
Judah: Ashlyn Bobele
Levi: Jake Bradford
Benjamin: Josh Bradford
Angel: Anna Broberg
Naphtali: Allie De Gour
Reuben/Baker: Sawyer Henderson
Gad: Hayden Kerzie
Asher: Jacob Kimbarrow
Zebulon: Grace Marshall 
Simon/Butler: Jeremy Mauritzen
Issacher: Ana Reyes
Dan: Harrison Schwatrz           
Teen Ensemble:
Maddie Aldecoa
Jaclyn Bobele
Madison Britton
Rylee Jolene Callen
Allyce Calloway
Aubrey Fusco
Salima Gangani
Bella Hauser
Allegra Heris                      
Grace Kellett                     
Madison LoCascio           
Nathan Majewski
Skye McMillan                  
Makenna Nishimoto      
Paulina Nguyen                               
Mitchell Ridgaway
Jason Ruiz                          
Dante Saliba                      
Elizabeth Urbina              
Hannah Vigil      
Kids Ensemble:
Zoe Gomes-Aviv             
Madelyn Bobele              
Lily Brown                          
Kammi Fonseca
Hannah Hudson                               
Vanessa Johnston          
Sarah Kelly                         
Jasmine Kennedy
Malia Mohrman               
Zoe Mohrman                  
Malia Morris                      
Madeline Nguyen
Jayla Pantig                        
Maya Partain                    
Megan Porter                   
Emma Rivera
Conor Simon                     
Krystal A. Zarate
Orchestra:
Lyndon Pugeda                
Kyle Myers                        
Amy Kalal                           
Ted Wait
Danielle Scavetta            
Mike McMahan                               
Priscilla Norris                   
Michelle Sorger
Donna Kilpatrick              
Aaron Browning              
Andrew Michel                
Daniel Filippi
Nicholas Farrow               
Steve Wright                     
Philip Helenschmidt
Production Team:
Director: Dana Carr
Musical Director: Lyndon Pugeda
Choreographer: Allisan Whitman