Urinetown
by El Camino High School
Director Sharon Strong and her group saturates you in Urinetown from the moment you walk into the lobby at El Camino High School in Oceanside. You're immediately presented with a lei (no, not flowers – rather a toilet seat cover). On their festive opening night, they were serving food and drinks (urine-aid) and fancy napkins that you rip right off the roll of toilet paper.

And inside the theatre is a great show. That's where narrator Officer Lockstock (Kevin Cleary) introduces us into the future drought-stricken police state where you have to pay to pee. And Kevin clearly loves his job, literally drinking up his role as chief enforcer of the urine laws, doing so with terrific comic timing and melodrama. A little freaked out by his toughness, and even more freaked out when he invites her to sit on his lap, is Kim Moore as Little Sally who aids in the narration with pointed questions and amusing expressions, and seems to be suffering from the difficult, drought-stricken life as she moves around with stiff, jerky movements.

The story they narrate is that of Bobby Strong, the public urinal assistant who rises to revolutionary leader of the people, and his budding romance with Hope Cladwell, the big-hearted debutante daughter of the cold-hearted CEO of Urine Good Company – the greedy corporation that keeps jacking up the cost of urination so they can make outrageous profits while ostensibly searching for solutions to the environmental disaster. Bryce Nicastro has a strong voice and a wide-eyed, boyishly naïve personality who becomes a determined leader of the popular rebellion. Makenzie Daris is Hope, bringing to the role sensational singing and a sweet, Shirley Temple-like personality and expressions (until she gets turned on by Bobby Strong in their hilarious duet Follow Your Heart).
Elsewhere, Laurel Burns is a riot as a thoroughly intimidating public facility manager Penelope Pennywise with a mysterious, steamy past (she licks her plunger when she gets really excited). Jake Tidwell lends his good vocals and cocky personality to the ruthless CEO Caldwell B. Cladwell. Sean Porter is Lockstock's sidekick Officer Barrel who just moodily does his job until he transforms into a silly, hopping, little bunny in the well-done Don't Be The Bunny. And the ensemble does a fantastic job of creating their own individual quirky characters. A few notables include Morgan Byrne as Bobby's mom, Nicole Newsom as a Soupy Sue who is always fidgeting, picking at her butt, rolling her tongue around her mouth, getting other to smell her armpit, etc., the hilarious Sarah Jun as an excitedly sadistic Little Becky Two Shoes, and Alec Hafner as Robbie the Stockfish who joins Becky in leading the ragtag group in Snuff That Girl.

All aspects of the show were impressive, from the terrific set borrowed from Laguna Beach High School to the great lighting effects (Michael Hoffman), choreography (Theo Ivey, Jake Tidwell, Ashley Michelson), and orchestra (Jeff Lehman conducting). Though you wouldn't want to live there, it all made a visit to Urinetown extremely entertaining. Except for that urine-aid aftertaste…

Performed March 28 - April 6, 2008.

Rob Hopper
National Youth Theatre

~ Cast ~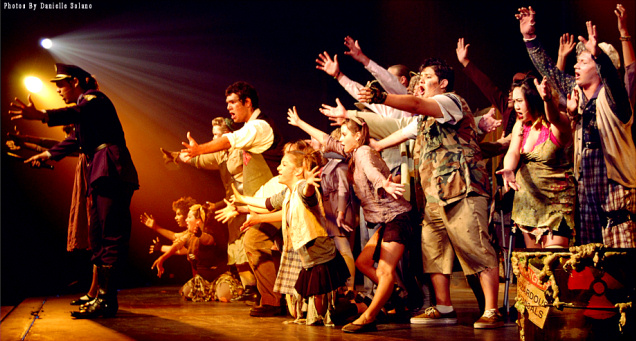 Officer Lockstock: Kevin Cleary
Penelope Pennywise: Laurel Burns
Bobby Strong: Bryce Nicastro
Littley Sally: Kim Moore
Dr. Billeaux: Daniel Prado
Mr. Randolph J. McQueen: Wesley Fant
Senator Fipp: Kasey Luna
Officer Barrel: Sean Porter
Hope Cladwell: Makenzie Daris
Old Man Strong: Austin Cook
Tiny Tina: Stacey Brizeno
Soupy Sue: Nicole Newsom
Little Becky Two Shoes: Sarah Jun
Robbie the Stockfish: Alec Hafner
Caldwell B. Cladwell: Jake Tidwell
Josephine Strong: Morgan Byrne
Mrs. Millennium: Amber DePace
Hot Blades Harry: Michael Montano
Billy Boy Bill: Valente Ruiz
Ensemble:
Melina Anderson
Lauren Berg
Dominique Biela-Bell
Marietta Bowers
Christine Buccelli
Shelby Caughron
Rebecca-Anne Cortes
Ruth Dimetros
Laura Flores
Casey Hensley
Angelica Luna
Skyler McFadden
Jessica Miller
Michelle Molin
Lyndsey Moses
Adam Paniagua
Luiza Savchuk
Nicholas Shannon
Sondra Stephenson
Jessicah Turman
Kaylei Willis

Director: Sharon Strong
Musical Director: Jennifer McCormick
Conductor: Jeff Lehman
Choreographers: Theo Ivey, Jake Tidwell, Ashley Michelson
Scenic Design: Laguna Beach High School
Lighting Designer/Technical Director: Michael Hoffman
Stage Manager: Kayla Brignac
Costumer: Sandra Shay
Sound Engineer: Ryan Aagaard