THE SHOW:
Book, Music, and Lyrics by Gerry Cullity.
Cinderella gets magically whisked off to turn-of-the-century New York City in this musical adaptation by Desert Stages Theatre co-founder Gerry Cullity where the affluent Charming family, recent immigrant Cinderella and her wicked but kind-of-cute stepfamily, Italian stowaway mice, and some ragtime music combine to jazz up the classic fairy tale.
THE PRODUCTION:
Desert Stages Theatre draws you into turn-of-the-century New York with their theater in the round, the sets and painted walls all about you featuring the city skyline, Ellis Island, posh Manhattan mansions and rundown corners of the city, with Director Lisa Barton working with Artistic Director Laurie Cullity on designing the sets.
The production is divvied up among four different casts, with this viewing featuring Libby Stiles and Jeremy Yampolsky as Cinderella and Brandon Charming. Libby has a gentle sincerity that fits the role as well as easy playfulness when it comes to her hyped-up mice friends who joined her on her transatlantic journey. Jeremy is good as the good guy Brandon Charming, trying to have an artistic life, a bit embarrassed by his unabashedly materialistic and intimidating control freak mother Millicent (Arianna Williams) and his would-be philandering father Herbert (Wyland Barton) who tries to pick up the women in the audience behind Millicent's back. Libby and Jeremy work nicely together as they find their soul mate in each other, and some welcome relief from their awful families.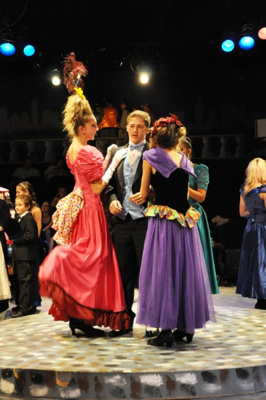 Cinderella's awful stepfamily is led by Megan Sawyer as Rosa (also the show's choreographer) who is very amusing as the vain, gold-digging stepmother who finds it's not easy being perfect, gorgeous, etc. She is perfectly prepared to not let a slight difference in age stand between her and Brandon Charming's money, plotting to nab Brandon for herself if her ditzy daughters can't manage it. Erin Tarkington and Kasey Hernandez are those wicked, but kind of cute, occasionally snorting stepsisters Mimi and Fifi. They are a blast as a comic duo who have the sister relationship down as teammates against Cinderella, romantic rivals for Brandon, and commiserating in Nobody Likes to be Lonely where sobbing Fifi takes full advantage of her human tissue box Mimi.
The rest of the cast includes four vibrant performances from her mice friends (Rachel Berry, Kellyn Broerman,Allie Rose, and Jack Yampolsky) who with Cinderella teach us all how to make ourselves happy with a Smile Check, as well as dynamic newsies and New Yorkers featured often in the many big musical numbers including kicking it all off with a mesmerizing song of Magic. And, of course, there is a Fairy Godmother, with Kristin Alba (also the assistant director) who serenely and tenderly guides us through the story of her Cinderella.
Performed August 23 - September 22, 2013
Photos by Heather Butcher
Rob Hopper
Facebook
Instagram

Executive Director
National Youth Arts
~ Cast ~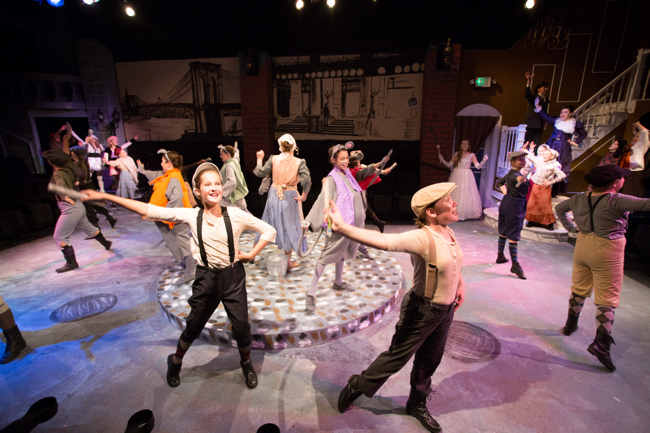 Add Artist Page

Cinderella: Libby Stiles
Brandon: Jeremy Yampolsky
Fairy Godmother: Kristin Alba
Rosa: Megan Sawyer
Millicent: Arianna Williams
Herbert: Wyland Barton
Mimi: Erin Tarkington
Fifi: Kasey Hernandez

Allegro: Rachel Berry
Andante: Kellyn Broerman
Presto: Allie Rose
Vivace: Jack Yampolsky
Babette: Brielle Quintana
McGruff: Brolin Cox
Alfred: Austin Kaye
Boris: Alex Candela
Millicent's Assistant: Emily Pawluk
Coquette: Victoria Jaramillo
Jolie: Sophia Johnson
Monique: Cassandra Jaramillo
Newsies/House Maids:
Dylann Cox
Haley Hanni
Ariana Jaramillo
Olivia Roberts
New Yorkers:
Morgan Baltzell
Lauren Butler
Katrina Butler
Lexi Collins
DJ Coon
Tristi Edwards
Trinity Lindsay
Lucy Lindsay
Chloe Novack
Nora Palermo
Josephine Raia
Natasha Milligan
Ryan Perry
Harley Barton
Estee Oglesbee
Alicia McCullough
Jaden Yonover
Brooklinn Hooser
Laguna Edwards
Ashley Hooks
Tabitha Momeyer
Lauren Allmeyer
Kylee Novack
Ashlee Kaye

Director: Lisa Barton
Assistant Director: Kristin Alba
Choreographer: Megan Sawyer
Technical Director: Brent Coatney
Set Design: Laurie Cullity, Lisa Barton
Lighting Design: Lindsey Ihrig
Stage Managers: Matthew Villarreal, Alicia McCullough
Costume Designers: Mickey Courtney, Rhea Courtney, Kiko Cheyenne, Lia Hunyady
Hair and Makeup Design: Misty Magnuson
Props: Mitch Etter