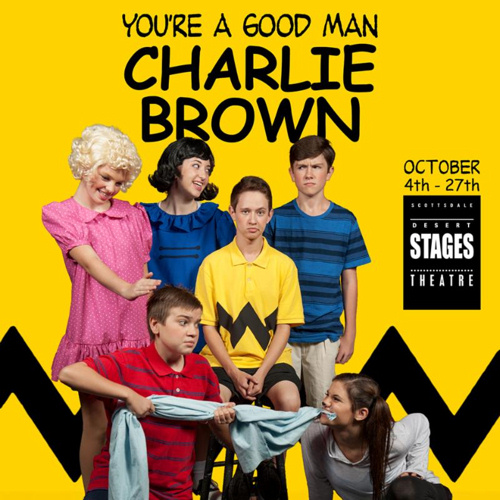 THE SHOW:
Lyrics and Music by Clark Gesner, based on the characters created by cartoonist Charles M. Schulz, debuted on Broadway in 1967
For more than sixty years George Schultz's Peanuts comic strip, and the beloved animated television specials it spawned, have made us all commiserate and find comfort in the lovable loser who keeps trying to kick that football no matter how many times Lucy pulls it away. Clark Gesner's musical adaptation of the comic strip allows the characters to come to life on the stage in a series of monologues, scenes, and musical numbers that remind us just how hard it is to face the challenges of growing up...especially if you're named Charlie Brown.
THE PRODUCTION:
At Desert Stages Theatre, the comic strip surrounds us painted on the walls: the pale blue sky with occasional puffy clouds, a long fence, a Peanuts strip neighborhood. On the stage is, in one corner, Snoopy's red house, in other corners a ladder and monkey bars. And in the middle of the set designed by Brett Coatney, Rebecca Courtney, and Andrew Lipman is a green park-like playground with a huge rainbow-colored roundabout perfectly suited to theater in the round and used so well throughout by Director Andrew Lipman and his cast of Peanuts characters.
Those cast members are the very first of DST's new "Next Stage Productions," giving some of their older students an opportunity to do some shows, including those featuring smaller casts, that weren't often performed in their youth theatre program before. This cast has Andrey Lull in the title role, and he has a great, understated sense of humor and demeanor befitting our hero as he begins finding his way through this world of awkward moments, countless failures, social anxiety, and friends like Lucy Van Pelt. That's Jordan Yampolsky knocking Charlie down a few hundred pegs with pleasure as the intimidating Lucy, trying her best to disturb Schroeder's (Stokley Berg) piano practice, and nailing her journey of self-discovery via crabbiness survey. Eighth grader Austin Butler, as Linus Van Pelt (Jared Lara in alternate cast), shares many humorous moments with his elder sister and with his blanket. And Cate Carlino (alternately Allison Steward) is Chuck's younger sibling with a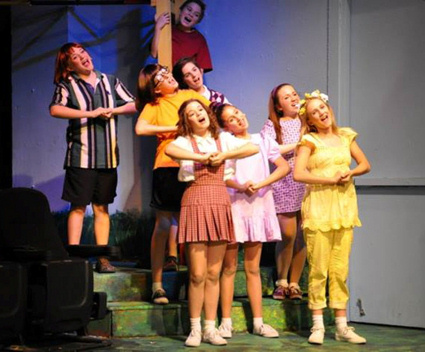 big little-girl voice and an equally big personality, amusingly proud of her many new philosophies.
Then, of course, there's Charlie Brown's loyal-when-properly-fed beagle Snoopy featuring Paige Michelet in this cast and Libby Stiles in the other. Highly expressionable, fantastic charisma, and an easy sense of humor, Paige is a hit, highlighted by her desperation for suppertime and when Suppertime finally arrives. But it's the water bowl that the rest of the cast wants her to cut back on, as she prematurely ends a Glee Club Rehearsal with some targeted potty training on shoes (later followed by some mild embarrassment as Lucy picks an inopportune time to teach Linus about fire hydrants, Paige also sheepishly righting that hydrant when it accidentally gets tipped). The rest of the first Next Stage cast adds much to the show in their scenes including the opening number, with Linus in My Blanket and Me, a spirited Beethoven Day led by Schroeder, the jazzy Suppertime led by Snoopy, and sending us off with a heartwarming reminder that, in spite of all the things that can go wrong, there are countless things in life that can bring us Happiness.
Performed October 4 - 27, 2013
Photos by Mick Milligan
Rob Hopper
Facebook
Instagram

Executive Director
National Youth Arts
~ Cast ~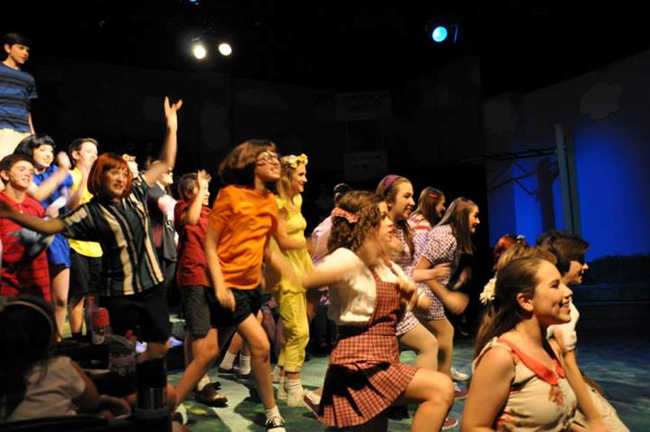 Add Artist Page

Sally Brown (Yellow)/Peanuts Gang: Cate Carlino
Sally Brown (Black)/Peanuts Gang: Allison Steward
Lucy Van Pelt (Yellow)/Peanuts Gang: Jordan Yampolsky
Lucy Van Pelt (Black)/Peanuts Gang: Kimberly Rose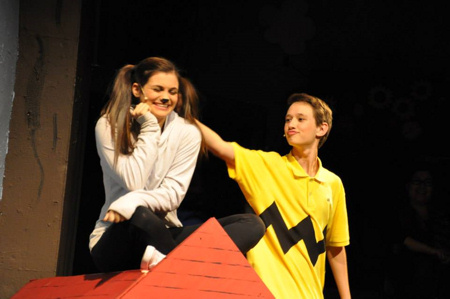 Snoopy: Paige Michelet
Schroeder/Peanuts Gang: Stokely Berg
Charlie Brown: Andrew Lull
Linus Van Pelt (Yellow)/Peanuts Gang: Austin Butler
Linus Van Pelt (Black)/Peanuts Gang: Jared Lara
Little Red Headed Girl/Peanuts Gang: Kessley Butler
Woodstock: Corinne Niezgodzki
Pig Pen: Matthew Villareal
Violet: Alexandra Rahman
Peppermint Patty: Harley Barton
Marcie: Sara Matin
Twin 3: Natasha Milligan
Twin 4: Hannah Novack
Frieda: Sarah Pansing
Shermy: Ashley Rhoads
Peggy Jean (Yellow)/Peanuts Gang: Rachel Berry
Peggy Jean (Black)/Peanuts Gang: Caitlyn Freeman
Peanuts Gang: Emily Pawluck

Director: Andrew Lipman
Assistant Director/Stage Manager: Rebecca Courtney
Music Director: Terry Temple
Choreographer: Madison MacDonald
Technical Director: Brent Coatney
Set Design: Brett Coatney, Rebecca Courtney, Andrew Lipman
Lighting Design: Lindsey Ihrig
Costume Designers: Rhea & Richard "Mickey" Courtney