THE SHOW:
It's a Hard-Knock Life for orphans during The Great Depression. Especially when you're being raised by the little girl-hating Miss Hannigan. But in this beloved musical by Thomas Meehan, Charles Strouse, and Martin Charnin based on that curly red-headed Little Orphan Annie of comic strip fame, all those problems are nothing that can't be fixed just so long as you believe the sun will come out Tomorrow. And if that optimism ain't enough? Try being adopted by Daddy Warbucks – the billionaire!
THE PRODUCTION:
Desert Stages Theatre's presents their last Annie Jr. at their theater in the round, and Director Angela Kriese knows how to use it with terrific staging and choreography (along with co-choreographer Tiffany Atkinson). She also has a great vision and careful attention to detail in unfolding a delightful production of the classic. Nice costumes (Karen O'Neil), set design (Paul Filan, Angela Kriese, Laurie Cullity) and painting (Paul Filan and Rick Sandifer) enhances the visuals. And as usual, they do it with four different casts, with their closing cast on the stage for this last show of their six-week run. And they leave it all on the stage with tons of talent and, in the end, a few tears.
We've got little Sydney Hassler with an amazingly big voice as our Annie – knocking out Maybe and Tomorrow sonorously and emotionally, and soaking up the magic of her first glimpse of her new home at Warbucks' mansion. Guest performer Kyle Chavira is Warbucks who has a good, understated humor and an easy feel for the character and his budding relationship with Annie that grows until they don't need anything but each other. Natasha Milligan completes the trio as Warbucks' secretary Grace Farrell, and she has a natural warmth for Annie from the moment she walks into the orphanage to see Miss Hannigan spanking the child. She's also got some gorgeous vocals and a great sense of humor as she happily digs at Hannigan whenever the opportunities present themselves.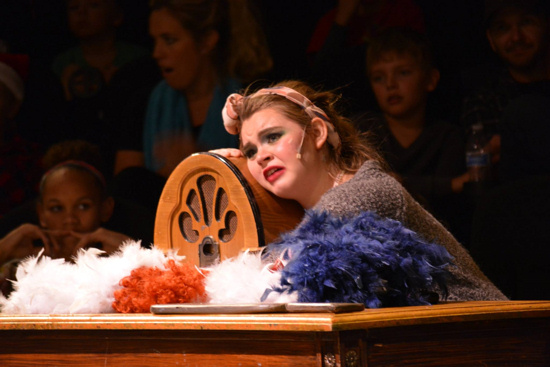 Reagan Burows is said Miss Hannigan, and she's a riot as she clings to her last remaining shreds of sanity amongst all the little girls who delight in pulling at those last shreds. Wyatt Eastman and Talia Novack, as her brother Rooster and his girlfriend Lily St. Regis, become her partners in crime to swindle Warbucks out of fifty Gs and take up residence on Easy Street. The couple is a rip pretending to be Annie's long-lost parents.
Walter Hall as Drake and the rest of Warbucks staff infuse the mansion with great energy and dance, Sam Markson is an over-the-top radio personality Bert Healy, Star to Be Grace Dimond and tourists take us on a spirited walk through NYC, and adorably big dog Sam Novack sticks to the script as Sandy. While Bo O'Brasky, Erin Tarkington, Hannah Novack, Caitlyn Freeman, Emily Ref, and Sadie Krotonsky lead the cast of orphans who add much throughout including a charming Never Fully Dressed and impassioned bemoaning of their Hard-Knock Life.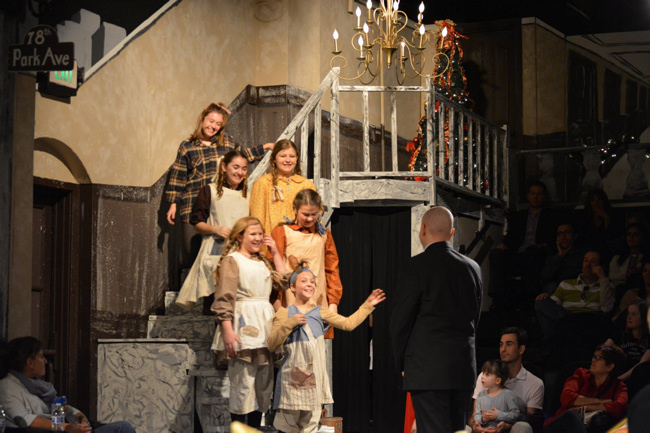 Performed November 13 - December 20, 2015
Photos by Mick Milligan
Rob Hopper
Facebook
Instagram

Executive Director
National Youth Arts
~ Cast ~
Add Artist Page


~ Saturday Evenings / Sunday Matinees ~
Molly: Macie Wilbur / Bo O'Brasky
Annie: Ava Chaffee / Sydney Hassler
Pepper: Jamie Villarreal / Erin Tarkington
July: Talia Novack / Hannah Novack
Duffy: Allie Rose / Caitlyn Freeman
Kate: Katie Calderone / Emily Ref
Tessie: Kylee Novack / Sadie Krotonsky
Miss Hannigan: Katrina Butler / Reagan Burows
Mr. Bundles: Wyatt Eastman
Lt. Ward: Walter Hall
Grace Farrell: Natasha Milligan
Drake: Walter Hall
Cecile: Eva Langer / Ava Maloney
Mrs. Greer: Rachel Kucuksadic / Ceili Olney
Annette: Lizzie Davis / Quinlyn Ashlock
Mrs. Pugh: Erin Johnson / Sara Watson
Oliver Warbucks: Matthew Earnest / Kyle Chavira
Rooster Hannigan: Wyatt Eastman
Lily St. Regis: Erin Tarkington / Talia Novack
Star to Be: Caroline Moriarty / Grace Dimond
Bert Healy: Sam Markson
Triplets:
Sophia Couinard, Drew Flanagan, Hudson Wilbur /
Petra Danek, Dayna Hall, Devyn Wallace
FDR: Sam Markson
Apple Seller: Madison Abner / Mikabella Parraz
Dog Catcher: Luke Olney
Sandy: Hope Reinke, Sam Novack, Fozzie Bear Ref
Warbucks' Staff/Tourists: Ahva Ghazanfari, Marissa Reaves

Dancing Orphans/Tourists:
Tori Collins
Lizzie Davis
MarySue Dickens
Grace Dimond
Gia Garcia
Breana Giordano
Katelyn Karcher
Constanca Langer
Caroline Moriarty
Jessica Vera
Sydney Wolfert
Hudson Girls Tourists:
Racquelle Arellano
Leah Brown
Claire Darschewski
Isabela Farmer-Bonilla
Addyson Jacobson
Olivia Scott
Skylar Visser

~ Friday Evenings / Saturday Matinees ~
Molly: Grace Allen / Gabby Astrowsky
Annie: Olivia Hizme / Rosamond Aaliyah Kuhlmann
Pepper: Chantel Frankson / Ali Tichavsky
July: Hannah Jarvis / Grace Helenic
Duffy: Sarah Astrowsky
Kate: Stephanie Burger / Ashlyn Beckman
Tessie: Emma DelChiaccio / Kendall Luther
Miss Hannigan: Niamh Murphy / Leah Miller
Mr. Bundles: Zachary Astrowsky
Lt. Ward: Sebastian Jablonski
Grace Farrell: Taylor Davis / Estee Oglesbee
Drake: Sebastian Jablonski
Cecille: Grace Parsons / Emma Nowicki
Mrs. Greer: Jenna Hollerbach / Rachel Nathan
Annette: Leah Miller / Niamh Murphy
Mrs. Pugh: Chloe Pierson
Oliver Warbucks: Matthew Earnest / Kyle Chavira
Rooster Hannigan: Zachary Astrowsky
Lily St. Regis: Grace Helenic / Hannah Jarvis
Star to Be: Megan Yarnall / Chloe Pierson
Bert Healy: Austin Kaye
Triplets:
Olivia Feldman, Sinclair Galakatos, Samantha Hizme /
Madison Crespo, Adelina Grotenhuis, Autumn Jongert
FDR: Austin Kaye
Apple Seller: Ava Woods
Dog Catcher: Austin Kaye
Assistant Dog Catcher: Connor Campana
Sandy: Charlie Astrowsky / Sadie Rhoads

Warbucks' Staff/Tourists:
Connor Campana
Austin Kaye
Ava Woods
Dancing Orphans/Tourists:
Avery Beckman
Regan Perrin
Ava Sandifer
Hudson Girls, Tourists:
Gemma Booker
Aria Bunce
Abby Dougal
Savannah Farr
Kaylee Forth
Makenna Gallagher
Bridget Hartstein
Amare James
Olivia Jongert
Skyler Ortega
Sophie Perlsten
Kali Shaham
Ashley Sherman
Gabrielle Smith

Director: Angela Kriese
Choreographers: Tiffany Atkinson, Angela Kriese
Set Design: Paul Filan, Angela Kriese, Laurie Cullity
Scenic Artists: Paul Filan, Rick Sandifer
Technical Director: Matt Stetler
Lighting & Sound Design: Matt Stetler
Stage Managers: Gabriella/Lizzie Davis
Costume Designer: Karen O'Neil