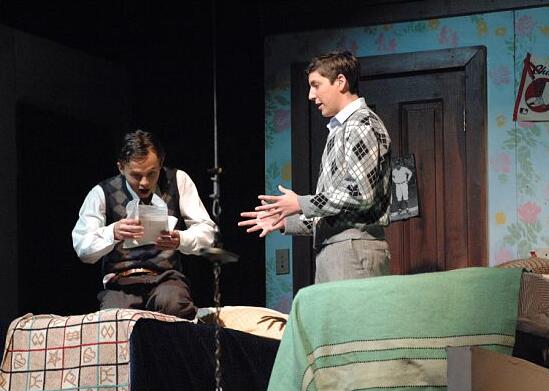 Fantastic comedy and tense family drama are woven into this production of Neil Simon's semi-autobiographical Brighton Beach Memoirs – the grand finale to the 2007 Thespian Festival. And the talented group from Denver School of the Arts excels at both comedy and drama, developing strong characters and working together as a tight ensemble that succeeds in creating the feel of an authentic family.

The story is set just prior to World War II in a Russian-Jewish middle-class home in Brooklyn's Brighton Beach. The narrator of the show is the coming-of-age Eugene Jerome, the role Matthew Broderick debuted on Broadway, who gives us a look into the humor and stresses taking place in his family, while he also finds himself awakening to his first sexual desires. Those desires are being awakened by his attractive sixteen-year-old cousin Nora who is living with them along with Eugene's cousin Laurie and their mother, his widowed Aunt Blanche – a situation that is testing the financial and emotional stability of Eugene's parents.

Joe LaFollette is a hit as Eugene, an enthusiastic lover of baseball, writing, and his older cousin – and making us laugh uproariously at the potentially awkward humor regarding his incestual pubescent yearnings. Max Posner is his older brother
Stanley whom Eugene idolizes – partially because Stanley is a good guy who, as Eugene guarantees in the beginning, we find immediately likeable. And partially because Stanley teaches Eugene about the facts of life, quickly teaching him that first cousins are off limits (though it's okay to peek) and several other important facts about women and sex in a lecture up in their bedroom that lasted twice as long due to the countless bursts of audience laughter the two actors generated.
As Eugene's mother Kate, Leah Watson creates one of the more memorable characters you're going to see with her stellar performance – an amusingly loving mother, wife, and sister who has an attitude when angered, but who also generates the most powerful moments of the play when the family's financial crisis, her husband's health, and long-standing issues with her sister combine to drive Kate to the breaking point. She also coolly plays The Fonz when the dining room light doesn't come on with the switch, kicking the wall below it and successfully getting the chandelier lit.
The cast is strong all the way through. Anne Joy is Aunt Blanche, a middle-aged widow who is clearly uncomfortable living
off of her sister's charity, making decisions for her daughters that her late husband used to make, and meeting potential new suitors, yet trying to do what's best in spite of her fragile confidence. Justine Lupe-Schomp is Eugene's beautiful cousin Nora who is frustrated by her inability to do what she wants with her life when she gets an offer to be on Broadway. Justine is charming, irritable, tender, and understanding as the situation calls for it. Jamie Billings is a lazy brat as younger cousin Laurie who begins to grow up as the family tensions rise. Patrick Miranda is Eugene's father Jack, the calming center of the rising storm who tries his best to guide the family and keep his fears contained inside.

Director Shawn Hann and his cast come together to take us through the entire gamut of emotions, and in the process both entertain us and compel us to appreciate the importance and value of family.

Performed June 30, 2007.

Rob Hopper
National Youth Theatre

~ Cast ~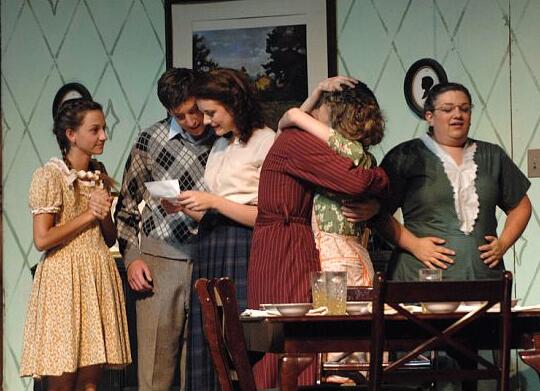 Eugene Jerome: Joe LaFollette
Kate Jerome: Leah Watson
Blanche Jerome: Anne Joy
Laurie Morton: Jamie Billings
Nora Morton: Justine Lupe-Schomp
Stanley Jerome: Max Posner
Jack Jerome: Patrick Miranda

Director: Shawn Hann
Technical Direction: Tim Grant
Assistant Direction: Julie Almeria
Stage Management: Jordan Geiger and Jennifer Malpiede
Dramaturgy: Chloe Campbell and Amalia Ritter
Set Design: Stephen Edwards
Costume Design: Madison Ryckman
Prop Design: Nora Hoffman-Lekmine
Lighting Design: Jacob Mundell
Master Electrician: Alexa Brown
Master Carpenter/Deck Electrician: Zoe Mizuno
Asst. Lighting Designer: Sam Botnick
Sound Technician: Brendan Chilelli
Master Electrician/Light Board Operator: Sarah Johnson

Photos by R. Bruhn Photography: http://www.shutterfly.com/pro/thespianfestival/2007