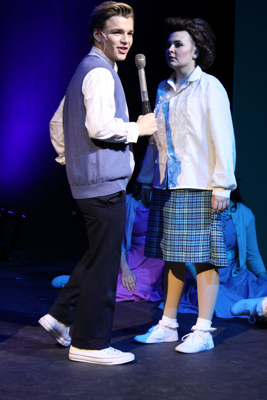 THE SHOW:
Music by Marc Shaiman, Lyrics by Scott Wittman and Marc Shaiman, and a book by Mark O'Donnell and Thomas Meehan. Based on the 1988 John Waters film Hairspray.
Big hair, big dreams, and big belly laughs collide in Hairspray – an outrageously funny and at times powerful musical that won a whopping eight Tony Awards in 2003 including Best Musical. One of the few musicals that truly succeeds at all levels with great music, dancing, and both a fun and inspiring story. It's a story set in Baltimore during the early 1960s and centered on Tracy Turnblad, a teenage girl who dreams of dancing on The Corny Collins Show, Baltimore's own television dance show. But she's meeting some resistance from a mom-and-daughter prima donna pair who poke fun at Tracy's weight. And she's getting even stiffer resistance when she wants to integrate the television show, eliminating the one-day-a-month "Negro Day" and making every day "Negro Day."
THE PRODUCTION:
Desert Foothills Theater welcomes us to 2015 with a terrific blast back to the Sixties. It's directed by Chris Hamby who has great vision and touches for the show. It features a four-piece live band, fun choreography by Kat Bailes and Paul Pedersen, some swell period costumes by Landis York, a couple whimsical building facades on either side of the stage, classic hair and wig stylings by Jacob Hamilton, and a cast of youth actors and a handful of adults who packed in sold-out houses throughout their run.
Eighth grader Lily Castle is their remarkably talented Tracy with a huge vocal range and always just a natural acting style from infectious enthusiasm for her hometown of Baltimore, a determination to stand up for what's right, great comedy, and an unstoppable need to dance. As well as a hilariously unstoppable desire for teen star Link Larkin as Spencer Claus smoothly croons out It Takes Two. Spencer also does especially well being a little uncomfortable on the other side of town and joining with Lily in creating an exceptionally poignant scene as a conflicted Link lets Tracy down by not joining her movement for equality.
Tracy's lovable parents are played by adults – Ken Bailes as sentimental jokester Wilbur and Matthew Harris as the singular Edna Turnblad who is strong and funny. They work great together, including a delightful Timeless to Me. Tracy's lovable best friend Penny is played by Hannah Rose, and she is a riot with her expressions, body language, voice, and ditziness whether she's marveling over mysterious bell ringers, the miracle of television, or the guy who could transform her into a "checkerboard chick." That would be Tracy's
new detention/dance friend Seaweed starring Mason Reeves who dazzles with his dancing, humor, and personality all highlighted by his lead in Run and Tell That. He also makes his peace with the cougar advances of his potential mother-in-law (Christina Robinson) as he shrugs, smiles, and puts his arm around both of them. As Seaweed's mother Motormouth Maybelle, Tyra Young knocks it out with Big, Blonde, and Beautiful and brings down the house with a powerful I Know Where I've Been.
The impressive cast also includes Emily McAtee as an amusingly entitled Amber Von Tussle who can't believe people are liking Tracy. Kathleen Berger plays her entertainingly evil mother Velma who lords over The Corny Collins Show, trying to keep things very white and very thin, using hand signals to guide Amber as she plugs herself on television while also using hand signals to flirt with every male from older bosses to younger dancers. Alex Martinez is terrific as the suave Corny Collins who confidently emcees the show and knows how to take it to the top. Kiara Adams is a fun and spunky cute Lil' Inez. While the talented ensemble shines in their numbers including the lively Nicest Kids in Town, the mystical I Can Hear the Bells, the groovy Run and Tell That and Welcome to the Sixties, and closing it out with their big You Can't Stop the Beat finale.
Performed January 9 - 18, 2015
Rob Hopper
Facebook
Instagram

Executive Director
National Youth Arts
~ Cast ~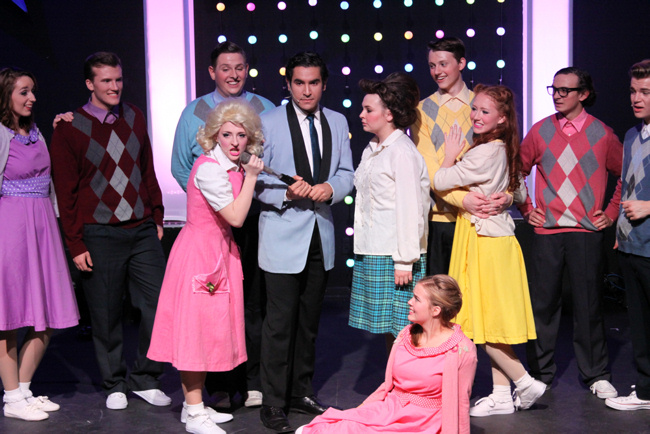 Add Artist Page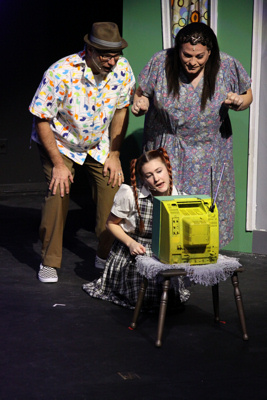 Tracy Turnblad: Lily Castle
Penny Pingleton: Hannah Rose
Amber Von Tussel: Emily McAtee
Link Larkin: Spencer Claus
Seaweed J. Crabs: Mason Reeves
Lil' Inez: Kiara Adams
Nicest Kids in Town:
Emily Temple
Julia Horner
Samantha Isley
Hollis Johnson
Karson Cook
Cody Seaver
Alex Tuchi
Zach Zupke
Edna Turnblad: Matthew Harris
Corny Collins: Alex Martinez
Prudy Pingelton: Christina Robinson
Female Dancing Ensemble:
Greta Perlmutter
Maddie Lever
Celine Sanel
Tara Prager
Gym Teacher/Prison Matron: Sarah Link
Male Authority Figure: David Horowitz
Wilbur Turnblad: Ken Bailes
Velma Von Tussel: Kathleen Berger
Motormouth Maybelle: Tyra Young

Dynamites:
Aaliyah Perry
Mattea Reeves
Audrey Peevyhouse
Teen Ensemble:
Mayanna Edwards
Amir Scott
Amaiya Scott
Greg Plaza
Alisha Perry
~ Orchestra ~
Keyboards: Dan Kurek
Guitar: Juan Javier Bautista
Bass: Jeremiah Kaplan
Percussion: Mark Matthews
Director: Chris Hamby
Stage Manager: Sarah Downey
Music Direction: Dan Kurek
Properties Design: Heidi Horner
Technical Director: Dillon Girgenti
Choreography: Kat Bailes and Paul Pedersen
Hair & Makeup Design: Jacob Hamilton
Managing Director: Meribeth Reeves
Lighting Design: Wes Sullivan
Sound Design: Toby Payne
Costume Design: Landis York
Production Manager: Kelly Weigel