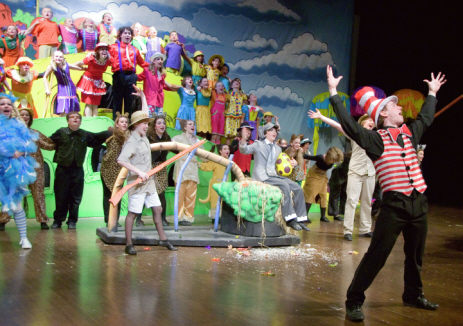 Once you watch the musical Seussical Jr., you'll be dying to get back home and reread all your old favorite Dr. Seuss books.

 

This musical has one magical, entertaining song after another while leading the audience on a journey through Horton's big-hearted idealism, the Whos' dangerous predicament, JoJo's controversial "thinks," and a total of seventeen Dr. Seuss stories.

 

Our intro into the play was a mime act by Thing 1 (Liz Burnier) and Thing 2 (Lindsay Spencer), while the rules of the theater were being announced.  The two Things were hilarious and already beginning to show their mischievous side.  The ever-enchanting, troublemaking Cat in the Hat (Harrison Ashley) is our guide and narrator through this wonderful and marvelous adventure. He is as animated as he is charismatic, bringing to life everything one ever thought the Cat would be and more.

Horton (Hayden Ashley), a sweet, sincere elephant, is the star.  He stays in character during all the scenes whether he is talking, singing or listening to the crazy jungle animals.  Horton's crime, as far as the Jungle of Nool animals are concerned, is trying to save The Whos, because "a person's a person no matter how small" and loitering on Mayzie LaBird's large egg "no matter the cost." Mayzie (Abby Newell), the outlandish, self absorbed, "amazing" bird, plays her role extremely well while she sings and dances and even shows concern for her egg and baby at a couple of points in the show.  Her facial expressions are priceless during all her scenes.  Horton is bullied, teased and becomes very nervous because of the taunting of the ever talented Sour Kangaroo (Kaylie Church), who belts out her songs and dances with such pizzazz. She breaks herself way into the heart of the show, stealing her scenes.  Her little daughter Little Sour Roo (Madeleine Dorren) also shows great talent in mimicking, singing and dancing, and she is absolutely adorable to boot.  The Wickersham Brothers (Jesse Sault, Josh Lyberg, Kali Libby, Dustin Turner, Aiden Olsen, and Cliff Martin) are the other main tormentors of Horton.  These "monkeys" are great at their evil antics, making Horton a nervous wreck and make you believe they are very troublesome monkeys indeed (hopefully they behave better at home).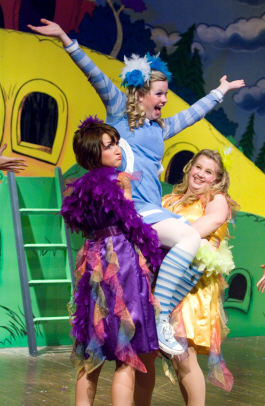 The only two real allies that Horton has are JoJo (Jacob Groth) and Gertrude McFuzz (Amanda Duvall).  Jacob does a first-rate job playing the Mayor's son, a troubled Who that worries his parents because of his dangerous and imaginative "thinks".  Both feel like they're Alone in the Universe until they find each other singing the duet by the same name, becoming fast friends as they sing their duet, their voices blending beautifully as they both look wistfully into the air. The special effects with a twirling disco ball make the audience feel like they are flying together through the universe with them.  Amanda Duvall, as the pigeon-toed, head-over-heels-in-love-with-Horton Gertrude stole the show with her squeaky little speaking voice and her supreme, exquisite, strong singing voice.  She is so cute as she tries every possible way to get Horton to notice her, and she becomes his ultimate friend with her loyalty and determination to help him no matter what.  She is definitely the "bird" next door that any Horton would want to have.

Other characters that stand out are the tyrannical General Schmitz (Aaron Mikottis), with his eccentric ways, with Aaron doing a fantastic job bringing out the worst in the general's personality.  The Mayor of Whoville and his wife (Andrew Coopman and Megan Myers) add laughter and a true sense of love to their parts and their singing is very pleasant.  They made you feel like they were very worried about their son and they loved him deeply.  Mayzie's remorse for losing her baby gives her a little bit of credibility, and Abby pulled that off very very well.  The rest of the ensemble is absolutely fantabulous with their acting, singing, dancing and guiding the audience into the world of Dr. Seuss.  The colorful and unique costumes and the help of all the adults made this a show to remember. 

What else can this reviewer say but "YOPP!"

Performed May 11-19, 2007.

Roshelle Hall
National Youth Theatre

~ Cast ~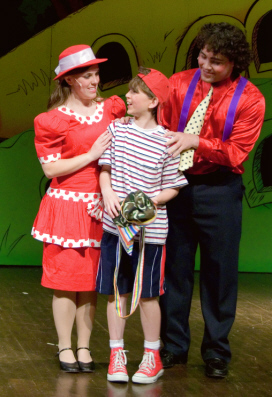 Cat in the Hat: Harrison Ashley
Thing 1: Liz Burnier
Thing 2: Lindsay Spencer
Horton: Hayden Ashley
Gertrude: Amanda Duvall
Mayzie: Abigail Newell
Sour Kangaroo: Kaylie Church
Little Sour Roo: Madeleine Dorren
Yertle the Turtle: Elisabeth Mikottis
Tweet: Jacob Layden
Mayor: Andrew Coopman
Mayor's Wife: Megan Myers
JoJo: Jacob Groth
Grinch: Kenneth King
General Schmitz: Aaron Mikottis
Clerk of the Court: Stephanie Kornatz
Vlad Vladekoff: Colin Lacina
Elephant Bird: Michelle Wachniak

Bird Girls:
Katie Walls (captain)
Erika Bandemer
Annalee Hooson
Alixx Nott
Kirsten Olsen
Shayla Rogers

Wickersham Brothers:
Jesse Sault (captain)
Kali Libby
Cliff Martin
Josh Lyberg
Aiden Olsen
Dustin Turner

Cadets:
Alana Areyzaga
Abby Austin
Sarah Church
Brooke Hayley
Marianne Hooson
Caroline Neidballa
Clay Nott
Hunter Nott
Noah Olsen
Lydia Sohmer
Sam Sohmer
Caroline York

Hunters:
Ben Neumayer
Rene Schroeder

Jungle Animals:
Ann Marie Bagge
Cassie Bradford
Emily Brouwer
Daniel Church
Kaylie Church
Madeleine Dorren
Megan Faxel
Haley Gallina
Mary Gallagher
Katie Garvey
Elly Glavich
Emilie Hanlet
Sequoia Hayward
Page Hayley
Lindsey Hedl
Annie King
Emily King
Sarah King
Stephanie Kornatz
Colin Lacina
Jacob Layden
Kali Libby
Josh Lyberg
Cliff Martin
Jacqui Michel
Elisabeth Mikottis
Ben Neumayer
Abigail Newell
Katie Nickerson
Jordan Nott
Aiden Olsen
Danielle Sault
Jesse Sault
Rene Schroeder
Jackie Stuckert
Dustin Turner
Natalie Turner

Fish Dancers:
Cassie Bradford
Sequoia Hayward
Lindsey Hedl
Teah King
Jacqui Michel
Leanna Newell
Jordan Nott
Danielle Sault
Jackie Stuckert
Erin Van Kampen

Whos:
Alana Arayzaga
Abby Austin
Lynne Church
Sarah Church
Andrew Coopman
Morgan Fanning
David Garnett
Jacob Groth
Ryan Hayes
Brooke Hayley
Joe Hooson
Marianne Hooson
Kylie Hultgren
Brianna Iler
Betsy Jones
Kenneth King
Teah King
Paige Leyden
Aaron Mikottis
Austin Moore
Lisa Mueller
Megan Myers
Rachel Myers
Caroline Neidballa
Leanna Newell
Clay Nott
Hunter Nott
Noah Olsen
Camden Repking
Lydia Sohmer
Sam Sohmer
Laura Thoresen
Ashley Turner
Erin Van Kampen
Michelle Wachniak
Emma Wartman
Caroline York

Hunches:
Haley Gallina
David Garnett
Annie King
Emily King
Sarah King
Stephanie Kornatz
Jacob Layden
Elisabeth Mikottis
Austin Moore
Ben Neumayer
Rene Schroeder
Laura Thoresen
Natalie Turner

Director: Lindsey Branson
Choreographer: Danielle Aldis