If you want to go to Neverland, you can't grow up. But even if you did goof up and grow up, you can come pretty close to Neverland through Mark Charlap and Carolyn Leigh's musical adaptation of J. M. Barrie's classic story, Peter Pan. Which is where Christian Youth Theater took audience members in November, with Director Jeremy Lapp and his cast and crew leading us on a memorable journey through the world of pirates, Indians, Lost Boys, mermaids, and fairies.

In this particular re-telling of the musical, Wendy Darling is also reluctant to grow up. She's just been told by her father that this will be her last night in the nursery where she can read stories to her younger brothers, John and Michael. So when Peter soars through the nursery window in search of his lost shadow, he encourages her to come with him to Neverland where she'll never grow a day older, and can forever continue reading stories to young boys.

The young boy Peter is played by Sarah De La Isla, a most impressive fourteen-year-old talent with both a great singing voice and personality, giving us a boyish Peter Pan with some depth. She can be whimsical in I've Got to Crow and I Won't Grow Up, but also reveal his internal struggle between being a proudly independent youth and missing the idea of a mother and family as he does in the Distant Melody duet. That duet is with Wendy, with Meagan Flint as the girl who wants to act as the mother to the Lost Boys and the wife to Peter Pan. Meagan imbues the role with remarkable vocals and an excellent turn-of-the-century English accent to boot. They are joined by enthusiastic little brothers John (Tyler Tafolla) and Michael (Blake Thomas) in Flying to Neverland, which includes flying over Big Ben and the moon thanks to set pieces being slid across the stage courtesy of stagehands on their backs.
But not everyone in Neverland will be welcoming them with open arms. Most notably, the one with the hook at the end of his arm, with the talented Taylor Peckham as the dastardly Captain Hook, doing a great job leading his band of pirates in their escapades, waltzing with them, tangoing with them, shooting one of them because he doesn't like the way she plays the violin, and checking to see how fast asleep Peter Pan is before playing a dirty trick with some poison (and stealing his teddy bear).

Elsewhere, Blake Thomas is a hoot as the loyal pirate Smee, making a hilarious team with Hook (and getting his butt kicked by the green Tinkerbell light during The Battle). That battle also includes some very entertaining fight choreography, like Michael giving one of the pirates the what-for. Ariana Ramirez leads the Indians as Tiger Lilly as she saves Peter and as she leads the group in a well-choreographed and performed Ugg-a-Wugg scene that includes both good dancing and good drumming (choreographed by Chelsea Lapp). The pirates stand out as Hook's eager crew, and in this case include three "Pirate Wenches" who are clearly unimpressed with, or a little jealous of, Wendy.

Director Jeremy Lapp and his team have staged a fantastic production of this classic, capturing the humor and youthfulness and the bittersweetness that makes this show as immortal as Peter Pan himself.

Performed November 7 - 15, 2008.

Rob Hopper
National Youth Theatre

~ Cast ~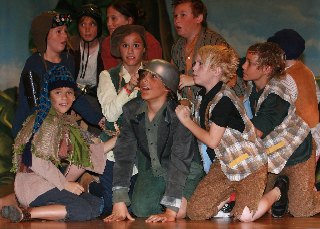 Peter Pan: Sarah De La Isla
Mr. Darling/Captain Hook: Taylor Peckham
Wendy: Meagan Flint
John Darling: Tyler Tafolla
Michael Darling: Kevin Davison
Smee: Blake Thomas
Mrs. Darling/Tiger Lilly: Ariana Ramirez
Liza, the Maid: Ava Narveson
Jane/Animal: Olivia Tafolla
Grown-Up Wendy: Ashlee Bates
Nana: Russell Clements
Slightly: Ryan Tafolla
Tootles: Collin Carter
Curly: Katee Drysdale
Nibs: Courtney Wolfe
Ace: Kyler Waitley
Twin #1: Danica Waitley, Aaron Creswell
Twin #2: Alyssa Varonfakis, Dylan Hyde
Pockets: Greg Power, Ryan Kaszycki
Thudbutt: Teresa Gillcrist, Trevor Craig
Dontask: Olivia Schroeder, Zoe Dorman
Toosmall: Katrina Schroeder, Lily Molina
Latchboy: Alex Vogel, Joshua Espinoza
Nonop: Ekaterina Belous, Samantha Dorman
Starkey: John Power
Cecco: Kiani Nelson
Noodler: Ian Schroeder
Jukes: Russell Clements
Chief Hummingbird: Meshack Burton
Morning Glory: Katy Gutierrez
Winter Rose: Ava Narveson
Black Thorn: Ashlee Bates
Red Wind/Dance Captain: Emma Flint
Autumn Dusk/Dance Captain: Danamarie Carter
Tatonka: Ian Schroeder
Dakota: Cory Creswell
Summer Rain: Kate Gotfredson
Ostrich: Disa Power
Crocodile: Mary Gillcrist

~ Pirates ~
Cory Creswell
Samuel Narveson
Paul Gillcrist
James Gillcrist
Shane Waitley
Daniel Helms
D'Angelo Burton

~ Pirate Wenches ~
Bridget Aiello
Samantha Scott
Lina Jemili

~ Tinkerbell Light ~
Amanda Schroeder
Brittany Wolfe

~ Indians ~
Taryn Carpenter
Amanda Grant
Tiana Gregorio
Esita Harper
Ashley Jones
Jillian Lovejoyo
Kim McVeigh
Amanda Norman
Amanda Schroeder
Michelle Sonniksen
Shannon Sonniksen
Brittany Wolfe

~ Animals ~
Sarah Alessio
Taylor Carpenter
Randi Davison
Katherine Gillcrist
Kaylin Greisen
J.T. Gutierrez
Sarah Hajj
Celeste Magaudda
Delaney Magaudda
Kennedy Moran
Jeremy Power
Heather Schwitkis
Jacqueline Vallera
Peyton Vogel

~ Mermaids/London Fly ~
Samantha Everett
Emily Hajj
Elizabeth Kennedy
Arynn Pitta
Genevieve Power
Bailey Sirota
Olivia Thomas
Darby Tibbetts

Director: Jeremy Lapp
Musical Director: Justin Kent
Choreographer: Chelsea Lapp
Costumers: Lisa Grant, Paige Vance
Sound Design: Dan De La Isla
Lighting Design: Grant Gilligan
Set Coordinator: Noah Tafolla