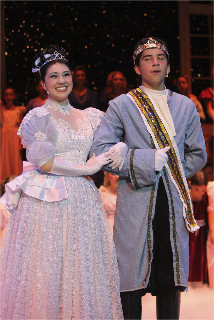 Can Cinderella overcome the jealous machinations of her wicked stepmother and ugly stepsisters long enough to go to a royal ball? If she does, will a prince fall in love with her? And she with him? And if she has to leave the party at midnight before the magic spell allowing her to arrive in style unravels, will the prince find her and still want to marry her?

It's Possible, as they say in Rodgers and Hammerstein's musical version of this beloved fairy tale. It's also possible that the show still has the magic to bring young girls to the audience in glittery ball dresses and tiaras. And it's even possible that this CYT production will be the last for its two stars Meagan Flint and Michael Sanchez – two people who met a lot more than Ten Minutes Ago, becoming friends in Kindergarten and having appeared in almost 40 CYT shows between the two of them, including last year when they played Aladdin and Princess Jasmine. This year their roles have been reversed, with Michael as the rich child of royalty feeling trapped in the role, and Meagan as the riff-raff who dreams about what royal life might be like. Michael and Meagan head off to their post-CYT happily ever after (a.k.a. college) in grand style, with terrific singing and charm as Prince Christopher and Cinderella.

Brittany Hopkins, Jenna Wille, and Ashley Melton try their best to ruin the happy ending as Cinderella's less-than-charming but very amusingly wicked stepmother and stepsisters. Brittany's Stepmother has a fantastic voice, a jaded, arrogant personality, and is not too proud to flirt embarrassingly with the unlucky royal steward (Sean Cabuchola). Ditzy stepsister Joy (Jenna Wille) and disdainful stepsister Portia (Ashley Melton) are a hit with their Stepsisters' Lament.
While the prince's family includes Patrick Gates as the king sporting royally red-and-white polka dot boxers and Sara Wright as the queen who puts up with her slightly goofy husband, the two sharing the cute, wistfully performed duet Boys and Girls Like You and Me.

Adding a splash of magic to it all is, of course, the Fairy Godmother, with Kat Brown lending her lovely vocals to It's Possible (with a magical assist from a disco ball). And the ensemble makes for an impressive royal ball, not to mention some extremely unhappy townswomen when the shoe doesn't fit – with Katie Wilson directing a hilarious shoe-fitting scene that desperately extends into the audience as the prince seeks to find his happily ever after.

Performed May 1 - 10, 2009.

Rob Hopper
National Youth Theatre

~ Cast ~


Cinderella: Meagan Flint
Prince Christopher: Michael Sanchez
Fairy Godmother: Kat Brown
Lionel: Sean Cabuchola
Stepmother: Brittany Hopkins
Joy: Jenna Wille
Portia: Ashley Melton
King: Patrick Gates
Queen: Sara Wright

Ensemble:
Bryson Allison
Paris Allison
Leslie Armstrong
Sarah Ball
Scotty Barber
Ashlyn Barnes
Kellie Bartlett
Victoria Browning
Bailey Callen
Spenser Caprio
Cortney Cox
Trevor Cruse
Rachel Dullum
Cara Filley
Janelle Fortune
Bridget Fyson
Alyssa Gatan
Samantha Goff
David Gregory
Melodie Hambrick
Maddy Heil
Colton Hessenflow
Rylee Hernandez
Paloma Honan
Emilee Hubert
Pearl Hubert
Rachel Jacobs
Carlie Laird
Kristen Landstedt
Yoni Landstedt
Katie Lomax
Alexiss McPherson
Brandon Lisama Nguyen
Ashley Northrup
Jesi Perry
Rachel Preddy
Laura Preddy
Courtney Schneider
Luree Scott
Alyssa Signore
Anne Signore
Lexie Signore
Emma Smith
Serena Smith
Kaylee Thomas
Katie Walsh
Amanda Wauson
Catherine Widay
Daniella Zappacosta
Zoe Zentner

Featured Dancers:
Bobby Albright
Colton Bennett
Leif Corbeil
Emma Flint
Melissa Fox
Taylor Gallagher
Courtney Ison
Catherine Jones
Joshua Moore
Dallas Perry
Danielle Sanchez
Andy Walsh

Horses:
Emma Flint
Melissa Fox
Catherine Jones
Danielle Sanchez

Mice:
Joanne Barber
Sami Fortin
Jennie Melton
Emma Riley

Director: Katie Wilson
Musical Director: Katie Wilson
Choreographer: Mary-Allison Diosdado
Asst. Musical Director/Conductor: Leandro Coelho
Lighting Design: Grant Gilligan
Sound Design: Larry Esau
Costumer: Kristin Preddy
Set Coordinator: Richard Plaisted