"The Wiz" is the modern, urban,

ersatz adaptation of L. Frank Baum's "The Wonderful Wizard of Oz."

 

It takes Dorothy's story and spices it up with African

-

American vernacular;

a 1970's sound blending rock, soul, gospel and funk; and in this edition, a cast eager to have fun showing off their inner cool.

Dorothy, played by Julie Burlington, is whisked away from Kansas during a tornado, which was choreographed nicely by Andrea Shoquist, and plopped down in the middle of Munchkin Land.  Counseled to visit the Wiz by Addaperle during the song He's the Wiz, sung adeptly by Hailey Sweet, Dorothy and her homies follow the Yellow Brick Road, personified by a group of yellow-clad dancers.

The Scarecrow, played by Angela Ortlieb, gave a heartfelt rendition of I Was Born the Day Before Yesterday which was followed by a fun and funky Slide Some Oil to Me by Miles Mangonon, playing the fly Tinman.   Rounding out the fearsome foursome was Robert Coe as Lion, whose song Mean Ole Lion belied his actual level of bravery.  Sam Robinson gives a blinged-out performance as The Wiz, drawing the biggest chuckle of the afternoon when he appeared in
hair rollers and a flouncy housecoat. Preaching the message that it isn't always reality that is important, but how you choose to look at it, he sends Dorothy on her way as she sings the brilliantly performed ballad, Home.    Rounding out the ensemble was Jasmine Cook as Evillen, adamant that she receive No Bad News, and the beautiful vocals of Jaime Ranejat as Glinda. 
Despite the enthusiasm by the young cast, long delays with the set and/or costume changes brought the momentum of the show to a stop. And although some moments of the show might be a bit adult for younger kids, overall it's a fun and funky time that clearly kindled the spark and enjoyment within the thespians easing us down the road to The Wiz. 
Performs March 26th – 28th, 2010
Martha Pettit
National Youth Theatre<![if !supportEmptyParas]> <![endif]>
~ Cast ~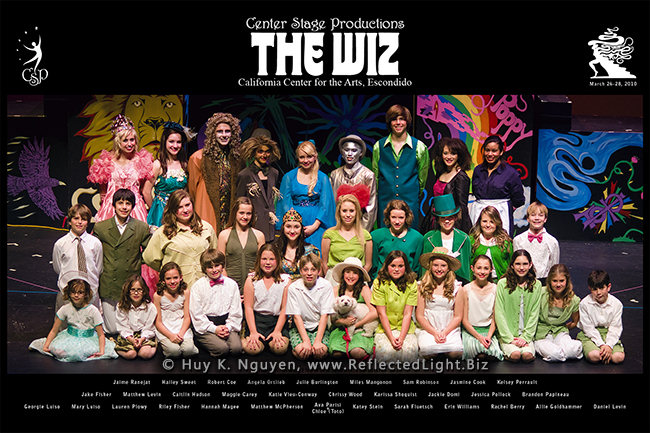 Dorothy: Julie Burlington   (Ava Parisi)
Scarecrow: Angela Ortlieb (Chrissy Wood)
Tinman:  Miles Mangonon
Lion: Robert Coe
Glinda: Jaime Ranejat  (Karissa Shoquist)
Evillene:  Jasmine Cook
Addaperle: Hailey Sweet
Aunt Em:  Kelsey Perrault
Uncle Henry:  Matthew Levin
Kalidah Queen:  Katie Vieu-Conway
Gatekeeper:  Jackie Domi  (Matthew McPherson)
Lord High Underling: Riley Fisher  (Erin Williams)
Solder Messenger:  Erin Williams   (Brandon Papineau)
Toto:  Chloe

Munchkin #1 : Rachel Perry
Munchkin #2:  Hannah McGee
Munchkin #3: Matthew McPherson
Munchkin #4: Brandon Papineau
Munchkin #5: Caitlin Hudson
Citizen #1: Maggie Carey
Citizen #2: Jake Fisher
Citizen #3: Sarah Fluetsch
Citizen #4: Caitlin Hudson
Winkie #1:  Lauren Plowy
Head Monkey:  Katey Stein
Police Sergeant:  Matthew Levin
Chief of Police:  Daniel Levin

Tornado Dancers
Kelsey Perrault
Angela Ortlieb
Jackie Domi
Karissa Shoquist
Erin Williams
Katey Stein
Katie Vieu-Conway
Sarah Fluetsch
Jessica Pollock

Poppies
Jasmine Cook
Jaime Ranejat
Hailey Sweet
Katie Vieu-Conway

Crows
Roley Fisher
Jake Fisher
Matthew Levin
Matthew McPherson
Brandon Papineau

Police Mice
Mary Luiso
Georgie Luiso
Lauren Plowy
Rachel Berry

Yellow Brick Road
Allie Goldhammer
Maggie Carey
Sarah Fluetsch
Katey Stein
Haily Sweet
Jasmine Cook
Jessica Pollock

Quadlings
Brandon Papineau
Riley Fisher

Monkeys
Allie Goldhammer
Katey Stein
Caitlin Hudson
Jake Fisher
Matthew McPherson
Daniel Levin

Munchkins/Kaliahs/Winkies/Citizens of Oz
Rachel Berry
Riley Fisher
Daniel Levin
Matthew Levin
Hannah Magee
Angela Ortlieb
Brandon Papineau
Ava Parisi
Lauren Plowy
Jessica Pollock
Karissa Shoquist
Chrissy Wood
Allie Goldhammer
Maggie Carey
Sarah Fluetsch
Katey Stein
Hailey Sweet
Jasmine Cool
Mary Luiso
Georgie Luiso
Kelsey Perrault
Matthew McPherson
Katie Vieu-Conway
Erin Williams
Jaime Ranejat
Caitlin Hudson
Jake Fisher
Jackie Domi
Julie Burlington

Understudies:
Tinman:  Matthew Levin & Riley Fisher
Lion: Matthew Levin
Addaperle:  Rachel Berry
Toto:  Toby

Artistic and Musical Director: Tiffini Lopez
Choreographer: Andrea Shoquist
Assistant Director: Julianna Rotta
Assistant Musical Director: Nathan Robinson
Sound Design: Lisa Robinson
Set & Lighting Design: Tiffini Lopez and Tony Wood
Set Artwork: Sam Robinson
Costume Design: Gia Kearns