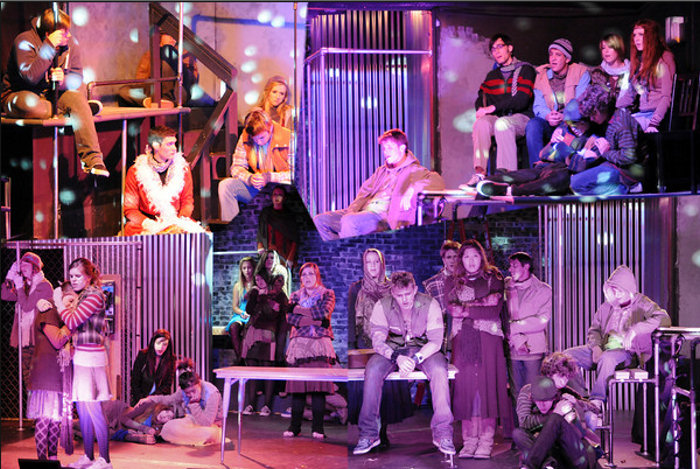 It's the rock musical about love and tolerance, dealing with such topics as AIDS, drug use, and homosexuality. Things teens are already dealing with, but which a lot of people don't want teens dealing with onstage. Corona Del Mar High School's production of Rent brought out some local complaints, some security guards limiting entrance to the campus, and some incredible performances in Director Ronald Martin's fiftieth production. A special show for him not so much because of the milestone number, but because he lost his own brother to AIDS.

What he and his cast and crew have put together is a show that rocks both musically and emotionally with nice touches thrown in throughout. Outside we are greeted by concession workers and ushers dressed as skid row street people, while inside we get a subtle warning to turn off our cell phones (Benny's phone gets sledgehammered), and Maureen reads us a letter sent to the school by the family of the show's writer, the late Jonathan Larson. Then it's into the skid row apartment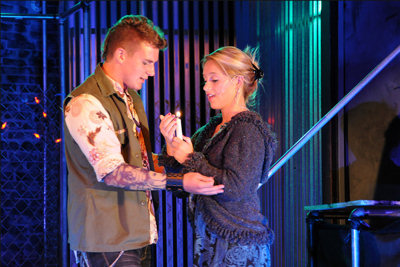 (mostly barebones apartment with assorted rock posters on the wall courtesy of ensemble members unfurling some rock posters) where live twentysomethings Mark and Roger – artists struggling with many things, including their sudden need to pay an awful lot of rent. That, and a pesky answer machine that picks up Mark's super-cheesy mom (Heather Shields, who sledgehammers cell phones when angry) wearing a super-cheesy Christmas sweater and reminding Mark that his ex-girlfriend Maureen dumped him to become a lesbian.
Ryan Willison is an exceptional Mark who handles the loss of Maureen with as much good humor as he can, leads the cast in a terrific La Vie Boheme, and takes criticism to heart. Max Priestly is Roger, recently diagnosed with HIV following as predicted by his late girlfriend in her suicide note. His desire to write One Song Glory before he dies is well sung and beautifully and creatively staged, with an interpretive dance by seven dancers who stunningly capture both the possibility of hope and the specter of death that haunts him.
The possibility of hope, the specter of death, and a lover of hot wax between her…fingers is all intertwined in the remarkably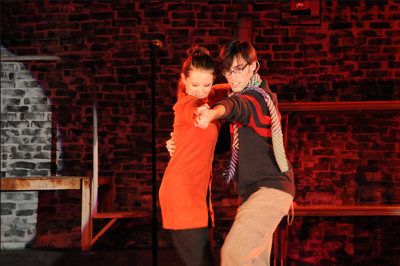 talented Hail Ketchum's portrayal of Mimi Marquez – a dancer at a local club who likes to live life to the fullest while she also battles HIV and drug addiction, Hail's performance superbly genuine throughout. As is Hayley Palmaer's as Joanne Jefferson, the lesbian lawyer trying to deal with her exciting but difficult new lover Maureen. Hayley and Ryan share a hilarious Tango Maureen as two fairly sadistic rivals. Rivals over Maureen, played by Erica Schultz with Over the Moon wit and timing and sensuality. When Joanne isn't tangoing with Mark, she's banging out a terrific Take Me or Leave Me duet with Maureen.

The cast is unusually strong from top to bottom, including James Ramsey as a truly loving and kind and fun transvestite Angel, Brian Silver as Angel's boyfriend Tom who captures an easygoing personality and some strong emotions when needed, and Ben Carlson who takes the usually thankless role of Benjamin Coffin III and makes him real and, despite his eviction notices, not such a bad guy after all who really was friends with the others, and still is. While the ensemble includes great dancing and singing, lots of very effective humorous cameos, a highly entertaining La Vie Boheme scene, and very powerful Will I and Without You scenes as hope tries to overcome sorrow and death.

Performs April 23 - May 2, 2009

Photos by www.narmamama.smugmug.com

Rob Hopper
National Youth Theatre

~ Cast ~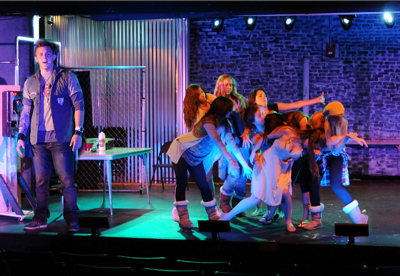 Roger Davis: Max Priestley
Mark Cohen: Ryan Willison
Tom Collins: Brian Silver
Benjamin Coffin III: Ben Carlson
Joanne Jefferson: Hayley Palmaer
Angel Schunard: James Ramsey
Mimi Marquez: Hail Ketchum
Maureen Johnson: Erica Schultz
Ensemble:
Jenna Chatillon
Jasmynn Collins
Calli Conti
Monique Danser
Jason Dillion
Matt Funsten
Ishan Ghose
Kevin Hoffman
Christian Lesko
Chanel Lucia
Melissa Mooney
Emily Morris
Sienna Petree
Erica Phillips
Liz Murtaugh
Carlie Rinehart
Sarah Schulte
Heather Shields
Brian Smith
Shane Somerville
Edward Wiklund
Jennifer Yeon

Dancers:
Kate Alvarado
Brittany Bernier
Laura Hanlon
Abi McBean
Anneke Pakvasa
Maddie Simmonds
Taylor Ware

Director: Ronald Knight Martin
Music Director: Rick Heckman
Choreography: Kate Alvarado, Calli Conti, Edward Wiklund
Lighting Design: Sean Small
Sound Design: Jared Bangaru
Costume Design: Hannah Lindt
Set Design: Hayley Palmaer
Scenic Artist: Eric Kehke
Makeup Design: Sophia Dawidoff
Stage Manager: Timothy John Dyess