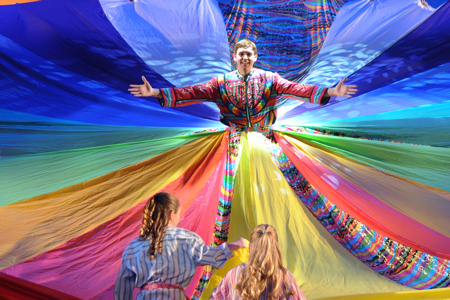 THE SHOW:
Dreams can drive us to do amazing things. But Joseph's dreams are making his eleven brothers a bit jealous. Perhaps Joseph really is being a bit "tactless and also rather dim" as he describes his dreams that depict his brothers' eleven small stalks of corn bowing down to Joseph's one large stalk of corn. Next thing the poor, stunned Joseph knows, he's being sold off to slavery in Egypt where things look bleak for the dreamer (who doesn't speak Egyptian very well). But the narrator tries to compel Joseph and us to take heart. As she puts it, "we've read the book, and you come out on top." That book being Genesis, and the narration being part of the fun and whimsical musical retelling of the story of Joseph and his coat of many colors from this early collaboration between Andrew Lloyd Webber and Tim Rice.
THE PRODUCTION:
Copperstar Repertory Theatre staged a lavish production of Joseph and the Amazing Technicolor Dreamcoat at the Mesa Arts Center with a cast combining adult and youth performers. Laura Christian adds clever touches as both director and choreographer for the show, as well as performing as the athletic Apache Dancer in Those Canaan Days. Kari Hanson, Mary-Jo Okawa and Tamara Wright team up for a large number of creative, quality outfits and headdresses. Paul A. Black's impressive sets have a nice mix of ancient and modern to them, and Jeff A. Davis dazzles with brilliant lighting touches throughout.
Under those stage lights is a remarkably deep cast. Adult performers many of the leads including Brady Quisberg as Joseph who amuses singing of his dreams and working his way out of prison. And when faced with prison in Close Every Door, he hits just the right notes vocally and dramatically, genuinely grateful when one of the young members of the children's choir offers him her candle. Leading us through his story with personality and terrific vocals is Kristin Briggs as our Narrator. While Caleb Allred is a hit as the swivel-hipped king of Egypt eager to keep Joseph's help and simultaneously keep the swooning Egyptian women to himself.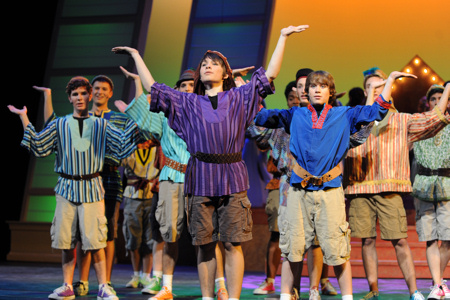 Principal youth performers include Tucker Abney leading a fun and folksy dirge One More Angel with a great sense for the song's humor. French crooner Nate Dutson leads his starving brothers in a hilarious staging of Those Canaan Days. Dylan Pinion as Judah leads an equally hilarious Benjamin Calypso as the brothers try to save young Benjamin (Dylan's real-life brother Cameron Pinion, who looks at his suddenly dancing and singing brothers like they've lost their minds). And Shanti Okawa turns on the charms as Mrs. Potiphar who takes a liking to Mr. Potiphar's (comedic cameo by Matthew Webster) new man servant Joseph.
The young children's chorus watch and sing from the sides, doing a beautiful job with Close Every Door. And the brothers and the brothers' wives are a bunch of triple threats. They shine crying and dancing over Joseph's grave, crying and dancing over their starvation (and hitting father Jacob every time he starts to wail over the fate of his favorite son Joseph), groveling with base gratitude to Joseph (actually, they eagerly look into their sack-full of food and then shrug with a "meh"), cutting loose in the Benjamin Calypso, and encouraging us to dream.
Performed October 16 - 19, 2013
Rob Hopper
Facebook
Instagram

Executive Director
National Youth Arts
~ Cast ~
Add Artist Page

Joseph: Brady Quisberg
Narrator: Kristin Briggs
Jacob: Matthew Webster

Dan: Tucker Abney
Asher: Caleb Allred
Simeon: Nate Dutson
Gad: Michael Eugenio
Zebulon: Seth Miller
Issachar: Steven Juniel
Napthali: Nick Hauch
Benjamin: Cameron Pinion
Judah: Dylan Pinion
Levi: Spencer Webster
Reuben: Rick Wilson
Jacob's Wife: Tina Reynolds
Potiphar: Matthew Webster
Mrs. Potiphar: Shanti Okawa
Pharaoh: Caleb Allred
Butler: Michael Eugenio
Baker: Steven Juniel
Guard/Ishmaelite: Michael Kunz, Sam Siaki

Wives:
Nichole Gamez
Kylie Mohr
Calli Rasumessen
Kate Sears-Giardina
Nellie Liston
Shanti Okawa
Carah Robenalt
Abby Webster
Olivia Nienstedt
Holly Payne
Chloe Santos

Ensemble:
Linda Poit
Tina Reynolds
Denise Sandvoss
Michael Kunz
Victoria Luckey
Matthew Webster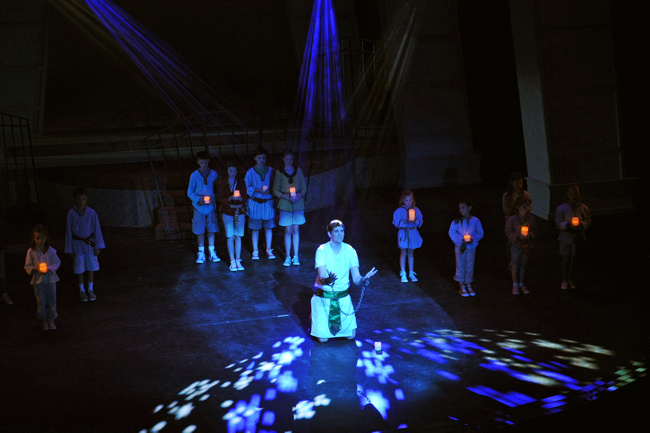 Children's Chorus:
Nathan Briggs
Joel Brooks
Kailey Giguere
Miranda Giguere
Anni Goodman
Aidan Goodman
Houston Goodman
Savannah Goodman
Benjamin Guffey
Riley Hague
Christopher Hudson
Hannah Jarvis
Naomi Jarvis
Sarah Lopez
Cesar Luna
Haylee Morrison
Karis Nickel
Kambrie Nickel
Audrey Olsen
McKenna Olsen
Joshua Poit
Allie Rederick
Ashlyn Reynolds
Bailey Reynolds
Brent Robenalt
Rebecca Samuel
Korina Santos
Grace Schwenn
Grace Sears
Sammy Siaki
Abigail Smith
Nicole Tassainer
Easton Thompson
Evi Thompson
Riley Thornton
Taylor Yvon

Director/Choreographer: Laura Christian
Music Director: Emily Kupitz
Costume Design:
Kari Hanson
Mary-Jo Okawa
Tamara Wright
Set Design: Paul A. Black
Lighting Design: Jeff A. Davis
Sound Design: Jeremiah Pfleiger
Properties Design: Mary Rooney
Stage Manager: Kona Fotu
Set Construction: David Okawa
Artistic Producing Director: Mary-Jo Okawa