Oklahoma!
by Classical Academy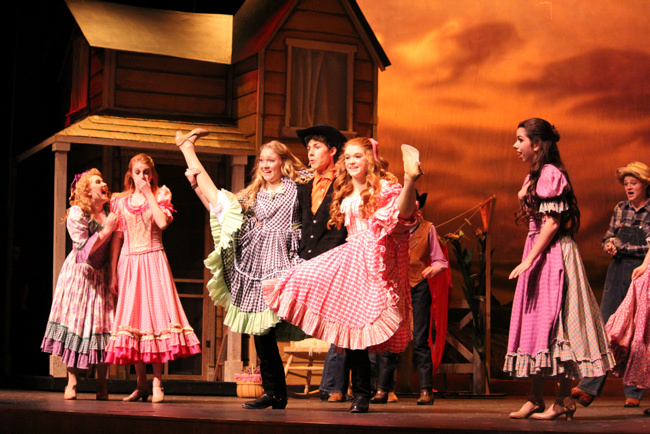 Classical Academy mounted a superb production of Oklahoma! Oklahoma is an iconic show that first came out in 1943. It was the first musical written by the team of composer Richard Rogers and librettist Oscar Hammerstein II. Set in pre-statehood Oklahoma territory, the show explores romantic relationships, in the midst of farmer and cowboy squabbles. The handsome Curley (Jonathan Norwood/Christian Winter) wants to get together with the beautiful Laurie (Jessica Jolley/Cassandra Bleher), but his prideful nature stops him from coming right out and saying it. Laurie holds her own by feigning equal ambivalence. She uses farmhand Jud (Noah Farmer/Caleb Arend), and Curley uses annoying-voice Gertie (Grace Taylor) to make the other jealous. But Jud is not a man to be trifled with.
Meanwhile, Ado Annie (Kristyn Roberts/Emily Sturges) takes up with the peddler Ali Hakim (Noah Castillero/Jared Thornburg), while her steady Will Parker (Nick DeChicchis/Anthony Escobedo) is away in Kansas City. After Willís return, Hakim amusingly helps Parker marry Ado Annie. But Hakim may end up in a shotgun wedding after all.
I was happy to see that the show was double-cast giving students extra opportunities.
This production was serenely pleasing to the senses. To begin with, the dulcet singing tones of crowd-favorite Jonathan Norwood were sublime. Christian Winterís easy-going charm and charisma was award worthy. Jessica Jolley has the whole package, and performed like a professional. Cassandra Bleher was truly astounding, with a voice of an angel. Shockingly, she is only a freshman! (Kudos to the director for casting a freshman in the lead!!) There were many other standouts in this cast, and not enough space in this review to list them all, but I must say that Noah Castillero was hilarious, and I loved watching him perform.
The sets were breathtaking and big. Rick Deussen, Dan Castillero, Rodney Palmer and the rest of the set crew outdid themselves.
The costumes were spectacular pieces of eye-candy. Jill Sturges and Kathy Pancarik, and their assistants provided the audience with colorful character-suited clothing.
The choreography was advanced. The dream sequence was particularly mesmerizing! But the sheer number of actors in the ensemble dances made the show pop with energy! Bobbi Adams is to be commended.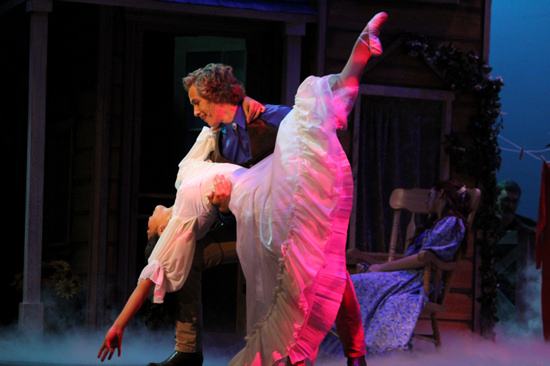 Jennifer McCormick acted as Director and Co-Music Director. She was superb at both. Along with Meredith Hopkins they taught beautiful harmonies to a large cast.
The show had a very good pace, was perfectly cast, had wonderful energy and movement, and pleasant blocking.
There were also many lovely voices with sporadic solo lines in the ensemble. I looked them up and found that they are not seniors. So, Classical Academyís next year looks promising. According to their program, they will be doing Shrek. I, for one, will be going to see it!!
Performed May 21 - 24, 2015
Scott M. Kolod
NYA Reviewer
~ Cast ~
Add Artist Page
Curly: Jonathan Norwood / Christian Winter
Laurey: Jessica Jolley / Cassie Bleher
Ado Annie: Kristyn Roberts / Emily Sturges
Will Parker: Nick DeChicchis / Anthony Escobedo
Jud Fry: Noah Farmer
Aunt Eller: Molly Smith / Charlotte Perkis
Ali Hakim: Jared Thornburg / Noah Castillero
Gertie: Grace Taylor
Andy Carnes: Caleb Arend / Danny Miller
Cord Elam: Matthew Roberts
Mike: Quinn Enquist
Ike: Henry Deussen
Fred: Kolbe Schanzenbach
Slim: Justin Taylor
Joe: Keith Lugo
Vivian: Ciera Atencio
Ellen: Shelby Sanborn
Kate: Bre Pancarik
Virginia: Emily Coffey

Singing/Dancing Ensemble:
Grace Taylor
Gabby Schanzenbach
Kolbe Schanzenbach
Chase McCarthy
Gigi Nicholas
Justin Taylor
Daryl Goh
Zoe de Neve
Sam Wright
Robyn Baker
Sarah Goldrich
Xander Skinner
Gabriella Edwards
Henry Deussen
AR Morel
Keith Lugo
Nick DeChicchis (Cast 2)
Matthew Roberts
Danny Miller (Cast 1)
Quinn Enquist
Christian Winter (Cast 1)
Emily Coffey
Caleb Arend (Cast 2)
Shelby Sanborn
Anthony Escobedo (Cast 1)
Hailey Smith
Jonathan Norwood (Cast 2)
Tessa Ohre
Jared Thornburg (Cast 2)
Sarah Smudz
Noah Castillero (Cast 1)
Hannah Vigil
Ali Rohrbaugh
Megan Kolod
Sydney Haynes
Sterling Hawkins
Bre Pancarik