Cinderella
by Classical Academy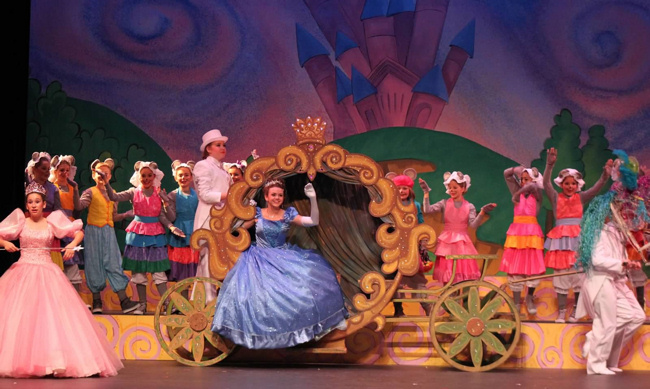 Classical Academy Musical Theatre is a gem in the North County, led by Director Lori Grimes and Assistant Director Ragan Grimes. Both do a wonderful job directing young performers (Grades 6th8th) in Rodgers and Hammerstein's timeless classic, Cinderella.
Cinderella is based on a folk tale and most of us grew up watching or reading about the over-worked young Ella, the wicked stepmother and shrewd stepsisters, and Prince Charming. Therefore I will not go into detail about the story.
One of my favorite actresses, Julie Andrews, played the role of Cinderella in a televised version in 1957. Since then, there have been other films made such as the 1997 version with Brandy as Cinderella and Whitney Houston as the Fairy Godmother. Recently, we were introduced to an aesthetically beautiful version on film with Cate Blanchett as the Wicked Stepmother and Lily James as Cinderella.
As much as I love film, sometimes nothing beats live theatre, where anything is possible. Principal and supporting roles were double cast in Lori Grimes' production. Our title role was played by Madeline Edwards and Merinda Gillette. Miss Edwards was the epitome of a Disney Princess, practically floating on stage. She was the Cinderella you would find if you were at Disneyland. Miss Gillette was just as sweet and charming with a more earthy flavor; both delivered a lovely vocal for "In My Own Little Corner."
Our charming Princes were Luke Behrendt and Eric Trickey. Their rendition of "10 minutes Ago" was engaging. Rachel Warner and Gwyneth Kuwazaki played their role of the regal queen commendably. Stephen Franco and Connor McFerran also did well as the King. Other roles were Ben Pancarik as Lionel and Espen Jacobsen and Mason Pillsbury as the Herald.
Our villainous stepmother is played by Kiara Terrel and Andie Radslidd, who pulled off the maturity and devilish-ness required for the role. Minerva (Sophia Rideout and Rheigan McCarthy) and Drizella (Elliana Geffeney and Kayla Tison) all had great chemistry on stage and played well off of each other. "The Stepsister's Lament" was light and full of fun. Miss Geffeney's and Miss Tison's laugh to "woo" the Prince was hilarious!
Of course where would we all be at this point without our Fairy Godmother? Played by 12-year-old Tori Hitchcock and 13-year-old Hope Draper. Jessie Moore was our narrator and a true standout. Miss Moore exuded grace and elegance onstage and it is no wonder why she was also cast as a swing.
Rounding out the cast was a great ensemble. The Mouse Ensemble led Lucy la Mouse (Jasmine Broyles, Sarah Broide), Jaq/Jaque la Mouse (Amanda Brown, Matthew Miller), Perla la Mouse (Liliana Anguiano, Naomi Witmondt) and Gus la Mouse (Seth Gist, Ben Broide) were all too adorable, especially in scenes with Cinderella.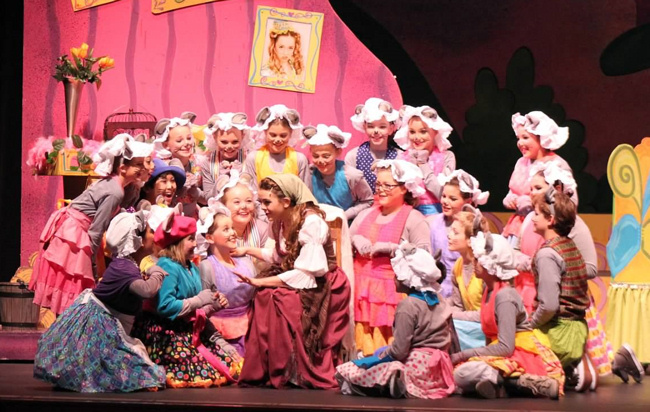 The set was whimsical and straight from a story book and my favorite prop was the photos of the Stepmother and stepsisters on the wall above the fireplace. A nice touch. The waltz choreography impressive and the level high for the age range.
Lori Grimes and company will produce Peter Pan in the Spring. I am sure it will be very entertaining.

Performed October 30 - November 1, 2015
D. Jacqueline Young
National Youth Arts
~ Cast ~
Add Artist Page
Carriage Cast / Slipper Cast


Cinderella: Merinda Gillette / Madeline Edwards
Prince: Luke Behrendt / Eric Trickey
Stepmother: Andie Radsliff / Kiara Terrell
Minerva: Sophia Rideout / Rheigan McCarthy
Drizella: Elliana Geffeney / Kayla Tison
Fairy Godmother: Tori Hitchcock / Hope Draper
Queen: Rachel Warner / Gwyneth Kuwazaki
King (off-cast Royal Patron): Stephen Franko / Connor McFerran
Lionel: Ben Pancarik
Herald (off-cast Royal Patron): Espen Jacobsen / Mason Pillsbury
Narrator/understudy for all female leads: Jessie Moore
Lucy la Mouse (off cast Mouse Ensemble): Jasmine Broyles / Sarah Broide
Jaq la Mouse (off cast Mouse Ensemble): Amanda Brown / Matthew Miller
Perla (Suzy solo) la Mouse (off cast Mouse Ensemble): Liliana Anguiano / Naomi Witmondt
Gus la Mouse (off cast Mouse Ensemble): Seth Gist / Ben Broide

Mouse Ensemble:
Cheddar: Daniel Reynaldo
Betty: Hannah Cookingham
Camille: Aliya Nelson
Lizette: Kylee Brown
Beatrice: Faith Behrendt
Eliza: Grace Alexander
Leona: Isabelle Johnstone
Fausta: Alyssa Cloward
Molly: Nicole de Neve
Suzanna: Abby Moen
Madelina: Kaitlyn Rawson
Daisy: Rachel Welch
Trudy: Katerina Dalakas
Sabrina: Emily Tompkins
Linsey: Keely Haynes

The Prince Is Giving A Ball solos/trios:
Daughter solo/2nd Girl Solo: Madden Pearce
1st Girl solo/3rd Girl solo: Jessie Moore
Mean Sister trio/Grandma trio: Chloe Roehr
Mean Sister trio/Grandma trio: Brenna Kirklen
Mean Sister trio/Grandma trio: Rory Simpson
Sloppy Sister trio/Studious Sister trio: Averie Sargent
Sloppy Sister trio/Studious Sister trio: Jocelyn Clark
Sloppy Sister trio/Studious Sister trio: Mya Marshall
Little Girl solo: Taylor Smith

Your Majesties:
"Chef" Blu: Christian Estill
Butcher Carne: Sam Hill
Dessert Chef Brule: Jessie Moore
Cheese Steward Alouette: Madden Pearce


Bibbidi-Bobbidi-Boo:
Dancing Horse: Sarah Peabody
Dancing Horse: Joy Cataline
Footman/Coachman: Rory Simpson

Townswomen & Royal Patrons:
Anastasia: Sarah Peabody
Portia: Joy Cataline
Penelope: Jessie Moore
Gertrude: Chloe Roehr
Cecily: Brenna Kirklen
Colette: Madden Pearce
Brigitte: Victoria Baez
Evangeline: Mya Marshall
Marcella: Jocelyn Clark
Stella: Amber Bacardi
Cambria (featured dancer): Alysia Greer
Clara: Isabella Longwell
Delia: Gabriella Belleville
Myra: Taylor Smith
Sonja: Averie Sargent
Belle: Rory Simpson
Demi (featured dancer): Hope Schaefer
Viola: Christina Rawson
Jeté (featured dancer): Samantha Snodgrass
Arabesque (featured dancer): Julia Clark
Lucia: Leela Craven
Elise: Adelae Norwood
Opal: Rachel Johanson
Emilia: Kelly Lynch
Caroline: Danica Jordan
Emma: Kendra Carlson
Relevé (featured dancer): Carlie Smith


Townsmen & Royal Patrons:
Victor: Sam Hill
Edwin: Connor McFerran / Stephen Franko
Oliver: Mason Pillsbury / Espen Jacobsen
Warren: Christian Estill
Hugh: Alexander Harmon
Braxton: Blake Brown
Byron: Aidon Suggett
Clark: Cameron Throgmorton

Stepsister's Lament Maidens:
Royal Lady: Sarah Peabody
Royal Lady: Brenna Kirklen
Royal Lady: Chloe Roehr
Royal Lady: Joy Cataline
Royal Lady: Mya Marshall
Royal Lady: Victoria Baez
Royal Lady: Jocelyn Clark
Director: Lori Grimes
Costume Designer: Julie Cataline
Set Designer: Vince Jolley & Kathy Rote
Choreographer: Melanie Tierce & Ragan Grimes
Musical Director: Mary Jaeb