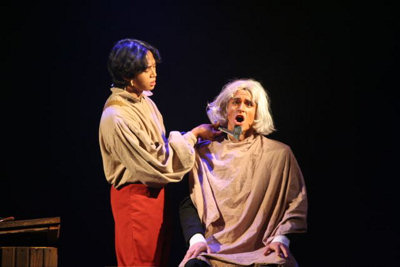 Sweeney Todd: The Demon Barber of Fleet Street School Edition centers on Benjamin Barker, alias Sweeney Todd, a vengeful barber who slits the throats of certain customers and leaves them to become the main ingredient in Mrs. Lovett's meat pies.

 

While this show and its pies may not suit everyone's taste, it is unarguably well written.

 

This tale of vengeance and murder features a top-notch score by Stephen Sondheim, one of the musical theatre's most brilliant composers.

Director Monica Hall did a fine job of focusing on the tragic story of humanity's ability to choose between revenge and forgiveness instead of gore for gore's sake. The set was large and sometimes cumbersome, but was also a brilliant piece of carpentry.  Some of the audience's favorite moments came anticipating whether the latest client in the barbershop of horrors was exiting via the chair or the stair.   The orchestra and music direction was in the very capable hands of Elan McMahan as she coaxed some fine vocal performances and harmonies from the cast.

In  the opening number, The Ballad of Sweeney Todd, which is based in the "Dies Irae," the Roman Catholic mass for the dead,  we are introduced to the fact that this is a very angry musical.  The ensemble benefits from a performance in the intimate space of the Carlsbad Cultural Arts Center where the chorus undertakes Stephen Sondheim's demanding music, while confronting the audience with provocative directness.
Taking on the challenging role of Sweeney Todd, vocally luminous Brian Chiang gives a brooding performance that could have been enhanced with more levels. By sharing more of the joy and love in his character, the audience could realize how substantial his loss. Mrs. Lovett, played by Maddie McClouskey, is the right mix of disgusting villain, flirty wench and love struck loner. Her rendition of By the Sea was a bright beacon of comedy in this chillingly dark production of passion, revenge and meat pies. Vocally brilliant, McClouskey gave an energetic performance with remarkable maturity.

Hannah Downie as Johanna shared a beautiful duet in Kiss Me with Anthony played poignantly by Austen Hallett.  Always in the moment, Halett wore his sincere, naïve emotions out in the open for all to see.  Jimmy Beall is aptly creepy as Judge Turpin, the self assured sexual predator bent on marrying his young charge, Johanna.  Always lurking about to do the Judge's bidding, the Beadle (Sean Covert) displayed strong vocals and was the villain we all loathed.   Candace Chauncey brought great physicality and wretchedness to the Beggar Woman.  The team of Pirelli (Alexi Kaleas) and Tobias (Jamen Nanthakumar) were quite funny, while Nanthakumar took his character to many depths, including the emotionally moving scene at the end. Shocked to the core at the atrocities witnessed, he vacantly and dutifully carries on with his job, leaving the audience's emotions in the meat grinder. <![if !supportEmptyParas]> <![endif]>

Performed May 8th – 16th, 2009<![endif]>

Martha Pettit
National Youth Theatre

~ Cast ~



Sweeney Todd: Brian Chiang
Mrs. Lovett: Maddie McClouskey
Johanna: Hannah Downie
Judge Turpin: Jimmy Beall
Anthony: Austen Hallett
The Beadle: Sean Covert
Pirelli: Alexi Kaleas
Tobias: Jamen Nanthakumar
Beggar Woman: Candace Chauncey
The Bird Seller: Anthony Cobian
Mr. Fogg: Rory Team
Policemen: Paul Geisterfer, Clarke Surrey

Specialty Vocal Roles:
Keely Dumas
Chelsea Koop
Sarah Poblete
Eleanor Rudolph
Nina Sharifi
Ryan Aki
Jerret Cabacungan
Andrew Carstens
Ryan Clippinger
Dylan Donn
Danny Green
Jon Fuson
Trio Harris
Daniel Liuag
Grant Perdue

Additional Ensemble:
Catherine Chauncey
Rachel Davis
Sammie Duffy
Caroline Floto
kim Gosnell
Maria Hargrove
Kaitlyn Jenkins
Sheila O'Neill
Jessamyn Penick
Muriel Schneider
Aimee Scholz
Lindsey Shay
Taylor Tollack
Jerry Chen
Justin Feinman
Paul Geisterfer
Rex Lindeman
Mark Patricio
Clarke Surrey
Rory Team

Director: Monica Hogue Hall
Music Direction: Elan McMahan
Choreography: Suzanne Fernandez
Costume Design: Jane Craig-Jones