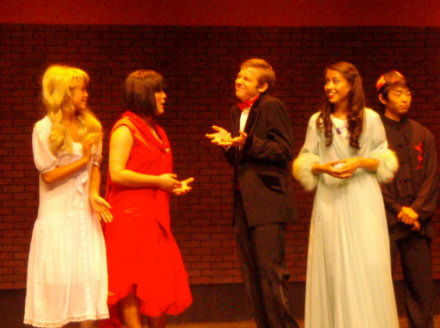 It's the Tony Award-winning musical that launched the show and its star, Sutton Foster, into Broadway stardom, and it was launched right here in San Diego County at the La Jolla Playhouse. Or just a few miles south of Carlsbad High School, where Director Monica Hall leads her group in a very entertaining production of the show.

Maddie McClouskey leads the way as Millie Dillmount, newly arrived in New York City fresh from Salina, Kansas, and determined to make herself as thoroughly modern as the women she's read about in Vogue magazine. That means living a hip life in NYC with bobbed hair, flapper dresses, and marrying for money rather than love. But love rears its ugly head in the form of Jimmy Smith, a poor but fun and streetwise guy who literally gets tripped up when he meets Millie. Maddie does a great job as the lively, proudly pragmatic Millie with a great voice used to depict her falling unpragmatically in love (Jimmy and Gimme Gimme). And also falling out of love in the great rendition of Forget About the Boy in which she leads her fellow stenographers in some serious boy bashing.

Millie is backed up by some strong performances including David Tanner as Jimmy Smith. David takes what is often a fairly bland character and infuses him with charisma and an entertaining personality that draws Millie to him, and he does a fanatastic job with What Do I Need With Love as he contemplates springing himself out of the drunk tank or hanging around to try to win a date with Millie.

But Millie thinks she wants a date with her now boss, Trevor Graydon, with Josh Jankowski as the quirky, nimble-tongued Graydon who seems confident and manly on the outside as he takes Millie through a memorable typing Speed Test, but he can quickly become a helpless wreck when he falls instantly in love, as we see when he meets Millie's new beset friend, the sweetly amusing debutante Miss Dorothy Brown (Hannah Downie) in the great scene I'm Falling in Love With Someone. Chelsea Liu adds glamour and charm as Muzzy Van Hossmere, the jazzy singer who helps Millie with some straight talk about green-glass love.
And then there is the melodramatically villainous aspect of the show in the form of the mysterious Mrs. Meers – the hotel clerk where Millie and a bunch of young, struggling actresses are living. But Meers's real cash cow lies in the industry of "white slavery," knocking out and shipping out lonely actresses who are "sad to be all alone in the world" to China where they will never be alone again. And Jill Renner is brilliant in the role – an actress with great natural comedic and character instincts with a hint of Katherine Hepburn that combine to make her a delight to watch. She also might have a great natural instinct for clumsiness, as she winds up struggling with phones, paper, and a poisonous apple – but her reactions to such mishaps are always so quick and humorous that you can't tell if she's doing it on purpose, adding another complex layer to her character who is in a constant struggle with the world.

She has further struggles with her reluctant Chinese assistants, Ching Ho (Brian Chiang) and Bun Foo (Jerry Chen), as she tries to bridge the language barrier with help from an English-Mandarin dictionary and subtitles projected above the stage. The threesome turn in a big serenade to the one dream for which Ching Ho and Bun Foo do their dastardly work – their hope of bringing home their Muqin/Mammy.

And then there are all the modern New Yorkers who make the city sing with their huge, nicely done tap numbers choreographed by Suzanne Fernandez, with Elan McMahan's orchestra accompanying them all as they help Millie discover the meaning of modern.

Performed May 2-10, 2008.

Rob Hopper
National Youth Theatre

~ Cast ~


Millie Dillmount: Maddie McClouskey
Jimmy Smith: David Tanner
Ruth: Sarah Poblete
Gloria: Julie Humphrey
Rita: Chelsea Koop
Alice: Kristin Maynes
Cora: Nikki Hymer
Lucille: Rachel Epstein
Ethel Peas: Chelsea Streano
Mrs. Meers: Jill Renner
Miss Dorothy Brown: Hannah Downie
Ching Ho: Brian Chiang
Bun Foo: Jerry Chen
Miss Flannery: Melissa Bonilla
Mr. Trevor Graydon: Josh Jankowski
The Pearl Lady: Maria Hargrove
The Letch: Sean Covert
Policeman: Anthony Cobian
Muzzy Van Hossmere: Chelsea Liu
Muzzy's Boys:
Jimm Beall
Jerret Cabacungan
Ryan Clippinger
Sean Covert
Sean Funkhouser
Danny Green
Austen Hallett
George Gershwin: Andrew Carstens
Dorothy Parker: Muriel Schneider
Rodney: Dylan Hanks
Kenneth: Max Berwald
Daphne: Shelly Hassier
Dexter: Alexi Kaleas
Mathilde: Eleanor Rudolph
Ensemble:
Ashley Avan
Sydnie Bonin
Emily Bullard
Andrew Carstens
April Downey
Keely Dumas
Caroline Floto
Paul Geisterfer
Dylan Hanks
Maria Hargrove
Rex Lindeman
Daniel Liuag
Haley Quartarone
Eleanor Rudolph
Muriel Schneider
Alexi Kaleas
Shelly Hassler
Max Berwald
Rory Team
Mama: Mrs. Shirley Wong

Director: Monica Hogue Hall
Music Direction: Elan McMahan
Choreography: Suzanne Fernandez
Costume Design: Jane Craig-Jones