Climbing your way to the top without any regard for fingers, toes, or feelings for others is what How to Succeed in Business Without Really Trying is all about. In this musical we watch J. Pierrepont Finch connive, cheat, and lie his way from window washer to corporate executive. In the beginning, you think, how can you end up liking a character like Finch?
How to Succeed in Business Without Really Trying is a musical by Frank Loesser with a book by Abe Burrows, Jack Weinstock and Willie Gilbert. It is based on Shepherd Meade's bestselling book. It has won seven Tony Awards and spawned two revivals and a film since its original Broadway opening in 1961.
Maximilian DeLoach leads the cast in Carlsbad High School's version of How to Succeed as Finch. I truly love what gaped tooth Robert Morse does with this character in the film, however, I did enjoy DeLoach's version. He played it a little less on the "quirky" side and I liked his ease of movement on stage. His vocals in the title song, "The Company Way" and "Rosemary" were delivered effortlessly and he had a great leading man's quality to his tone. DeLoach brought believability and charm to Finch, and I found him very likeable, even when duping others to accomplish his career goals. His dance abilities are also good and the energy in "Brotherhood of Man" was fantastic. In fact, the whole group of men in that number gave a great performance, which leads to the mention of other great male actors in the production.
I am always amazed by some of the young artists in San Diego youth theatre and Evan Ridpath is no exception. Ridpath played World Wide Wicket Executive J.B. Bigley with maturity, great finesse, and depth. He was grounded and consistent and his duet with Finch in "Grand Old Ivy" was lively and fun.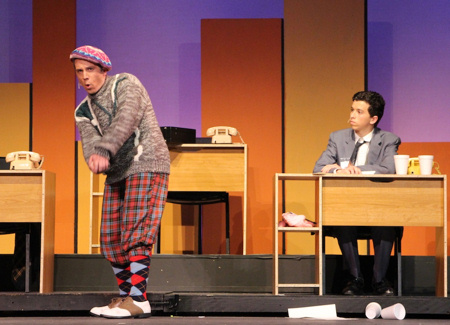 He showed sincerity with his love interest femme fatale, Hedy Larue (Emerson Diehl) in "Love From a Heart of Gold."
Finch's antithesis, Bud Frump, is colorfully played by Jonah Ibrahim. Ibrahim's gave so much character in "Coffee Break" and "Been a Long Day." In fact, he did such a great job at being spoiled and entitled that you find yourself rooting for Finch, regardless of all his sucking up, backstabbing and scheming. Others worth mentioning are Cameron Penn as Bratt, Carter Knight as Mr. Twimble, Sam Pines as Wally Womper, and Adam Gilmore as Gatch.
The young ladies in the show were not too shabby and held their own. Valerie Maybaum played a sweet and patient Rosemary Pilkington, who is smitten with Finch from the moment she meets him. Her vocals were pleasing to the ear especially in "Happy to Keep His Dinner Warm." Maybaum and DeLoach had tender moments in "Rosemary." Miss Maybaum was in great company with Alexa Harris' Smitty. Harris is stellar in her performance as Smitty, and "Been a Long Day" with Finch and Rosemary was one of the highlights of the evening. Miss Harris also has a natural grace and prowess about her on stage and she shined.
Another standout actress was Emerson Diehl who played our Hedy, Bigley's airhead mistress. Miss Diehl's performance was fantastic with her screechy high pitched voice and comedic timing. Karinya Ghiara was a super Miss Jones. For a high school student she played the mature role extremely well next to her peers.
Overall, this was a great show. The pacing was clean and crisp, the costumes fit the period and there were some very strong actors who graced the stage. By the end of the show I was definitely a fan of J. Pierrmont Finch and company.
Performed May 2 - 10, 2014
D. Jacqueline Young
National Youth Arts
~ Cast ~
Add Artist Page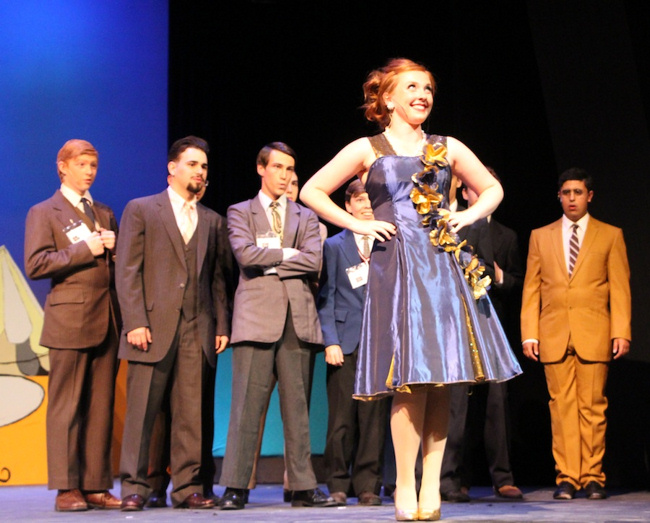 J Pierrepont Finch: Maximilian DeLoach
Gatch: Adam Gilmore
Johnson: Ben Little
Jenkins: Ethan Beretz
Matthews/Office Boy: Victor Diaz-Lafferty
Tackaberry: John Norall
Peterson: Anthony Alvarez
Davis: Daniel Salter
J.B. Biggley: Evan Ridpath
Bratt: Cameron Penn
Bud Frump: Jonah Ibrahim
Mr. Twimble: Carter Knight
Toynbee: Ian Powell
Ovington: Colin Team
Executive/Office Boy: Spencer Skelly
Executive/Policeman: Nolan Palm
Executive/Wally Womper: Sam Pines
Rosemary Pilkington: Valerie Maybaum
Smitty: Alexa Harris
Miss Jones: Karinya Ghiara
Hedy Larue: Emerson Diehl
Miss Krumholtz: Natalie Threadgill
Scrubwoman (Opening Night):
Ms. Judi Farkaly Stapleton (Special Guest)
Scrubwoman (Opening Night):
Mrs. Andrea Schuck Emert (Special Guest)
Scrubwoman: Crystal Cobian
Scrubwoman: Rachel Chapman
Jolly Wickette/Secretary: Jessica Streich
Jolly Wickette/Secretary: Talia Cain
Jolly Wickette/Secretary: Mary Chen
Jolly Wickette/Secretary: Brooke Hollman
Jolly Wickette/Secretary: Sarah Lewis
Jolly Wickette/Secretary: Alison Pateros
Jolly Wickette/Secretary: Erica Schwartz
Jolly Wickette/Secretary: Skylar Siben
Jolly Wickette/Secretary: Miranda Tomaneng
Secretary: Haylie Bantle
Secretary: Sophie Blake
Secretary: Zoe Brodsky
Secretary: McKenzie Fink
Secretary: Eri Flores
Secretary: Sierra Gonzalez
Secretary: Madison Headlee
Secretary: Sierra Kreutzer
Secretary: Katie Oberman

Director: Monica Hogue Hall
Costume Design: Jane Craig-Jones
Set Design: Monica Hogue Hall
Choreography: Suzanne Fernandez
Music Direction: Lyndon Pugeda
Technical Operations: Ms. Elizabeth Ables, Mr. Chris Bennings, Mr. Colin Pate
Scenic Artist: Ms. Melanie Jarisz
Dance Captain: Jessica Streich
~ Orchestra ~
Conductor: Mr. Lyndon Pugeda
Pit Coach: Mr. Adam Bovie
Pit Coach: Ms. Marina Hall
Flute, Piccolo: Ashley Wang
Flute: Chae Park
Flute: Danny Zapata
Clarinet: Eric Yu
Clarinet: Ezra Kim
Clarinet, Bass Clarinet: Kerianne Brennan
Clarinet, Tenor Saxophone: Casey Fields
Tenor Saxophone: Andrew Page
Saxophone: Rolando Ortega
Saxophone: Conner Shaw
Alto Saxophone: Antonio Aguirre
Trumpet: Ethan Brandt
Trumpet: Samuel Alejandro Flor
Trumpet: Karena Korbin
Guest Trumpet: Mr. Jack Lang
Trombone: Madison Nelson
Trombone: Jonathan Paleo
Trombone: Joshua Ward
Violin: Mika Arie
Violin: Sana Moezzi
Violin: Tiffany Nguyen
Violin: Julia Zeng
Cello: Natalie Brdlik
Guest Cello: Mr. Erik Hall
Bass: Erin Newman
Keyboard, Piano: Kaylin Brennan
Percussion: Isaac Loew
Percussion: Jay Montoya
Guest Percussion: Mr. Kyle Montiel

~ Crew Members ~
Assistant Directors: Nena Gonzalez
Sydney Hack
Evan Sardarian
Emily Terrill
Kyle VanDerLinden
Stage Manager: Zandra Mikhael
Assistant Stage Manager: Jeffrey Justice
Assistant Stage Manager: Andrew Burger
Asst. Stage Manager/Props Head: Chris Hackett
Fly Crew: Aidan Bach, JJ Almeraz, Michael Brewer, Matt Justice
Sound Crew: Andrew Eason, Dominick Rice, Juan Santos, Allison Walke
Lighting Crew: Hannah Shohara, Thomas Mitchell
Follow Spots: Dalton House, Roy Meilich, Daniel Ruskowski, Trever Unruh
Props Crew: Cheyenne McIntire, Shannon Liuag
Shift Crew: Mason Cottrell (Head), Daniel Dorais, Jaelyn Kalis, Maya Lewis, Samantha Mack, Stephanie Martin, Holises Nunez, Sydney O'Brien, Miranda Ortega, Jake Pomerlau, Christopher Valverde, Johnny Valverde, Cristian Vega
Costume Crew: Jalissa Barrientos (Head), Kaitlyn DeShon, Reyna Hinojosa, Nikki Keisler, Rae King, Natalie McKittrick