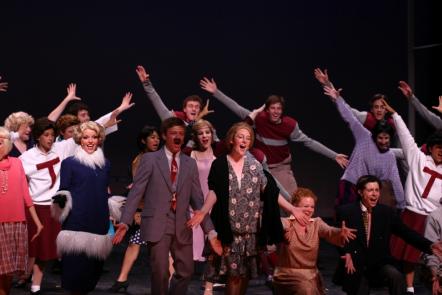 It's 1928 and The Great Depression is still a full year away. Time for songs like Button Up Your Overcoat, The Best Things in Life are Free, and Life is Just a Bowl of Cherries. But dangers still lurk during these carefree days of the roaring twenties. Like will the star quarterback of Tait College marry the lovely and vain daughter of the school's wealthiest donor, or will he fall for her plain, bookworm cousin and marry for love?

This quaint but still highly entertaining old musical is a true ensemble piece with lots of meaty supporting characters and subplots, making good use of Carlsbad High School's many talented drama students headed by Director Monica Hogue Hall and outfitted in Jane Craig-Jones' magnificent costumes that completely takes one back to the Twenties.

Jillian Porter is Connie the bookworm, the sports-hating cousin of the glamorous Pat, and Jillian both sings it well (including her solo Just Imagine) and uses subtle touches to add depth and humor to the role as she begins to see that there is more to the quarterback than what meets everyone else's eyes. That quarterback is played by Kyle Woolley who does a great job portraying the popular jock with a private life, which he can finally share with someone. And that someone is not the glamorous Pat who is convinced they're already engaged, with the stunning Krista Potocny turning in an excellent performance as the snooty, materialistic cousin.
The main subplot involves the missed romance of an older generation that gets a new chance at life when astronomy professor Charlotte Kenyon flunks quarterback Tom Marlowe, prompting Coach Bill Johnson to try to convince his old flame to pass his quarterback in time for the big game. Amy Garner has a perfect inner quietness and sad wisdom without seeming the least bit pretentious, as well as a glimmer of hopeful romance that we see when she and her co-star Sam Floto do some wooing with You're the Cream in My Coffee, with Sam creating an amusing coach who likes to talk the talk among his players but is a little more uneasy off the field.

Also woven into the story is the goofy romantic triangle among fun and flirty Babe (Corinne Crockett), nerdy ladies man and physical comedian Bobby Randall (Garrett Bales), and a big but not-so-bright football star named Beef (Josh Jankowski) who share a memorable scene in Bobby's dorm. Superstitious assistant coach Pooch Kearney (Matt Anderson) inspires the football team Knute Rockne-like in Keep Your Sunny Side Up as well as The Football Drill that includes a kickline of players (amusing choreography by Suzanne Fernandez), while the whole cast shines in The Varsity Drag and the apropos Lucky In Love.

Performed May 12-20, 2006.

Rob Hopper
National Youth Theatre

~ Cast ~



Coach Bill Johnson: Sam Floto
Patricia Bingham: Krista Potocny
Tom Marlowe: Kyle Woolley
Connie Lane: Jillian Porter
Professor Charlotte Kenyon: Amy Garner
Pooch Kearney: Matt Anderson
Babe O'Day: Corinne Crockett
Beef Saunders: Josh Jankowski
Bobby Randall: Garrett Bales
Sylvester: David Tanner
Game Announcer: Sean LaRocca
Ticket Taker: Trevor Taylor
Policeman #1: Allen Anderson
Policeman #2: Corey Seiderman

~ The Boys ~
Slats: Ricardo Gonzalez
Windy: Sean Funkhouser
Teammates:
Allen Anderson
Anthony Cruz
Russell Dezonia
Sean LaRocca
Kyle Marks
Corey Seiderman
Trevor Taylor
Andrew Wicks

~ The Girls ~
Millie: Talia Davis
Flo: Adriana Spencer
Corda: Sloane Herrick
Lucy: Summer Spiro
Sorority Girls:
Laura Cain
LiAnastacia Dumas
Melany Hadorn
Madeline Romero
Coeds:
Lauren Baker
Sydnie Bonin
Hannah Downie
Rachel Epstein
Kimberly Fischer
Tanya Grant
Julie Humphrey
Nikki Hymer
Rachel Landis
Kimberly Liehr
Madison McClouskey
Briana McClure
Sarah Poblete
Haley Quartarone
Jill Renner
Chelsea Streano
Abby Weeks
Kelly Weinberger

Director: Monica Hogue Hall
Musical Director: Lyle Stone
Choreography: Suzanne Fernandez
Lighting and Sound Design: Justin Smiley
Costume Design: Jane Craig-Jones