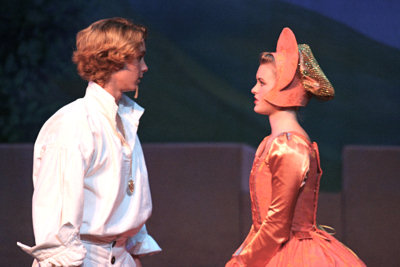 Romance is in full bloom within the Forest of Arden in Shakespeare's comedy As You Like It. This time Arden is located on the stage of Carlsbad High School where Monica Hall directs the cast of villainous royalty, banished dukes, the country forest folk, as well as Orlando and Rosalind and their unusual courtship.

The rather convoluted plot begins in the court of the usurping Duke Frederick who had his brother, the rightful Duke Senior (Rosalind's father) and Senior's court banished to the countryside. Frederick also ends up getting angry at Rosalind, ordering her to flee immediately or be put to death. Rosalind's best friend Celia, the daughter of Frederick, leaves with her. They take along the court clown Touchstone, and Rosalind disguises herself as a man named Ganymede because it would be unsafe for two women to travel unaccompanied by a nobleman.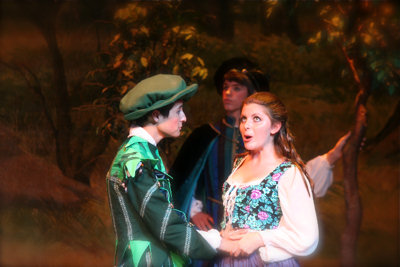 Soon after, they run into Orlando, also banished. Orlando doesn't realize that the "man" Ganymede is the same Rosalind he fell for during his brief wrestling match at court, but she recognizes him and promises to teach him how to woo Rosalind by using herself, Ganymede, as a stand-in for Rosalind. Mix in several other romances and potential romances, and control of the dukedom in the background, and we're ready to go.
The cast at Carlsbad High do a nice job in the various character roles. Rosalind is played by Ellie Rudolph, a Grace Kelly type who mixes lovely elocution and a knack for humor, while transitioning into Ganymede without overdoing the maleness of the role. Rory Team is her earnest student as Orlando, a very likeable and modest Orlando with a good unassuming sense of humor.
Joining them in the forest are a large number of quirky characters. Daniel Liuag who goes all out in the demanding role of Touchstone the clown who falls for the amusing Nastacia Schmoll as his love interest Audrey the Goatherd. Shepherdess Phoebe (Millie Beetham) and dimwitted but devoted shepherd Silvius (Grant Perdue) are a hoot as Phoebe yearns for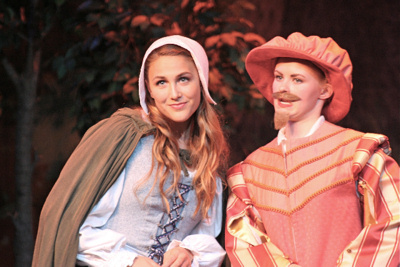 Ganymede and Silvius keeps quietly wishing and hoping to get Phoebe one way or another. Jake Swanson gives an amusingly over-the-top take on melancholy Jacques that gets some looks from the all the other far more mellow court members of the gentle and level-headed Duke Senior (Blake Wilson). Chris Taylor as Old Corin and Mark Patricio as old Adam use good body language and vocal work to create their elderly characters, including Adam's little happy dance/walk. Dakota McIntire is going to pop as always-furious Frederick. And Siera Willes as playful and loyal Celia falls for Orlando's suddenly repentant brother Oliver (Chris Ohlin), leaving the stage set for a big finale as disguises are lost and knots are tied and, if all the world's a stage, the world ends just As You Like It.
Performed November 12 - 14, 2009

Rob Hopper
National Youth Theatre
~ Cast ~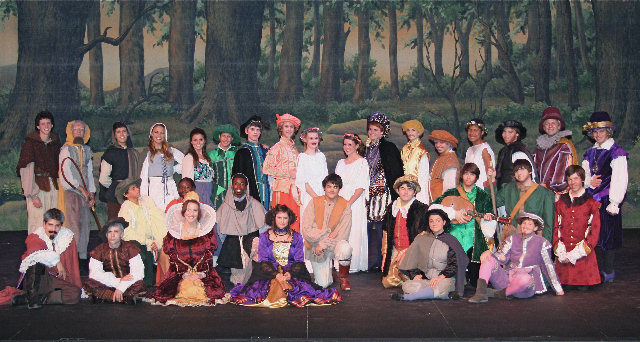 ~ The Usurping Court ~
Duke Frederick: Dakota McIntire
Celia: Siera Willes
Rosalind: Ellie Rudolph
Touchstone: Daniel Liuag
Charles: Gabriel Seemann
LeBeau: Michelle Nicolas
First Lady in Waiting: Megan Doak
Second Lady in Waiting: Maile Landi

~ The de Boys Household ~
Oliver: Chris Ohlin
Orlando: Rory Team
Jacques: Nick Bennings
Adam: Mark Patricio
Denis: Paul Christman

~ The Banished Court ~
Duke Senior: Blake Wilson
Jacques: Jake Swanson
Amiens: Sean Geisterfer
First Lord: Paul Geisterfer
Second Lord: Shane Nicholas
First Page: Ariel Brackeen
Second Page: Lilli Kinsey

~ The People of Arden ~
Corin: Chris Taylor
Silvius: Grant Perdue
Phoebe: Millie Beetham
Audrey: Nastacia Schmoll
William: Justin Feinman
Sir Oliver Martext: Tony Aguilar
Foresters/Wrestling Spectators:
Tommy Derby
Daniel Nofal
Arrianna Tate
Ed Tate

Hymen: Trio Harris

Director: Monica Hogue Hall
Lighting Design: Matt Johnson
Scenic Artist: Chad Dellinger