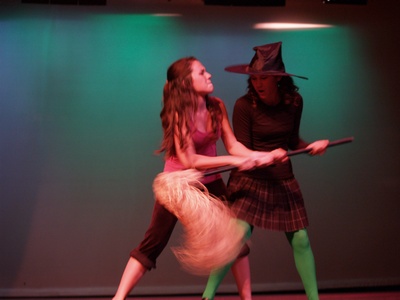 Future Tony winners hit the stage in Carlsbad Community Theatre's musical revue Tonys Tonight. What follows is a commercial-free awards show featuring some speeches, a few divas, and a lot of music from Broadway's biggest hits past and present including Les Miserables, West Side Story, Hairspray, Mamma Mia!, Annie, Legally Blonde, and more.

Director Eric Hellmers put together this fun little night of show tunes that kicks off with an entertaining full-cast parody of A Funny Thing Happened on the Way to the Forum's "A Comedy Tonight," substituted with "Tonys Tonight" led by Avery Mann. A few of the evening's highlights include:

* Livi Langen and Emily Schneider fighting it out as Wicked's Elphaba and Glinda in The Wizard and I.

* Allie DeGour as an amusing Elle knocking out Legally Blonde's So Much Better.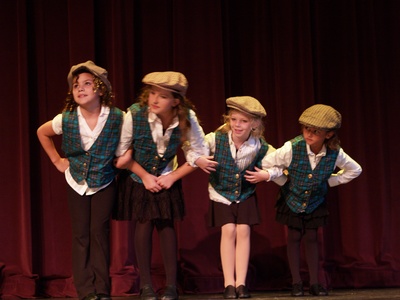 * Miranda Colvin's sweet On My Own from Les Miserables, Casey Sawyer's wistful Home from Beauty and the Beast, and Troy Lingelbach's comedic, non-gangish Cool from West Side Story.
* A hilarious Erin Elliott accepting her award with a classic speech full of false modesty, a determination to take as much time as she wants, and almost wanting to welcome her fellow cast members up on stage with her.
* And several big group numbers by the lively young cast from the opening Tonys Tonight to Annie's You're Never Fully Dressed Without a Smile, disco's Dancing Queen, Disney's Supercalifragilisticexpialidocious, a hopping Nicest Kids in Town a la Hairspray, and kicking us out with a cute So Long, Farewell (The Sound of Music) and The Wiz's vibrant Brand New Day.
Performed October 1 - 2, 2010
Rob Hopper
Facebook
Instagram

Executive Director
National Youth Arts
~ Cast ~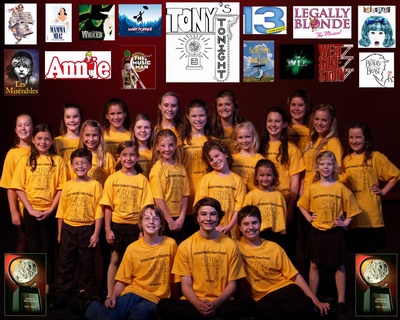 Andy Aldecoa
Maddie Aldecoa
Megan Burland
Miranda Colvin
Allie DeGour
Hannah Dozier
Erin Elliott
Livi Langen
Sophia Levorchik
Danielle Lingelbach
Troy Lingelbach
Avery Mann
Daniel McGuire
Malia Morris
Marlowe Morris
Cassie Nesbit
Kate Neville
Abby Penrod

Casey Sawyer
Emily Schneider
Erica Schwartz
Makenzie Rupert
Jayna Wrisley

Director: Eric Hellmers and Jimmy Masterson
Choreographer: Madison Williams
Production Coordinator: Nancy Schneider
Book, additional lyrics: Eric Hellmers
Costumer, Props: Jimmy Masterson
Technical Crew: Nadia Guevara, Samantha Ritchie, Taylor Tollack
Box Office: Rhonda Mann
House Manager: Joan Colvin
Refreshments: Maggie Threadgill
Publicity: Joan Colvinn
Cast Party: Chelsea Morris
Logo Design: Jimmy Masterson
Photography: Joan Colvin
Program: Kitty McMahon
CAC Technical Director: Daniel Czypinski
CAC Technical Support: Chad Deninger