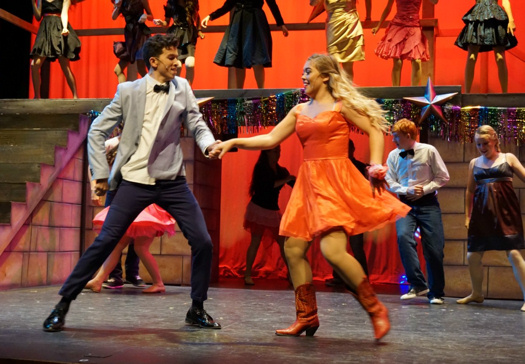 Toes are tapping, feet are shuffling and boots are bouncing in Carlsbad Community Theatre's "Footloose". A musical loosely based on the 1984 movie, this fresh and polished production is set around a tragedy in a small religious town of Elmore City, Oklahoma. With a cast ranging from ages 15 to 50 and a spot-on live orchestra, CCT hits a home run with this 1980's classic.

After a tragic death of four teenagers returning home from a dance, the town council votes to outlaw dancing and rock music alike. Meanwhile, a newly transferred Ren McCormack comes to town compelling high school students to appeal to the town council and persuade an impassioned preacher to allow a real senior dance.

Ren, played by Maximillian DeLoach effectively nails the role as the newbie big city kid thrust unwillingly into a new town, school, and challenge of trying to fit in with his peers in small town Oklahoma. DeLoach is the ideal lead with his charm, strong vocals, and convincing range of emotions.

Denise Neumerkel as Rusty and Harrison Schwartz as Willard create a charming yet awkward relationship throughout the production lending to an outstanding supporting cast. Denise's voice stands out especially in performances such as "Let's Hear it for the Boy" among others. Harrison's goofy yet delightful demeanor serves as a good foil throughout, specifically as he learns to dance.

A huge strength in this production is found in Julia Martinez's shining role of Ariel Moore. Martinez nicely bridges the roles of a free spirited and flirtatious preacher's daughter to the sensitive and loving daughter. Among the standout numbers in the production is the powerful and sweet duet of "Almost Paradise" between Martinez and DeLoach. Hats off to the two of you.


Kira Davis (Urleen) and Miranda Colvin (Wendy Jo) execute perfect harmonies in "Somebody's Eyes'" and are thoroughly entertaining to watch throughout, while the boys execute a hilarious and true version of "Mama Says".

Other well cast performances include Amanda Wright as Ren's stressed but loving Mother Ethel and Layth Haddad as Aerial's ne'er-do-well boyfriend Chuck and his posse Carter Knight and Jack Tarman.

An outstanding and clearly well-rehearsed youth ensemble put in a first class performance under Allisan Whitman yields both impressive choreography and direction.

Adult rolls including Rick Hernandez as Reverend Moore and Jessica Laitinen as Vie Moore were convincing and sincere as played with such aplomb.

Musical director Jessie Bullock effectively leads this large cast and brilliant band and, as expected, his talent shines as the music never falters and the harmonies are well-developed.

To the rockin' rhythm of its Oscar and Tony-nominated top 40 score, "Footloose" celebrates the wisdom of young people and guiding them with a warm heart and open mind. A truly enjoyable, feel good "Footloose" will leave you dancing out of the theatre.
Performed July 24-August 2, 2015

Terrance Blessing
National Youth Arts

~ Cast ~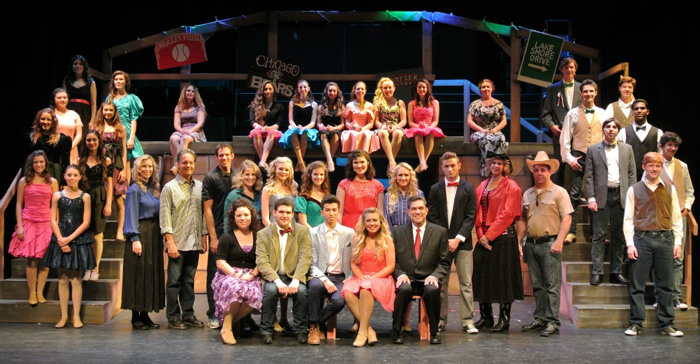 Add Artist Page
Ren McCormack: Maximillian DeLoach *
Ethel McCormack: Amanda Wright
Ariel Moore: Julia Martinez *
Vi Moore: Jessica Laitinen
Reverend Shaw Moore: Rick Hernandez
Rusty: Denise Neumerkel *
Wendy Jo: Miranda Colvin *
Urleen: Kira Davis *
Willard Hewitt: Harrison Schwartz *
Chuck Cranston: Layth Haddad *
Wes Warnicker: Jon Lash
Lulu Warnicker: Genevieve Koesling
Coach Roger Dunbar: David Pendergrass
Eleanor Dunbar: Sarah Hunter
Principal Harriet Clark: Jennifer Purviance / Janae Vigil *
Betty Blast: Sarah Hunter
Cowgirl Bobbi: Kate Battenfeld
Cop: Linsey Welton

Ren's Friends:
Bickle: Bryce Gallagher *
Woody: Jacob Morilak *
Garvin: Nolan Palm *
Jeter: Spencer Skelly *
Zack: Zack Purdy

Chuck's Schmucks:
Travis: Carter Knight *
Lyle: Jack Tarman *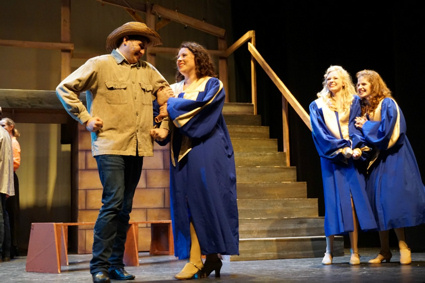 Cowgirl Bobbi's Band:
Washboard: Jennifer Purviance
Fiddle: Sara Brandenburg
Upright Bass: Sarah Hunter

Dance Core:
Andrea Husten *
Belle Flanegan *
Breanna Lehman *
Brianna Welton *
Eden Casteel (Dance Captain) *
Marlowe Morris *

Ensemble:
Alex Marre *
Andrea Husten *
Gemma Willetts *
Geneva Casebolt *
Maddie Aldecoa *
Madison Luciani *
Maya Alexander *
Mia Hayward *
Sophia Levorchick *