Disney's High School Musical
by
CAPA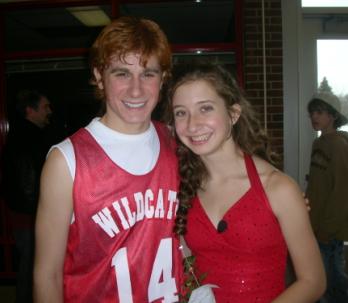 Disney's High School Musical, a recent hit movie, has now become a favorite musical for high schools and youth theatres to perform.  As I watched the students at CAPA put this stage production on, I have to admit I enjoyed it much better than the original movie. 
All the rules are broken by Troy and Gabriella when they decide to secretly try out for the school musical.  Not only are the cliques in the school in an uproar, but so is the basketball coach (who just happens to be Troy's father), the highly dramatic drama teacher, and of course the prima donnas of the school, Sharpay and Ryan. Even Troy's jock friends and Gabriella's brainiac friends plot to stop them from getting their dream roles in the play.
Brianna Devlin is Gabriella Montez, a genius who is new to East High. She runs into basketball star Troy Bolton (Dan Crosby) who just happens to be the guy she met on vacation at a ski lodge. Brianna has a beautiful singing voice that especially stands out in Miracles Can Happen, one of the many duets she and Dan share. Dan's voice is also very pleasant, and in his second Start of Something New duet with Brianna his voice shows off very well. 
This play also has an amazing ensemble cast with very colorful characters. Each of the students involved in this musical were superb.  Sitting in the front row, I was able to watch even the subtleties of their facial expressions and voices, and I was impressed! Alexa Kalasz  and Michael Hool star as the drama twins Sharpay and Ryan Evans, and they are absolutely fantastic. Alexa does a fabulous job of overplaying her part and being a perfect prima donna drama queen.  Her voice and dancing are also over the top.  She is as devious as she is adorable. Michael is equally talented and plays his role as well, if not better, than the actor in the original Disney movie.  As Ryan and Sharpay work to get to the top, their duets and dancing are fabulous. These two play off each other with perfection. It would be easy to believe they really are brother and sister.
There are many other student actors in this play that deserve a big high-five for their creative and realistic portrayals of their characters.  Gabriella's friend Taylor (played by her namesake Taylor Alfano) plays her role with strength and sensitivity.  Her voice is also very enjoyable.  Kelsi, played by Katie DiBiase, truly has a natural gift. As the play progresses, her shyness and confidence slowly and realistically lift thanks to kudos from Gabriella and Troy. Troy's best friend Chad, played by Julius Smith, plays off of Taylor's character very well and he has some great dancing moves.  The roles of Darbus (Nick Downs) and Coach Bolton (Kris Wellman) are probably my favorite characters. Nick plays the "crazy/passionate for drama" drama teacher with amazing flair while using a great accent that he keeps up perfectly throughout the play, and he truly shows his strong feelings as to the importance of his job.  Nick is an unforgettable character actor, and I can't wait to see him in future plays. Both Nick and Kris are scene stealers. When he and Nick go one-on-one a couple times, they are fantabulous!!  What even impressed me more about Kris was the fact that he was a last-minute replacement, and although his dance moves may not have been right on with everyone else on stage, it actually worked great for his characterization of the coach. 
The ensemble is a dynamic part of this entire play. There are sixty actors, and during most scenes all sixty students are on the stage at the same time.  Because of this, the choreography had to be very carefully planned and executed, leaving the choreographers (Mary Murphy and Wendy Kwiatkowski ) with their work cut out for them. The many dance scenes went great, especially the basketball dance and the finale. It would have been nice to see a little more difficulty in the cheerleading dances, but overall the choreography was very energetic (an important aspect of this play). Each ensemble character is important to the play, which is seen in many of the musical numbers and in the great detention scene with the teens pretending to be different animals like an "earthworm with feelings."
The montage of acts were done very effectively, especially the basketball game/decathlon/auditions all playing simultaneously.
This was one of the most impressive scenes because I know how confusing it can be when you are all working on stage together at the same time but in separate scenes. Another proof of the great ensemble cast was the song
Stick to the Status Quo
. Of course, another beautiful scene was when all the attention was focused on just the two stars with
Troy
and Gabriella's duet
When there was Me and You
.
Performed February 8 -11, 2007.
National Youth Theatre
~ Cast ~
Troy Bolton:
Dan Crosby
Gabriella Montez:
Brianna Devlin
Sharpay Evans:
Alexa Kalasz
Ryan Evans:
Michael Hool
Taylor Mckessie:
Taylor Alfano
Chad
Danforth:
Julius Smith
Kelsi Neilson:
Katie DiBiase
Jack Scott:
Will Smith
Zeke Baylor:
Martin Skocelas-Hunter
Martha Cox:
Diamond Vinson
Mr. Darbus:
Nick Downs
Coach Bolton:
Kris Wellman
Ms. Tenny: Annie Breen
Moderator: Brian Weiss
Ripper
:
Brianna Scott
Mongul:
Brian Duggan
Jason: Brandon Wesenberg
Basketball Players:
Dan Crosby
Julius Smith
Martin Skocelas-Hunter
Brandon Wesenberg
Will Smith
Meghan Walker
Kenny Sosnowski
Gabe Kleid

Cheerleader, Captain: Tory Haber
Cheerleaders:
Sarah Babinski
Gabby Everson
Olivia Graf
Lauren Inglis
Brigitte Marceau
Katie Migliore
Erin Reiff
Ashley Zonca
Brittany Harris
Madelyn Prebola
Kelsey Bullock
Dance Core:
Marissa Preston
Sara Ouillette
Ashley Brooks
Lauryn Morrison
Liz Hoff
Sharon Hamma
Karen Banks
Meghan Walker
Rachel Hebert
Michelle King
Katelyn Koralewski
Chorus:
Danielle Maranowski
John Argue
Brittany Bishop
Chelsea Castleberry
Christina Fabrizio
Melissa Govan
Daniel Greco
Laura Moran
Katie Kalajian
Connie Lyn Klein
Katie Lee
Kassie LeVey
Kayla Medlen
Danielle Mika
Sara Pomrenke
Brittany Ratliff
Brad Ryktarsyk
Colleen Smith
Saleena Smith
Tiffany Taylor
Michel Tybercza
Christina Wisz

Directors: Lori Porter & Mary Murphy
Associate Directors: Jenny Sabbagh & Sarah Hedeen
Assistant Directors: Sam Shattuck & Jessica West
Music Director: Lori Porter
Assistant Vocal Director: Danielle Maranowski
Choreography:
Mary Murphy & Wendy Kwiatkowski
Dance Captains
:
Tori Haber, Martin Skocelas-Hunter
Set Designer:
Ms. Gail Susan Mack
Lighting Designer:
Michael Rayes
Sound Designer:
Matt Zmudczynski
Technical Director:
Sarah Bagazinski
Assistant Technical Director: Kerriann McQuade