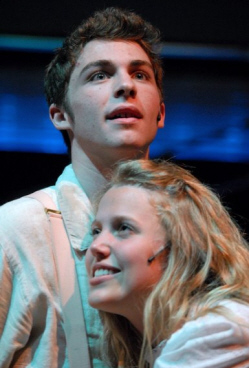 It's a nightmarish future. A severe drought has ravaged the land. In an effort to conserve water, draconian measures are being enforced. The important measure for the scope of this musical – you have to pay to pee. Failure to comply with this ordinance is dealt with harshly. It's a one-way ticket to the mysterious Urinetown (which is a euphemism for death).

It could never happen, you say? Oh, but it already did.

It happened on the stage of Canyon Crest Academy, a high school for the arts in San Diego. And Director Michael Schwartz, with his talented cast of freshman to junior actors, put on one of the funniest productions you're going to see, filled with great melodrama and symbolism. All the symbolism beginning with a stage bathed in a pale yellow light that is highly reminiscent of..............pale yellow light.

Bobby Strong is our hero of the story – a young man working for Public Amenity #9. But when his destitute father (Wyatt Gastil) can't afford the fee and urinates against the wall, Old Man Strong's disappearance to Urinetown inspires Bobby to lead the people in open rebellion. Ryan Sandrew is the wide-eyed human rights warrior who leads the rebellion and the cast, culminating in the big Run Freedom Run number where he also tries his hand at faith healing (with mixed success).

At Bobby's side (even when she has to be tied up to his side against her will) is our heroine Hope Cladwell. She's the debutante daughter of Caldwell B. Cladwell, the ruthless owner of Urine Good Company – the corporation that runs the public amenities and keeps raising the rates. A company for which Hope becomes the newest fax/copy girl. Staley Carter is a riot as the pretty, perky, educated but naïve Hope who finds herself drawn to Billy, but not so much drawn to being kidnapped by him and his rebellious followers who want to Snuff That Girl (though she still dances gamely while tied and gagged to a chair). Her Follow Your Heart duet with Bobby is a hoot as the two giddily discover new love.

But not everyone is laughing. Estevan Montemayor is the sleazy Caldwell B. Cladwell who is determined to squeeze every drop of money out of his captive patrons who are desperate to relieve themselves. Estevan enjoys his job, eating up the adoration lavished on him by his adoring employees.
And then there are the enforcers of the rules. Officer Lockstock (Keith James) is terrific as the calmly ruthless cop who is slightly afraid of heights, narrating our story as he pragmatically explains things to poor Little Sally – a young and inquisitive member of the bedraggled common folk. Zoe Katz gives a hilarious performance as the innocent Sally who soon finds herself overwhelmed by way too much information from Lockstock, forcing her to choose sides in the brewing battle over morals, profits, freedom, and the environment. Collecting the pennies for peeing is Penelope Pennywise, with a phenomenal performance by Cindy Mersten trying to keep her patrons in line by wielding a plunger as a weapon with gusto. But that gruffness belies her softer side – a smothering tenderness for her offspring and a simmering passion for her former flame (that the entire cast finds a bit revolting).

The cast also includes James Pratt as Lockstock's sadistic partner Barrel who is always hunched over, cocked and ready for action, and Tiffany Gaines as Bobby's supportive mom and rebellion assistant. The ensemble nails the darkly melodramatic comedy, and is backed up by Tim McKnight's orchestra, all of them leading us down a trip to Urinetown that will make you want to go again and again.

Performed May 3-5, 2007.

Rob Hopper
National Youth Theatre

~ Cast ~

Officer Lockstock: Keith James
Officer Barrel: James Pratt
Old Man Strong: Wyatt Gastil
Senator Fipp: Dan Kohler
Penelope Pennywise: Cindy Mersten
Bobby Strong: Ryan Sandrew
Little Sally: Zoe Katz
Hope Cladwell: Staley Carter

Caldwell B. Cladwell: Estevan Montemayor
Hot Blades Harry: Justin Gleiberman
Josephine Strong: Tiffany Gaines
Billy Boy Bill: Brent Burbank
Dr. Billeaux: Alexa Bergman
Mr. McQueen: Spencer Meredith
Bobby the Stockfish: Nick Scutti
Soupy Sue: Ashley Abed
Little Becky Two Shoes: Caitlin Curl
Tiny Tina: Carmen Dutton
Mrs. Millennium: Krista Colley
The Band:
Sam Johnson
Tim McKnight
Ed Larsen
Woody Mannekin
Carter Ochi
Andrew Saunders

Director: Michael Schwartz
Music Director: Tim McKnight
Choreographer: Liv Isaacs-Nollet
Additional Choreographer: Brian Shay
Scenic and Lighting Designer: Craig Dettman
Sound Designer: Travis Prater
Stage Manager: Kyle Pollitt