Mix A Spoonful of Sugar with a cup of Brimstone and Treacle, and you get Disney's classic 1964 film version of Mary Poppins turned into the stage production currently playing on Broadway. Nearly all the original songs are included except for I Love to Laugh (the floating English tea party scene was cut), plus several new songs by George Stiles and Anthony Drewe including Poppins' Practically Perfect, a new banking song called Precision and Order, and a new theme song with the inspiring Anything Can Happen if You Let It.

There are also a couple of tunes that exemplify the darker themes of this version – the aforementioned Brimstone and Treacle featuring Mr. Banks' mean, old nanny Miss Andrew, and the nightmarish and traumatizing Temper, Temper during which the toys of Jane and Michael Banks become giants who put the children on trial and tie them up in Poppins' measuring tape for what seemed like a rather minor and understandable outburst. Because of such dark scenes, the show is promoted to children seven years and up, and children under three are not permitted.

In other words, don't go hoping to see the film portrayed on stage. The Broadway production incorporates many scenes from the darker books by P.L. Travers and cuts or alters many of the scenes from the movie. The result is a story that feels even more episodic than the movie and never quite seems to congeal into a story as a whole. But if you're a big Mary Poppins fan, the changes can often be intriguing. And to see some of the magic of the movie and the books brought to life on stage is very engaging. Some of the visual highlights include Mary's unpacking of her magic carpet bag that includes a sheet that, when spread out, becomes a bed you can sit on, Bert drawing a chalk pavement picture into the sky and transforming the dull and gray London set into a bright and fantastic city (with some help from Mary), sailing through starry skies on Mary's giant umbrella, and the big Step in Time scene featuring the Chim Chim Cher-ee chimney sweep dancers that has Bert tapping up the wall and upside down on the top of the proscenium theatre.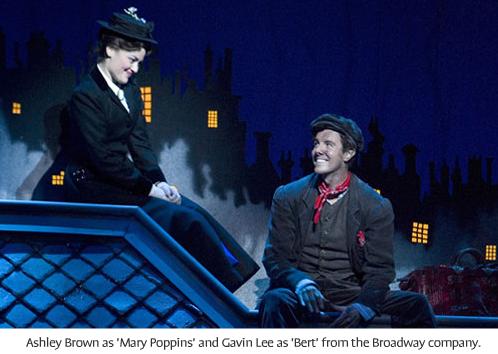 Ashley Brown, who originated the role on Broadway, still leads the cast, singing with a gorgeous voice highly reminiscent of Julie Andrews, yet giving her role its own spin. Ashley does a nice job of mixing proper English stiffness with a quirky side that likes to be a bit goofy, and with glimpses of the warm emotions she mostly keeps hidden underneath revolving around her affection for Bert and the children. We also get to see Mary Poppins in a titanic battle of the nannies with the sinister, child-hating Miss Andrew (a decidedly intimidating Ruth Gottschall) during which Poppins sends Andrews down to a place with much more brimstone than treacle. Gavin Lee, who originated the role of Bert (the Dick Van Dyke character) in London, is our charming and kindly narrator who enjoys the wonders of the world around him, gets to tap dance upside down, and knows the mysterious Mary Poppins better than anyone.
Whereas the heart of the movie was centered on Mr. Banks, this one focuses more on the relationship between Mr. and Mrs. Banks. A strained relationship in which George Banks (Daniel Jenkins) is focused completely on business and appearances, while Winifred Banks (magnificent, Tony-nominated Rebecca Luker) misses her former life as an actress, is uncomfortable in her husband's social world (no one comes to her party), and is beginning to be troubled by George's complete lack of demonstrated affection (he's surprised and uncomfortable when she tries to give him a kiss). The tension between the two creates a sense of compelling realism within the fantasy, the resolution of which helps give Jane and Michael they kind of family in which they can truly be happy.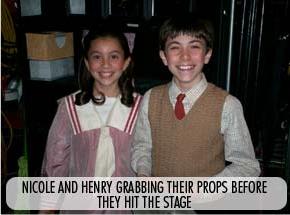 Speaking of which, the roles of Jane and Michael Banks are each split between three different actors. On the night I attended, Nicole Bocchi and Henry Hodges performed. Last year, eleven-year-old Nicole Bocchi originated the role of Cindy Lou Who in the Broadway premiere of How the Grinch Stole Christmas, which may have helped prepare her for the terrors of Miss Andrew and the Temper, Temper trial. Fourteen-year-old Henry Hodges originated the role of Jeremy Potts in Chitty Chitty Bang Bang both on Broadway and the national tour. Obviously a couple of experienced and polished theatre performers to watch. And both are charming, vibrant, and in the moment whether advertising for a new nanny, marveling over living statues in the park (statues that they later enthusiastically ride piggyback, chasing after a terrified policeman), being terrified by Miss Andrew and their toy trial, or tearfully saying goodbye to Mary Poppins – always reminding us of the joys, fears, and wonders of childhood.

The ensemble shines brightly in the Supercalifragilisticexpialidocious – a scene as big as the word, and in this version it's a song celebrating the impact that one amazing word could have had on history and might have on the future. Musically the show is a hit, mostly thanks to the old, familiar, beloved tunes, but Anything Can Happen is a nice addition. Visually it's a jolly holiday of marvels that will delight young and old.

Performance of October 17, 2007.
Photos by Joan Marcus.

Rob Hopper
National Youth Theatre

~ Cast ~

Bert: Gavin Lee
George Banks: Daniel Jenkins
Winifred Banks: Rebecca Luker
Jane Banks: Nicole Bocchi
Michael Banks: Henry Hodges
Katie Nanna: Megan Osterhaus
Policeman: Corey Skaggs
Miss Lark: Ann Arvia
Admiral Boom: Michael McCarty
Mrs. Brill: Jane Carr
Robertson Ay: Mark Price
Mary Poppins: Ashley Brown
Park Keeper: James Hindman
Neleus: Brian Letendre
Queen Victoria: Ruth Gottschall
Bank Chairman: Michael McCarty
Miss Smythe: Ruth Gottschall
Von Hussler: Sean McCourt
Northbrook: Matt Loehr
Bird Woman: Cass Morgan
Mrs. Corry: Janelle Anne Robinson
Fannie: Vasthy E. Mompoint
Annie: Megan Osterhaus Valentine: Dominic Roberts
William: T. Oliver Reid
Mr. Punch: James Hindman
Glamorous Doll: Catherine Walker
Jack-In-A-Box: Sean McCourt
Miss Andrew: Ruth Gottschall
Ensemble:
Ann Arvia
Kristin Carbone
Eric Hatch
James Hindman
Brian Letendre
Matt Loehr
Tony Mansker
Sean McCourt
Jeff Metzler
Vasthy E. Mompoint
Kathleen Nanni
Megan Osterhaus
T. Oliver Reid
Dominic Roberts
Janelle Anne Robinson
Nick Sanchez
Laura Schutter
Corey Skaggs
Shekitra Starke
Catherine Walker
Kevin Samual Yee

Director: Richard Eyre
Co-direction and Choreography: Matthew Bourne
Scenic and Costume Design: Bob Crowley
Lighting Design: Howard Harrison
Sound Design: Steve Canyon Kennedy
Music Director: Brad Haak
Stage Manager: Mark Dobrow