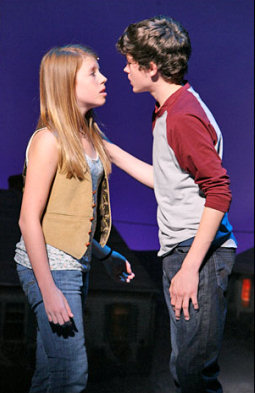 Thirteen. It's a number with many negative connotations. Possibly none more negative than being thirteen years old. Puberty, acne, peer pressure, junior high. Good times only compounded for Evan when his parents get divorced and he is moved from the bright lights of New York City to the Dairy Queens of Appleton, Indiana. Perhaps things can get a little better in "The Lamest Place in the World" if he can make some new cool friends at his new school (Dan Quayle Junior High) and get them to his upcoming Bar Mitzvah. But will he lose his new real friends in the process?

This is the setup for Jason Robert Brown's latest Broadway musical, 13, with book by Dan Elish and Robert Horn and a cast made up of a bunch of highly talented teen actors mostly making their Broadway debuts, but with promises of more to come. They are led by Graham Phillips as Evan "The Brain" who has a likeable personality and infectious charisma even when his single-minded determination to be popular has him doing things we don't like to people who like him. Thirteen-year-old San Diegan Allie Trimm is the lovable Patrice who is firmly entrenched in the non-popular, clique-less group in school. Her inherent niceness gets a real test with her on-again-off-again new friend Evan, shining brightly in her What It Means to be a Friend and Good Enough numbers.

The most original character goes to Aaron Simon Gross as wheelchair-bound Archie, Patrice's only friend (when she's off-again with Evan). He plays his role as a cleverly pragmatic, darkly humorous Tiny Tim whose dying Make-A-Wish/blackmail is to have "The Brain" get him some tongue from popular cheerleader Kendra.
And therein lies a tie-in to the most popular kids in the lamest place in the world. Kendra is the pretty cheerleader played with ditzy but sincere charm by Delaney Moro (the original Jane in Broadway's Mary Poppins). She's also the primary subject of the amusing Hey Kendra serenade, led by popular (3,600 MySpace friends kind of popular) school quarterback Brett played by Eric M. Nelson as very cool, not very bright, but very funny (or, by Dan Quayle standards, he might be valedictorian). Poor Brett is plagued by the same inner voice that haunts most boys going through puberty (not to mention the rest of their lives), a voice helplessly whispering, "Oh, she'll destroy you. But she's hot!" His friends include two humorous and dynamic buddies Malcolm (Malik Hammond) and Eddie (Al Calderon). And he's got another possible "friend." For just as there's competition for Kendra's affection, there's also competition for Brett. Notably, Kendra's best friend, the worldly Lucy, with extremely gifted Elizabeth Egan Gillies conniving her way into the quarterback's arms using fantastic vocals and all the current tools of the trade (deceptively placed text messages).

It's a fun show with good humor, lively and catchy tunes, great scenes, and hilarious choreography by Christopher Gattelli that highlights the dancing and comedic skills of this outstanding ensemble put together by Director Jeremy Sams who keeps the intermission-less show cracking with perfect timing, all backed up by a teenage band that rocks it with precision and flair. It all adds up to way more fun than any 90 minutes of junior high, and it all adds up to a show that is sure to have a popular life in schools and youth theatre companies for years to come.

Rob Hopper
Executive Director
National Youth Theatre

~ Cast ~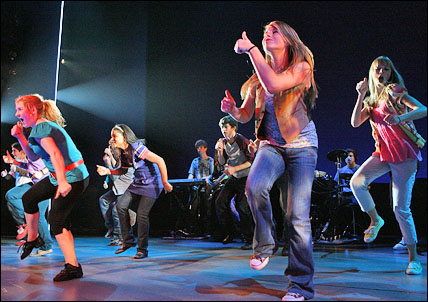 Evan: Graham Phillips
Patrice: Allie Trimm
Brett: Eric M. Nelsen
Eddie: Al Calderon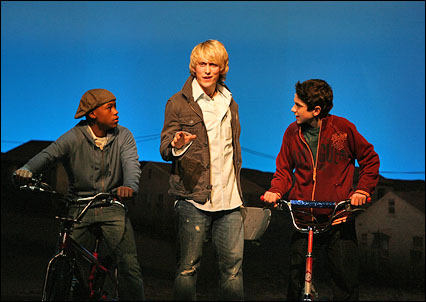 Malcolm: Malik Hammond
Lucy: Elizabeth Egan Gillies
Kendra: Delaney Moro
Cassie: Brynn Williams
Molly: Caitlin Gann
Simon: Joey La Varco
Richie: Eamon Foley
Charlotte: Ariana Grande
Archie: Aaron Simon Gross

~ Musicians ~
Conductor/Keyboard I: Tom Kitt
Keyboard II: Adam Michael Kaufman
Guitar: Chris Raymond
Guitar: Zach Page
Percussion: Zac Coe
Bass: Lexi Bodick

Director: Jeremy Sams
Choreography: Christopher Gattelli
Music Director: Tom Kitt
Arrangements and Orchestrations: Jason Robert Brown
Set and Costume Designer: David Farley
Lighting Designer: Brian MacDevitt
Sound Designer: Jon Weston
Production Stage Manager: Rick Steiger