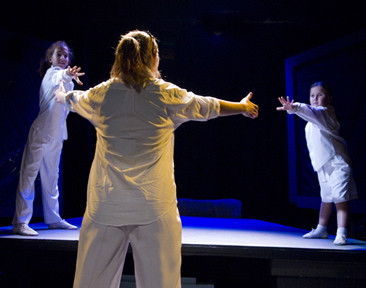 That deaf, dumb, blind kid sure plays a mean pinball, but to know how The Pinball Wizard came to be, you have to hear and see the whole story. And that's the story written by Pete Townshend and The Who in what became the first "rock opera" in 1969, and then transformed in 1993 to the Tony Award-winning Broadway musical with a new song by Townshend and rewrites with Des McAnuff at the La Jolla Playhouse. And now it's back near Broadway, just a little up the Hudson in Irvington where the Broadway Training Center of Westchester recently turned the Irvington Town Hall Theater into a giant, rockin' pinball machine.

Husband-and-wife team Jason Brantman and Fiona Santos co-direct the show and run the organization that allows young artists to work with and learn from established professionals. Those professionals include some great designers like Newell Kring who did sets for LaGuardia Arts and who creates a cool set with strings of enormous mirrored pinball balls slashing across a background that features large screens used alternately as mirrors and as screens for slide projections that are used judiciously and effectively (World War II, a dartboard, x-rays, the flash of an important photo). It's all done at odd angles that match the confusion of Tommy's life. David Lovett's lighting effects add a sort of rock concert feel to the show. And Fiona Santos's fantastic band completes that rock concert effect with energy and precision.

The great visuals created and high production values are complemented by a good cast of mostly sixth to tenth graders who demonstrate especially strong rock vocals and dynamic stage presence. Leading the way is grown-up Tommy played by the charismatic Arra Gentile who comforts his/her younger selves in the form of 4-year-old Tommy (Brittany Brown) and 10-year-old Tommy (Brianna Gallo) as they are blindly, calmly, and silently subjected to all kinds of torments. Arra commands the stage for her big solos Sensation and I'm Free as Tommy celebrates his newfound celebrity and tries to inspire others with his story.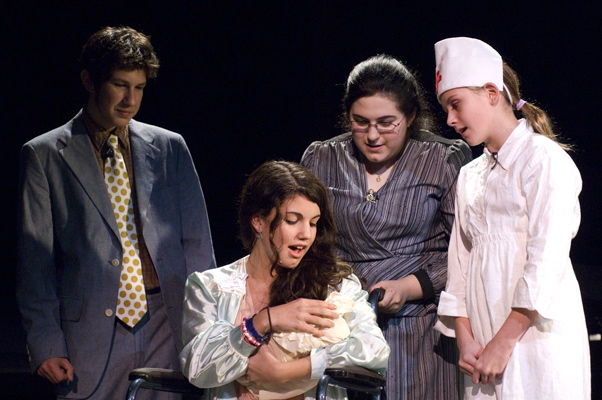 Tommy's family is more than a little dysfunctional, and well portrayed. Blair Brownstein is Mrs. Walker, with Blair creating a comforting but frustrated mom who seems unprepared for motherhood and makes a lot of bad decisions along with her husband. Her frustration reaches a breaking point in Tommy Can You Hear Me?, where Blair shines vocally and dramatically. Daniel Polonsky is his father, Captain Walker, whose frustration builds faster with his inability to fix his son despite numerous efforts (some more sensible than others). Jesse Deen is a troubled and creepy Uncle Ernie who becomes an alcoholic after notification of his brother's "death," and who Fiddles About with young Tommy when the parents ask him to babysit. Matthew DiMona is Tommy's slightly older Cousin Kevin – a sadistic bad boy who likes to mess with his "freak" cousin who can't complain about the mistreatment, inviting his gang of friends in on the fun.

As it turns out, it's that tormenting that leads to the discovery of Tommy's pinball prowess, leading in turn to Matthew DiMona and his gang helping turn their freak into a celebrity with the show's signature song – Pinball Wizard. The cast nails it with great energy, singing, and choreography (Aaron Salazar). Other good cameos come from Clara Reyes as a gyrating gypsy claiming she can cure young Tommy, and Sarah Sanders as Sally Simpson who falls (literally) for Tommy so long as he's a bigger-than-life superstar.

Performs November 16 - 18, 2007.

Rob Hopper
National Youth Theatre

~ Cast ~


Lad/Judge: Marie Baldassarre
Allied Soldier/Lead Inspector: Nicole Baschinsky
4-Year-Old Tommy: Brittany Brown
Specialist Asst./Lead Reporter: Stephanie Brown
Mrs. Walker: Blair Brownstein
Lover/Hawker/DJ: Eliot Cohen
Uncle Ernie: Jesse Deen
Lad: Isabella DeLisi
Cousin Kevin: Matthew DiMona
10-Year-Old Tommy: Brianna Gallo
Tommy: Arra Gentile
Lad: Emmy Heyman
Lad: Ava Leoncavallo
Officer/Psychiatrist/Barrister: Nina Lerner
Nurse/Lead Doctor: Sofia Linden
Specialist/Officer/Barrister: Jenna Lowry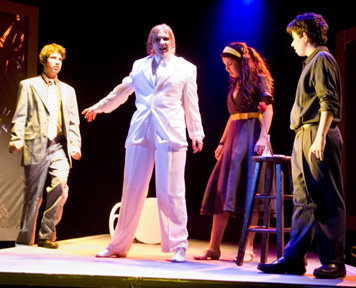 Minister/Mr. Simpson: George McCann
Captain Walker: Daniel Polonsky
Gypsy: Clara Reyes
Lad: Marquito "Fly" Rodriguez
Sally Simpson: Sarah Sanders
Minister's Wife/Mrs. Simpson: Sara (Shom) Weiss
Allied Soldier/Psychiatrist Asst.: Hailey Wynn
Young Kid/News Vendor: Nicole Arnold

Director: Jason Brantman and Fiona Santos
Musical Director: Fiona Santos
Choreographer: Aaron Salazar
Lighting Designer: David Lovett
Scenic Designer: Newell Kring
Costume Designer: Fiona Santos