Westchester was alive with The Sound of Music as Broadway Training Center staged Rodgers and Hammerstein's signature collaboration at the historic Irvington Town Hall Theater, delivering a show with both strong moments of family drama and a surprising amount of comedy as the Austrian Von Trapp Family falls in love with Maria and music amidst the rise of the Third Reich.
Wynnie Van Dusen stars as the wayward postulant Maria who can't stop herself from singing, or from falling in love with Captain Von Trapp and his seven children, or from nailing a bit of improv when a part of the set's window frame breaks off in her hand. A minute later, while offering her nightly prayers for the new children she is watching, she also prays for forgiveness for the window break from housekeeper Frau Schmidt.
Opposite Maria, Daniel Polonsky plays the captain – an angry and bitter man whose bitterness melts into held-back tears when Maria brings music back into his life through the voices of his children, and when singing of his beloved country's flower in Edelweiss. Together, the captain and Maria share a very original and fun rendition of the often bland Something Good.
But not everyone in Austria is enamored of their budding romance. Namely Baroness Schraeder (played by and sung beautifully by the amusing Elise Swift) who is looking to tie a marital and commercial knot with the captain. She is joined on her visit to the Von Trapps with their mutual spongy friend Max Detweiler (featuring the entertaining Clara Reyes) who is scouting the next hot new singing act. The two of them share a couple rarely performed musical numbers themselves, delivering the diverting duets How Can Love Survive and There's No Way to Stop It.
Then, of course, there are the seven children. They are led by Anna Fondiller as sixteen-year-old Liesl who shines in a charming duet of Sixteen Going on Seventeen with suitor Rolf (Matt DiMona). All seven combine for such great scenes as Do-Re-Mi and My Favorite Things, while a couple other standouts in BTC's cast include a music festival solo by Marina Sneider and a hilarious performance by Sophia DeLevie-Orey who uses attitude and a natural sense of humor to turn the role of Frau Schmidt into a uniquely memorable one as she maintains Von Trapp's musical mansion, broken windows and all.
Performed November 21 -22, 2009
Rob Hopper
Facebook
Instagram

Executive Director
National Youth Arts
~ Cast ~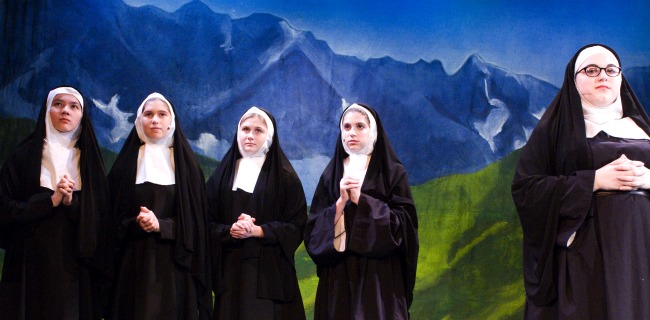 Add Artist Page

Lieutenant: Elizabeth Bolger
Saengerbund of Herwegen: Brittany Brown
Baroness Elberfeld: Hannah Brown
Frau Zeller: Stephanie Brown
Frau Schmidt: Sophia DeLevie-Orey
Rolf: Matt DiMona
Sister Sophia: Lizzy Emanuel
Liesl: Anna Fondiller
Friedrich: Brianna Gallo
Baron Elberfeld: Kobe Gorn
Saengerbund of Herwegen: Anna Hevbert-Aubry
Herr Zeller: Emmy Heyman
Sister Margaretta: Nina Lerner
Sister Johanna: Sofia Linden
Sister Berthe: Jenna Lowry
Kurt: Michael Manzi
Marta: Julia Moore
Louisa: Madeline Murphy
Captain Georg von Trapp: Daniel Polonsky
New Postulant: Kelly Rachlin
Max Detweiler: Clara Reyes
Saengerbund of Herwegen: Kylie Rina Roslin
Gretl: Samara Scharf: Gretl
Fraulein Schweiger: Marina Ssneider
Saengerbund of Herwegen: Emme Sudock
Baroness Elsa Schrader: Elise Swift
Ursula: Isabella Tagliati
Brigitta: Eva Ury
Maria: Wynnie Van Dusen
Mother Abbess: Shom (Sara) Weiss
Franz: Ley Wynn
Admiral von Schreiber: Nicole Yarnold

Director: Jason Brantman and Fiona Santos
Musical Director: Fiona Santos
Choroegrapher: Julie Mac
Assitant Director: George McCann
Dance Captain: Clara Reyes
Production Designer: David Lovett
Costume Designer: Susan Rutkowski
Prop Designer: Zoe Hanson
Sound Engineer: Ron Merizon
Some costumes furnished by Yon Zweibon, Beyond Costumes
Posters and Postcards designed by Julia Unger
Program designed by Susan Schoenfeld