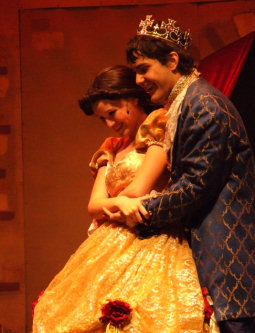 Can beauty ever learn to love a beast? This tale as old as time, based on Disney's award-winning animated film, was recently staged by the Broadway Theatre Arts Academy at the California Center for the Arts in Escondido in which the answer to the age-old question was given, along with large helpings of music, fantasy, and the glow of a hundred enchanted roses.

Director Siobhan Sullivan brought together two casts for this one-week-only production. On the night I attended, the leads were played by Riley Sanderson as the hideous Beast and Haley Heidemann as the bookworm beauty Belle. And both do very well, especially in their interactions together as they start to fall for each other. Riley's fear of losing his humanity is poignant, and his uncouth tendencies and nervousness during their romance are humorous. Haley's reactions to his faux pas are perfect. And their big dance to the title song is unusually deep and compelling – the two of them clearly deep in their own thoughts as they discover their relationship evolving, almost to the point of a first hesitant kiss.

Ian McGraw stars as the over-the-top-manly Gaston who wants that first kiss to be with him, his performance complete with plenty of good humor and poses. McKenna Barron is his trusty, sissy sidekick Lefou who is great as Gaston's #1 fan (although the six very silly Silly Girls vying for Gaston's attention would surely contest that), leading the townsfolk in a rousing celebration of the great, big, burly, not-too-bright man.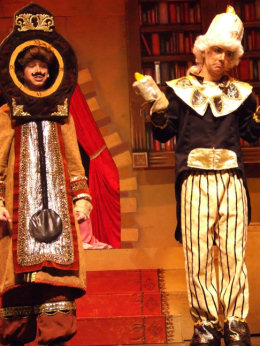 Then there are all the castlefolk trying to help the Beast undo the spell that is slowly transforming them all into objects. Shaun McGraw and Matt Andrews make a good team as the flamboyant Lumiere and the stodgy Cogsworth. Sydney van Putten makes for a very fun and playful feather duster. Rachael Anduze expertly injects some opera into all her lines as a terrific Wardrobe. Bella Trillizio is a real and motherly Mrs. Potts, loving mom of cute little Chip (Megan Kolod). Elsewhere, Brian Stoops is a sleazy and gimpy D'Arque, Kurt Heidemann as Maurice sings a nice duet with his daughter Belle, and Sara Heidemann is an adorably tough little Footstool.

The ensemble shines in Gaston, Human Again and, of course, the big Be Our Guest number. Not to mention a hilariously staged battle scene as the enchanted objects try to protect the castle from the villagers. Lauren Long kicks the whole story off and wraps it all up as a graceful, hovering beautiful enchantress who casts a spell, doing so at the end with a little help from the lighted red roses blooming in the hands of the enchanted audience.

Performs February 27 - Marrch 1, 2009.

Rob Hopper
National Youth Theatre

~ Cast ~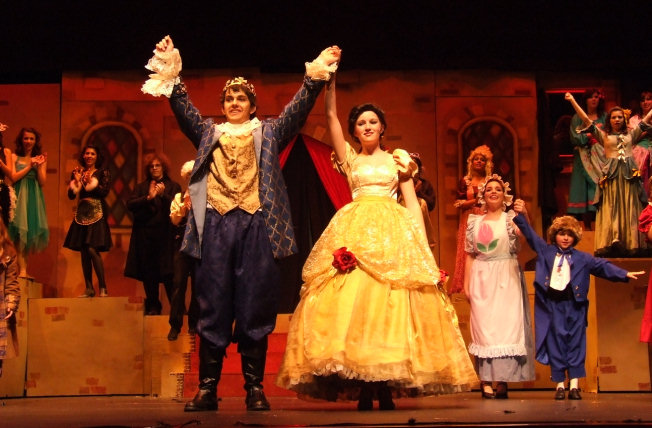 The Beast: Riley Sanderson
Belle: Haley Heidemann
Gaston: Ian McGraw
Lefou: McKenna Barron
Mrs. Potts: Bella Trillizio
Lumiere: Shaun McGraw
Cogsworth: Matt Andrews
Babette: Sydney van Putten
Wardrobe: Rachael Anduze
Chip: Megan Kolod
Maurice: Kurt Heidemann
Footstool: Sara Heidemann
D'Arque: Brian Stoops
Enchantress: Lauren Long
Silly Girls:
Carly Sabo
Paloma Peterson
Gabby Jovin
Ryley Meuller
Siena Heidemann
Tori Paulson

Feather Duster/Wolves:
Emma Dorn
Morgan Muat
Alexis Park
Meagan Pitcher

Featured Ensemble:
Sierra Blechscmidt
Daisy Chavez
Gilbert Duffy
Edward Duffy
Natalie Hops
Tristyn Hyatt
Cayden Kelly
Will Moffat
Dezzie Trinidad
Meg Udall

Director: Siobhan Sullivan
Musical Director: Amy M. McDowell
Choreographer: Sarah Gates-Lozier
Assistant Director: Gibran Lozano