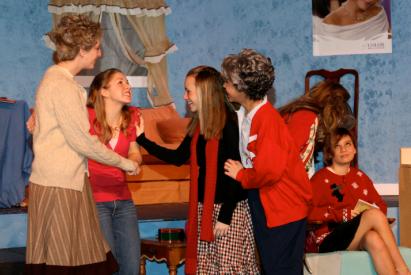 In a small Southern town's local beauty parlor, six women deal with the struggles and enjoy the laughter of life's moments – and eventually use the laughter to cope with the biggest struggle of all. It's Robert Harling's Steel Magnolias. The play was made into a film featuring an all-star cast including Sally Field, Julia Roberts, Dolly Parton, Olympia Dukakis, Shirley MacLaine, and Darryl Hannah.

The stage version features an all-female cast, and this particular stage version takes place at Brookwood Performing Arts located just outside of Atlanta in Snellville where authentic Southern accents aren't a problem for the six high school students who take on the roles.

Actually, twelve students took on the roles, as the show was double-cast. Unfortunately I was only in town for one of them. The one in which Meghan Green starred as Truvy, the owner of the nicely designed beauty shop. Meghan makes for a very genial Truvy who puts her customers at ease, and who has a hopeless romantic streak in her despite the husband she likes to good-heartedly complain about, and who completes her persona with some 1980s big hair and a big butterfly hairpin to boot. She's just hired a young assistant Annelle (who, Truvy delightedly suggests, may have a past!). Joan Apperson gets many of the best comedic lines in the show, and delivers them with a great mix of ditziness and personality. Stephanie Deloac is terrific as the ornery, plain-speaking Ouiser with great wit, timing, attitude, and expressions. Ale Ramirez is Clairee, the school principal, who is less prudish than she dresses.
But the heart of the story revolves around the relationship between Shelby and her mother M'Lynn. Shelby is a young woman suffering from diabetes who is tired of being babied by her concerned mother who has a lot of advice to dole out. When the show opens, Shelby is getting her hair done for her wedding – a day she initially resisted. The doctors had warned her against pregnancy, and Shelby didn't want her would-be husband to go childless, but her fiancé had insisted that there were plenty of children waiting to be adopted. A few months later, when she tells her mother that she's pregnant, the news comes with a sense of hope for Shelby, and dread for M'Lynn.

Allison Leonard is M'Lynn who tries to keep most of her motherly nervousness inside, attempting to keep an air of confidence after the pregnancy is announced and she realizes that the danger she had feared must be faced. As Shelby, Sandy Manges has vibrancy and a charming smile that her mother doesn't want to lose, and she glows like an expectant mother eager to have her child. The two of them create some good mother-daughter tension, with Shelby struggling to be patient with her mother's advice even though her gut reaction is a desire to be treated as an adult capable of making her own decisions. Yet you sense in the background the counterbalance of mother-daughter affection that forever binds them, transcending the petty arguments of life.

Performs February 13 - 16, 2008.

Rob Hopper
Executive Director
National Youth Theatre

~ Cast ~
Annelle: Joan Apperson
Ouiser: Stephanie Deloach
Truvy: Meghan Green
M'Lynn: Allison Leonard
Shelby: Sandy Manges
Clairee: Ale Ramirez

Director: Patty Lindahl
Technical Director: Ken Lindahl
Stage Managers: Kay Ede and Nick Buchanan
Lights: Sean White and Michelle Samaratin
Sound: Ben Skelley
Backstage:
Julia Polshak
Rishik Patel
Emily Arnoff
Ben Lastinger