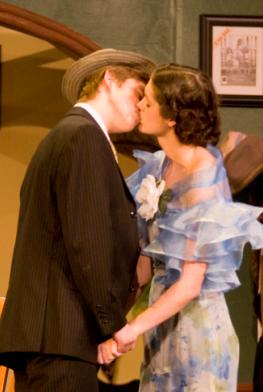 In 1936 this classic comedy by Moss Hart and George S. Kaufman debuted on Broadway, and a couple years later Director Frank Capra turned it into the Oscar winner for Best Picture of 1938. Seventy years later, the story of the eccentric middle-class family who live life doing whatever they want to do, and their meeting with the stiff, upper-class, business-minded Kirby family, was retold by the group at Beaverton High School near Portland, Oregon.

Grandpa Vanderhof is the family patriarch, the former businessman who realized he wasn't enjoying life ahd chose happiness instead of the obsessive pursuit of wealth. Brad Perot definitely has a bit of a quirky flair about him as Grandpa. His genes and example have a big impact on the other quirky members of his family – most notably his daughter Penny. Savana Wilson is a lively character with a sweetly naïve bluntness who turned into a playwright when a typewriter was accidentally delivered to the house eight years before. She has a penchant for writing plays sprinkled with sex, which she never finishes before moving onto another script. Morgan Movius is her daughter Essie who never misses a chance to dance and twirl with uninhibited enthusiasm.

Penny's other daughter is the more 'normal' member of the family, Alice Sycamore, who is working in a regular office job. Danielle Brownell does a nice job of portraying the young woman who is both a little embarrassed by her zany family and very much in love with them – but also anxious about making a good impression on what may be her future in-laws. Bowled over by her family is Tony Kirby. We relate easily to the talented Justin Mark's performance as the guy who quickly appreciates the beauty of the Vanderhof family and is eager to become a part of this new family. Whether his own parents want to be tied to it or not.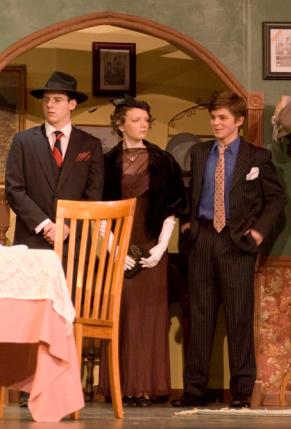 Mr. and Mrs. Kirby make their feelings for the Vanderhof family evident from the moment they enter the Vanderhof home and see everyone at their quirkiest best. John York is the corporate executive who is uncomfortable but polite, but whose composure gets seriously shaken when Essie's melodramatic and morbidly Russian dance instructor (Alex Furstenberg) gives Mr. Kirby an impromptu wrestling takedown. As Mrs. Kirby, Kirsten Hatch has a great knack for expressing her extreme disdain for the family with realistic subtlety befitting her high station. When Penny makes light of Mrs. Kirby's hobby of spiritualism as being "silly," you can tell Mrs. Kirby has never been more socially stunned. A few other colorful characters who might give the Kirby in-laws pause include the very drunk actress Gay Wellington (Cammie Morgan) who Penny brings home to act in her plays, and Lia Pfliger as a Russian duchess now working as a cook who speaks and carries herself with a comically serious disposition you'd expect from an over-the-top member of the former Russian royalty.

Scott Carrigan's set takes us into a nice, comfortable 1930s-era home. That home looks a bit distant, as the theatre at Beaverton High School is cavernous with the seats set far back from the stage. It's definitely easier to captivate the audience when it feels like we're in the family's living room, but fortunately the actors were able to largely overcome the disadvantage with several strong and diverting performances of the many odd characters inhabiting the Vanderhof home.

Performed November 8 - 17, 2007.

Photos by Don Nowlin.

Rob Hopper
National Youth Theatre

~ Cast ~

Penny Sycamore: Savana Wilson
Essie Carmichael: Morgan Movius
Rheba: Sofie SherBurt
Paul Sycamore: Tyler Kubat
Mr. DePinna: Nick Buganan
Ed Carmichael: Carson Hockley
Donald: Drew Aguilera
Martin Vanderhof: Brad Perot
Alice Sycamore: Danielle Brownell
Henderson: Logan Veith
Tony Kirby: Justin Mark
Boris Kolenkhov: Alex Furstenberg
Gay Wellington: Cammie Morgan
Mr. Kirby: John York
Mrs. Kirby: Kirsten Hatch
Three Men:
Austin Brittain
Mallory Kuenzi
Kelsey Mally
Olga: Lia Pfliger

Director: Becky Bourassa
Set Design: Scott Carrigan
Costume Design: Cindy Carrigan
Lighting Design: Lauren Wilcox
Sound Design: Dana Comparone
Stage Manager/Assistant Director: Shadee Vossoughi