Songs for a New World
by Beavercreek High School Drama
Jason Robert Brown has written some great songs celebrating the choices and chances we make in this adventure of life, and he turned them into the popular musical revue Songs for a New World – a good revue so long as the theatre has the voices to carry it off, which Ohio's Beavercreek High School does in their production at the 2007 International Thespian Festival.

That vocal talent is highlighted nicely in the duet I'd Give It All For You, with smooth-voiced Alan Ruddy and the beautiful vocals of Shelly Neuhart teaming up for a vibrant love song. Comedy-wise, there's nothing like a frustrated Mrs. Claus saying she's got the elves to keep her warm. Kelli Sexton has a hilarious personality and a fantastic playfulness in her vocal work.
Other highlights include the charismatic Ken Newman leading The Steam Train down the track, Megan Kubasky's Stars and Moon about a woman who chose owning a Love Boat over finding love, Megan Conrad's gentle, lovely singing of a Christmas Lullaby to her unborn child, Emily Sexton's ballad for soldiers in The Flagmaker, and fed-up, talkative, amusing wife Kelli Brinker dancing on the edge of a ledge, threatening to jump because of her inattentive husband (the threats clearly falling on deaf ears). That Kelli also plays the girlfriend who is blissfully looking forward to her upcoming marriage, completely unaware that the ballad being sung by her boyfriend (Alan Ruddy), The World Was Dancing, sounds like a touching love song, but is actually a ballad about his secret philandering and insensitivity.
The show gets going and draws to an end on the platform that uses canvas and ropes to somewhat resemble a ship, with Tommy Skelton using his voice and stage presence to bring the ship sailing into harbor in 1492 and, in the end, to send the show Flying Home.
Performed June 28, 2007.

Rob Hopper
National Youth Theatre
~ Cast ~
Kelli Brinker
Megan Conrad
Josh Hughes
Megan Kubasky
Shelly Neuhart
Ken Newman
Lindsey O'Diam
Alan Ruddy
Emily Sexton
Kelli Sexton
Tommy Skelton
Skip Smith
Travis Williams

Director: Dawn Stamper
Technical/Artistic Director: Jamie Stamper
Vocal Directors: Christine Browning and Errik Hood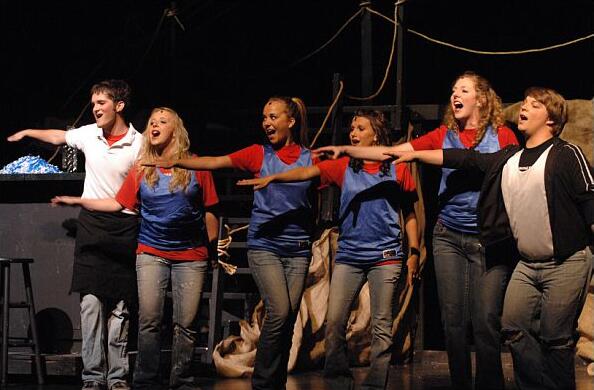 Photos by R. Bruhn Photography: http://www.shutterfly.com/pro/thespianfestival/2007