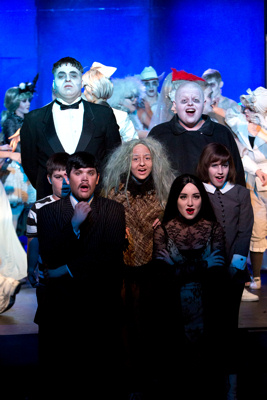 THE SHOW:
Book by Marshall Brickman and Rick Elice, Music and Lyrics by Andrew Lippa, based on the characters created by Charles Addams.
Not much can scare Gomez Addams, head of America's first family of eccentric ghouls who find rapture in the macabre. But fear does strike when an adult Wednesday tells her dad that she's in love. In love with some perfectly nice, normal guy named Lucas Beineke. And guess who's coming to dinner. When The Addams Family meets The Beineke Family, it's a night to die for. And all the Addams ancestors will rise to the big occasion, from their graves, in this entertaining musical that includes great humor, songs, and storyline.
THE PRODUCTION:
Actor's Youth Theatre was the first local production in the Phoenix area to stage this one, and they made sure it got off to a memorable start. Directors Marcus Ellsworth and Julie Clement got it all going with the pre-show, as several ancestors planted themselves in random seats, completely unresponsive to any audience members around them (which ended up generating a number of selfies by amused audience members – partly because they looked amazing thanks to makeup by Cheri Lundgreen, wigs, and costumes by Aurelie Flores). They are reanimated soon enough with the opening number, lumbering out of their seats to the stage featuring a cool cemetery (Nathan Turley on sets) and all of it illuminated by the marvelous lighting of Tom Fitzwater who masterfully helps set the mood throughout.
The show also attracted an exceptionally talented cast. Jessie Jo Pauley is a dead ringer as Morticia Addams whose demeanor is both passionate and cool, using her voice and humor to perfect effect. Tim Eversole is her beloved Gomez, doing a nice job as the torn father/husband with a mixture of nervousness and macabre humor, and including a touching Happy/Sad number at seeing his daughter grow up and find love. Gomez and Morticia's Tango de Amour is fantastic. Brittney Peters is a unique blend of darkness and charm as romance softens her sadistic tendencies, while Rhett Nyman is younger brother Pugsley who does so well as he grows fearful of the changes taking place in the family, but is somewhat soothed by a little torture from his older and the promise by his mother that there is, indeed, a monster under his bed.
And then there is the consummate normal family who prove that everyone is weird if you get to know them a little. Emma Welch is a hoot as the mother Alice Beineke – a straight-laced poet reacting to the craziness around her, and who then accidentally get served a potion that brings out her inner id during the Full Disclosure dinner game. Jordan Andress nails the role of the Southern businessman who realizes he's forgotten about romance. And Jonah Carlson is the fun and kind Lucas who knows the key to piercing Wednesday's heart – using a bit of William Tell to prove he's Crazier than You in a darkly endearing number between the two.
There are also some great character roles including an amusing India Rose Chudnow as Grandma and Jared Kitch's Lurch as the slow-moving and mostly silent butler who exudes personality with unique grunts and noises. Zack Diepstraten is brilliant as Fester with remarkable use of expressions and voice, romantically inclined toward the moon as we see in The Moon and Me that he ends with quite a high note. While rounding out the production is that eccentric and eclectic group of ancestors who add much to the show's group numbers as well as personality and atmosphere in this mentally and visually appealing night with The Addams Family.
Performed June 24 - July 3, 2014
Rob Hopper
Facebook
Instagram

Executive Director
National Youth Arts
~ Cast ~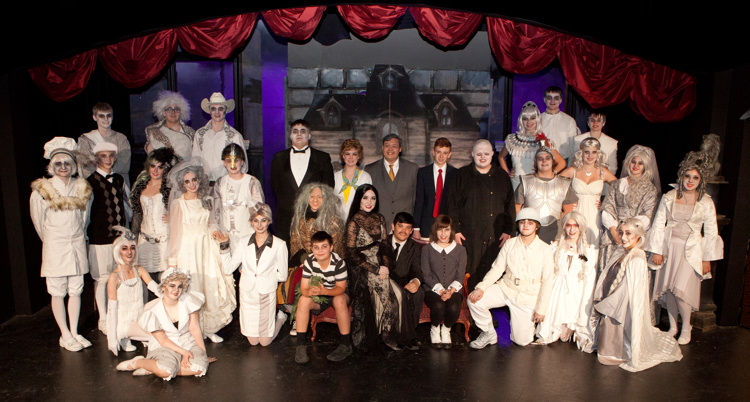 Add Artist Page

Gomez Addams: Tim Eversole
Morticia Addams: Jessie Jo Pauley
Uncle Fester: Zack Diepstraten
Grandma: India Rose Chudnow
Wednesday Addams: Brittney Peters
Pugsley Addams: Rhett Nyman
Lurch: Jared Kitch
Mal Beineke: Jordan Andress
Alice Beineke: Emma Welch
Lucas Beineke: Jonah Carlson
Courtesan: Alyssa Chavez
Flapper: Emily Wright
Native American: Rachel Lundgreen
Egyptian Princess: Rebecca Galcik
Bathing Beauty: Savannah Powers
Flight Attendant: Rachel Spencer
Bridge: Paige Mallory
English Queen Catherine: Mackenna Goodrich
Saloon Girl: Adyson Nichols
Greek Woman: Sarah Davidson
Medieval Maiden: Michala Montano
Conquistador: Danny Blankemeier
Golfer: Adam Lundgreen
Caveman: Bailey Gorman
Gladiator: Thommy Long
Roman Senator: Jared Armour
World War 2 Soldier: Casey Pettyjohn
European Noble: Ben Wright
Cowboy: Dallin Urness
Crusader: Josh Robinaugh
Puritan Settler: Jeremy Allen

Director: Marcus Ellsworth and Julie Clement
Musical Director: Tracie Jones
Choreographer: Corrinne Clement
Stage Manager: Rebekah Avila
Costume Designer: Aurelie Flores
Set Designer: Nathan Turley
Light Designer: Tom Fitzwater
Makeup Design: Cheri Lundgreen
Properties Design: Marcus Ellsworth and Julie Clement
Performance Photos: Lisa Webb