Children of Eden
by Arab Musical Theatre
The small town of Arab, Alabama has a huge high school theatre and an even larger community support group. And they put on high-quality productions equal in stature. Last year's Little Shop of Horrors went to the International Thespian Festival in Nebraska, this year's Godspell is a finalist for this year's festival, and right now they're putting on a major production of Children of Eden – a musical retelling of the first books of Genesis, from Creation to The Flood. The story focuses on the difficulties inherent in parents trying to guide their children, and children wanting and needing to guide themselves in a world where choices and answers aren't always easy or sure. In this case those family members are the intriguing and bigger-than-life characters of Adam, Eve, Cain, Abel, Noah and the ultimate father figure – God himself.

The show begins "in the beginning," a swirling blue point of light that explodes into creation and the voice of Father and the angels singing Let There Be. Shannon Sproston has the stature for the big role, tall with a good voice and a calm serenity about him. But when he creates humans, he soon finds himself perplexed and not-so-serene with the things they do – having to deal with children who don't just trust his guidance and blindly heed his advice.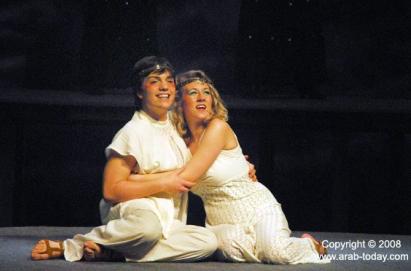 Those children are, of course, Adam and Eve. DJ Neal begins as an amusingly carefree and boyish Adam, happy as a clam to wake up every day in paradise and name animals like the 'aardvark' (making God a little dubious about his decision to let Adam name the animals). But when Adam is forced to choose between Eve and God, his carefree childhood is stripped away, and he becomes a serious and slightly sad man, trying to be a good father to his children, making the same mistakes that his father made, but with the best intentions. All the while always hoping that God will eventually let them back into Eden. DJ has a strong voice that shines both as Adam and later as Noah, wrestling with similar problems as he tries his best to be a good father.
Lindsay Keith is Eve, a curious soul from day one (or day six) with a craving for adventure and knowledge, not nearly as content as her husband to sit around in paradise forever. Lindsay's desire for knowledge is fantastically portrayed, from her body language to moving her lips around the words of the animals they name to her excitement caused by a certain snake who stokes her curiosity further with intriguing questions: Who created God? What lies beyond the Garden of Eden? She also has a tremendous voice, which all comes to bear in her beautiful Spark of Creation solo. She also is the center of the powerful ending to act one, wondering if Cain is still alive, struggling with the silence of God.
Another strong performance come from Kylee Parks as Yonah, a descendant of Cain who God has condemned to The Flood. Kylee creates a deeply sympathetic character as she quietly tries to deal with the injustice of being punished for sins of her ancestors, singing a gorgeous Stranger to the Rain and Sailor of the Skies. Steven Bombino doubles as Cain and Noah's son Japheth – rebellious sons who question the punishments of God. As Japheth he challenges God and his father Noah, demanding to marry Yonah despite everyone's objections, on the basis that he loves her and it's the right thing to do whether God agrees or not. As Cain, his frustration with a God who refuses to forgive Adam, and his frustration with an overly protective father whom he's lost respect for, ends in a bitter fight during which Abel (Jacob Robertson) is murdered – a powerful scene of hopelessness, anger, and loss.

Elsewhere, Michael Hang is a devilish and mesmerizing snake (with cool snake eyes painted on his eyelids), and the show features some great soloists including Chelsea Green, Matt Smith, and AJ Hudson. The large ensemble of Storytellers add much to the soaring songs, and a youth ensemble make for all kinds of adorable animals. Which leads to the show's spectacular visuals including a fantastic array of costumes designed by Ron Harris highlighted by the pageant of animals into the ark – butterflies, turtles, parrots, pandas, zebras as well as magnificent elephants and giraffes, peacocks, lions, etc. The costumes are gorgeous, creative, intricate and downright amazing. Director Brian Quillin also designed the lighting, which paints beautiful pictures on the stage from the opening of creation to the end of the rainbow.

Performs February 15 - 23, 2008.

Photos by Arab-Today/Dwight Hayes: http://www.arab-today.com/images/children_eden/ChildrenofEdenArabMusicaltheatre/index.html

Rob Hopper
National Youth Theatre

~ Cast ~
Father: Shannon Sproston
Adam/Noah: DJ Neal
Eve/Mama: Lindsay Keith
Cain/Japheth: Steven Bombino
Abel/Ham: Jacob Robertson
Seth/Shem: Jake Heflin
Yonah: Kylee Parks
Aprha: Lauren Crider
Aysha: Elizabeth Santos
Snake: Michael Hang
Generations Soloist: Chelsea Green
Generations Soloist: Matt Smith
Wasteland Soloist: AJ Hudson
Young Cain: Jared Wright
Young Abel: Grant Lackey

Snake Dancers:
Mallory Moore
Jessica Johnson
Chelsea Kircher
Chelsea Green
Erin Smith

Principle Dancers:
Christian Wright
Mallory Moore
Emily Roy
Katie Nichols
Rachel Isom
Courtney LeSueur
Ashleigh Walker
Chelsea Green
Chelsea Kircher
Sara King
Erin Smith
Jessica Johnson

Storytellers:
Beth Whorton
Emily Couch
Ashley Thrasher
Rachel Matthews
Amber Fawcett
Rebecca Cannell
Marcy Gibbs
Mercedez Goff
Laekyn Steelman
Caroline Hestley
Hannah Gilbertson
Courtney Hallmark
Candace Fawcett
Hannah Rose Rutherford
Michael Hang
Matt Smith
Keith Crissey
Jesse Reeves
AJ Hudson
Taylor Holloway
Stephen Scott
Christopher Irmen
Joseph Baude
Will Vickers

AMT Youth Ensemble:
Maggie Bishop
Shelby Bunch
Katie Cavevnder
Jeri Lynn Cordell
Sara Cordell
Nicholas Dickison
Kate Fleming
Haley Gilbertson
Trevor Haygood
Emily Houston
Anna Leigh Isom
Katelyn Kinney
Shelby Grace Mays
Sydney McLendon
Mollie Minshew
Hanna Phillips
Anna Quillin
Alli Scarbrough
Lexi Scarbrough
Livie Thomas
Lauren Whisenant
Jessica Wilks
Laura Catherine Wright
Maggie Yancey

Director: Brian Quillin
Costume Designer: Ron Harris
Choreographer: Telisha Montgomery
Lighting Design: Brian Quillin
Scenic Design: Paula Meinjohans
Stage Manager: Rachel Warnes