Following an enormous renovation, the Academy for the Performing Arts at Huntington Beach High School is celebrating its 2009-2010 season in a gorgeous historic theatre. Fittingly, this spring they performed a musical set when their theatre was new. We're transported back to the late 1920s in nearby Hollywood where the world's favorite silent movie romantic leads, Don Lockwood and Linda Lamont, are about to follow The Jazz Singer into the new talkies. Which could spell bad news for quirky-voiced Lina, but good news for Don and his real, budding off-screen romance with the sweet newcomer, Kathy Selden, who has Don Singin' in the Rain.

Director Tim Nelson's production is up to the high standards set by the show's posh new surroundings, beginning with their impressive cast of APA talents. Leading them is senior Kyle Selig, who will also take the lead in their spring drama Dark of the Moon. But it's in Singin' where we get to see this triple threat show off all his singing, acting, and dashing dancing skills. Not to mention his semi-superhero abilities as portrayed in their silent film screening of The Royal Rascal that has Don Lockwood jumping down more than a dozen feet from a balcony and head-butting a bad guy (which makes him say "ouch" via subtitles).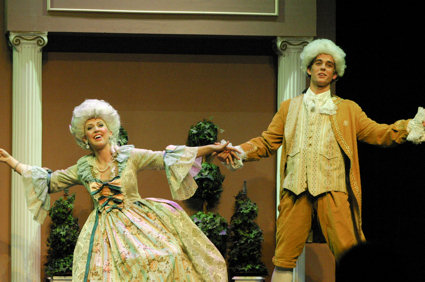 Joining him is Sami Biardi as a talented and lovable Kathy Selden, with Quinn Nagle as a charismatic and entertaining Cosmo Brown, the trio of friends working together with great chemistry throughout including a rousing Good Morning. While Sara Budnik is a riot as the ditzy and venomous Lina Lamont, growing hilariously frustrated by emerging technologies and with people, and not shy of letting those technologies and people know just how she feels with an angry shout and an amusing, scoffing laugh.
Other highlights include Patrick Hudson as a gruff director and Garrett Brown as his very, very un-gruff gay assistant Roscoe Dexter. Jacob Gonzalez lends his smooth vocals in serenading the cast's Beautiful Girls. Such girls include Hayleigh Green as dance extraordinaire Girl in the Green Dress during the big Broadway Melody scene. Speaking of dancing, choreographer Diana Makas has put together an impressive array of energetic and challenging dance scenes from the Good Morning that incorporates a little hula dancing to the big, showy Gotta Dance to the remarkable tapping in Moses Supposes and the dancing and splashing in the rain for the show's title piece, with her dancers nailing it with style throughout.
All the production values were extremely high. Gorgeous period costumes by student designers Nicole Russick, Crystal Halbeck, Rachel Laing, and Kiley Masters, breathtaking sets by student designer Michelle "Missy" Hakam, and a student orchestra of professional quality conducted by Gregg Gilboe, all combining for an exemplary evening of singing and dancing in the school's new theatre.
Performed March 19 - 28, 2010
Rob Hopper
Facebook
Instagram

Executive Director
National Youth Arts
~ Cast ~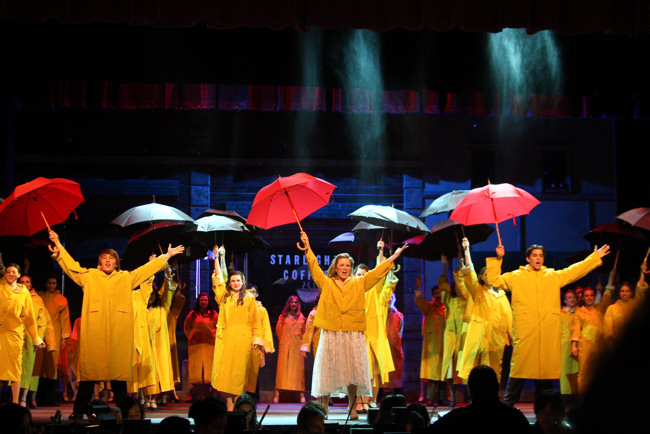 Don Lockwood: Kyle Selig
Kathy Selden: Sami Biardi
Cosmo Brown: Quinn Nagle
Lina Lamont: Sara Budnik
Dora Baily: Lauryn Judson
R. F. Simpson: Patrick Hudson
Roscoe Dexter: Garrett Brown
Diction Coach: Cody Allen
Miss Dinsmore: Carsan Ciarrochi
Zelda Zanders: Chelsea Short
Production Tenor/Phillips: Jacob Gonzalez
Rod: Brion Kerry
Policeman: Devin Cortez
Sound Engineer: Matt Davis
Movie Cavaliers:
Devin Cortez
Mitchell Webb
Jacob Gonzalez
Movie Villain: Cory Provost
Lady in Waiting: Ashleigh Arnone
Girl in the Green Dress: Hayleigh Green
Young Don: Mitchell Webb
Young Cosmo: Zack Carlson
1st Assistant: Carley Zylstra
2nd Assistant: Mark Sepulveda
3rd Assistant: Julia Robbins
Makeup Lady: Jenisa DeCastro
Costume Lady: Amanda Page
Fan #1: Jo Jo Hubbard
Fan #2: Hana Kipnis
Fan #3: Emily Turner

~ Male Ensemble ~

Ushers:
Josh Arnold
Mark Brown
Matt Davis
Jake Gonzalez
Brion Kerry
Steven Sass

Ensemble:
Cody Allen
Sean Burciago
Zack Carlson
Devon Cortez
Cory Provost
Daggar Salazar
Justin Thompson
Mitchell Webb
Alec Rost

~ Female Ensemble ~

Cake Girls:
Allie Boyce
Jenisa deCastro
Nicole DiSandro
Hayleigh Green
Kelly Kuhn
Tamara Mendoza
Allyse Rivera
Elizabeth Romero
Brooke San Miguel
Shaena Spoor

Usherettes:
Ashleigh Arnone
Sarah Ashley
Katie Chambers
Lynnea Den Hartog
Adrienne Garcia
Paige Garlington
Bethany Glover
Adrianna Gregory
Cierra Hall
Tayler Hayes
Elise Hough
Emily Lespier
Sarah Marion
Tamara Mendoza
Julia Norman
Bethany Orr
Amanda Page
Raquel Rench
Julia Robbins
Elizabeth Romero
Scout Sable
Catherine Sacksteder
Brooke San Miguel
Brittany Shillito
Miranda Short
Shaena Spoor
Carley Zylstra

Ensemble:
Makailynn Clark
Mary Conover
Alyssa Grimaldi
Heather Hamacek
Cassidy Hengler
JoAnna Hubbard
Hana Kipnis
Joey Lahr
Victoria Pash
Alex Peters
Megan Shepley
Keziah Silva
Dylan Thomas
Emily Turner
Lauren Wood

~ Pit Orchestra ~

flute/piccolo:
Caitlin Francis
Kathryn Ferri

clarinet:
Michelle Monroe
Spencer Lewson
Joshua Perez
Adam Huntley

saxophone:
Brandon Hupka
Erin Love
Megan Stammen
Adam Huntley

trumpet:
Kevin Hudson
David Monroe
Jonathon Breen

trombone:
Michael Rushman
Henry Johns

drums: Ronnie Johnston

percussion: Austin Floyd

violin:
Richard Adkins
Riena Yu
Sarah Lubin
Derek Loh
Emma Nagasaka
Tiffany Nguyen
Kierra Rainey

keyboard:
Marylin Breeze
Stella Monshaw

bass:
Brandon Cooley
Adam Huntley

Director and Musical Director: Tim Nelson
Choreography: Diane Makas
Conductor: Gregg Gilboe
Costume Supervisor: Courtney Suter
Lighting Design: Max Weisenberger
Sound Design: Randy Stevens
Costume Designers:
Nicole Russick
Crystal Halbeck
Rachel Laing
Kiley Masters
Make-Up/Scenic Artist: Margaux Schindnler
Make-Up: Alice Vo
Stage Manager: Carly Manno
Scenic Designer/Charge Scenic Artist: Michelle "Missy" Hakam